Do you want to reduce your phone use or return to the pre-touchscreen era of phones? Although it sounds so 1980s but it definitely hit nostalgia. And that brings us to Nokia 5710 XpressAudio.
Whenever we hear Nokia, we go back to those sturdy handsets but 5710 XpressAudio adds freshness to the new model. The aesthetics of this classic front-buttoned feature phone will make you forget you are in 2022. Its unique twist is that it allows you to house an inbuilt wireless earbud with an awesome protective slider on the back, giving easy recharging and quick access. With the earbuds, an extremely booming speaker output is also integrated onto the phone to set fire to any friendly gathering.
The Nokia 5710 XpressAudio is purposeful with its feature set as it does not allow Wi-Fi or game-enabling hardware. This phone is created to help waste lesser time on games and cut down on social media. The 5710 is for users that want to focus, listen to music, have wireless FM radio, and want to have a great commuting experience. It has a detachable battery that directly supports the phone and charges the inbuilt wireless earbuds. These inbuilt wireless earbuds instantly latch onto the magnetic grooves at the back that, prevent clumsy missteps.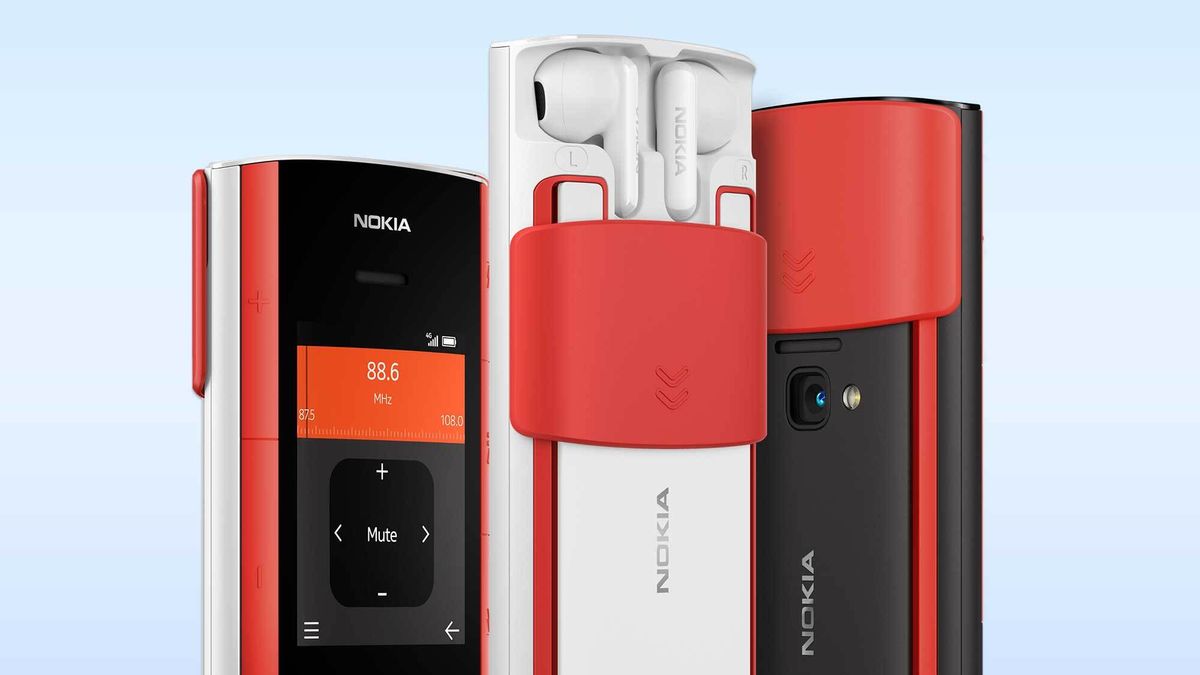 To take you back, Nokia has used a QVGA display with an old-school S30+ operating system. It has a workable Unisoc T107 processor. The Nokia 5710 can give you long hours of continuous talk time and many weeks of standby on a single charge. Nokia gives you two options of black and white to choose from that go outstandingly well with the red accents of the mobile phone to give you a standout look. The TWS slider is fun to play around with and protects the earbuds from water damage.
The inbuilt truly wireless earbuds not only have environmental noise canceling features but also have a great stiff built that prevents any fall damage. Besides, they have an orange indicator charge lighting that changes to blue when you are ready to take them out. The earbuds go on the back of the phone and pop out stylishly. The Nokia 5710 XpressAudio supports VoLTE 4G connectivity and can work seamlessly with your favorite telecom sim. We are glad that Nokia has included the rapid 4G technology. It's because going retro with 2G and 3G networks to complete the classic experience would have been apt but absurd.
The Nokia 5710 is an excellent addition to the Nokia Classics feature portfolio and is best for people in their baby boomers who have little to no experience in handling smartphones. The design is the game-changing feature of the 5710. It also upgrades itself from the fan-favorite Nokia 5310 with improved audio control and better battery, with the standout integrated wireless earbuds being something we can't take our eyes off.
You can also check out some recent smartphone models of Nokia-
Nokia 8.3 5G | Android 10 | Unlocked Smartphone
Nokia G50 5G | Android 11 | Unlocked Smartphone
Nokia XR20 5G | Android 11 | Unlocked Smartphone
Want to know more interesting stuff?
Read about how Upcoming Apple iPhone SE Model to Be Similar to iPhone XR.
We hope you love our reviews! For your information, we do earn money from commission in the link in the content! For more information click here!