Microsoft's Surface lineup contains some of the market's most recognizable premium laptops. From the first Surface Pro to the most recent form factors, such as the Surface Laptop Studio, Microsoft has always created incredibly fascinating gadgets. Microsoft has been investing more in cheap laptops in recent years, including the Surface Laptop Go, which will be introduced in 2020. This was an excellent inexpensive laptop for students, so it was logical to anticipate a Surface Laptop Go 2 at some time, and it is now available. With regards to the Surface Laptop Go 2 release date, it was released with upgraded features on June 7.
Microsoft has released the Surface Laptop Go 2, which includes a more powerful Intel 11th Generation CPU, an enhanced camera, and Windows 11. After two years of being on the market, Microsoft is updating the cheap laptop meant to compete with Chromebooks with fresher technology and a $600 starting price.
Although the beginning price is about $50 more than the previous model, the hardware has been upgraded to warrant the price rise. The Surface Laptop Go 2 basic model, for example, now includes a newer Intel 11th Gen Core i5-1135G7 CPU and 128GB of storage, rather than 64GB as in the previous generation.
However, the base model still has 4GB of memory, which is inadequate given that it is currently advised to have at least 8GB of system memory.
If you're ready to spend more, the 8GB of RAM and 128GB of storage costs $700, or $800 for the 8GB of RAM and 256GB of storage.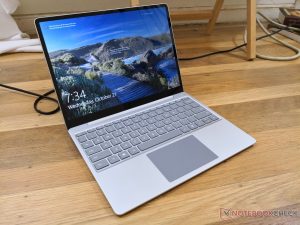 What's New?
Given that the Surface Laptop Go 2 has been out for nearly a year and a half, you may anticipate some noticeable updates. This updated model does have some nice changes, but it does not solve all of the flaws of the old model. It's worth noting that Microsoft doesn't normally make significant modifications to its products in the second version. Furthermore, because these are low-cost gadgets, they will not receive major upgrades as frequently as more expensive ones. Nonetheless, here's what's new:
With Intel's 12th-generation CPUs now available, you may have expected to see them in the Surface Laptop Go 2, but that isn't the case. Of course, this is a budget laptop, so using the most up-to-date chips would be prohibitively expensive. Instead, we'll receive an Intel Core i5-1135G7, which is a big boost over the prior model. This was due to the Surface Laptop Go's usage of an Intel Core i5-1035G1, which had a good processor but had poor integrated graphics.
Around this time, Intel released the Iris Plus integrated GPUs, but Microsoft chose not to include them in their models. However, with the 11th-generation range, all Intel Core i5 mobile CPUs include Intel Iris Xe graphics, which is a significant increase above Iris Plus. That will significantly improve graphics performance and may make certain games playable.
Improvement From Base Model
Microsoft has also made major improvements to the Surface Laptop Go 2's basic model. Instead of 64GB of eMMC storage, the base configuration now has a 128GB SSD, which can be simply removed to dispose of or upgrade if desired. That's a significant improvement because SSD storage is far quicker than eMMC, and if you have the original Surface Laptop Go basic model, you'll surely feel a difference.
The RAM choices are the same, with 4GB and 8GB possibilities for consumers, as well as a 16GB configuration for commercial users. Microsoft also claims the Surface Laptop Go 2 comes with an improved webcam, however it's still a 720p sensor with an f/2.0 aperture.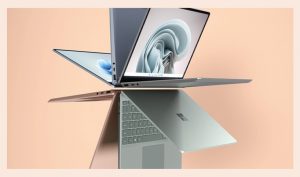 Better Design
Microsoft has been emphasizing sustainability in its products, and the Surface Laptop Go 2 has certain modifications that make it easier to maintain your laptop for extended periods of time. You may now change the AB cover (for the display), the C cover (for the keyboard and trackpad), and the laptop's feet in addition to the detachable SSD. The replacement components will be available sometime after the laptop is released, but it's nice to know you'll be able to maintain it more simply. Microsoft or an authorized repair provider can also replace the battery.
The Surface Laptop Go 2 is also available in a new hue called Sage. This is dark green with gray and blue overtones, and it's the first Surface device in this hue.
More to read:
Winter is Coming: Coinbase Hiring Freeze Warns a Crypto Winter
We hope you love our reviews! For your information, we do earn money from commission in the link in the content! For more information click here!