Even though most smartphones are excellent for gaming, tablets provide a better experience due to their larger screens. They do so without sacrificing portability, making them ideal for travelers who enjoy gaming.
Gaming tablets also have better graphics and processors, so you'll be able to play the most recent games. Choosing a tablet, on the other hand, isn't easy, especially with so many factors to consider, such as screen size, battery life, operating speed, and resolution.
Here are the best gaming tablets on the market right now.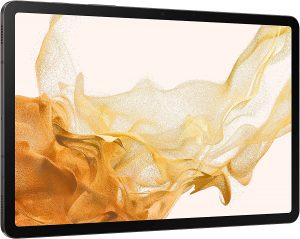 The Samsung Galaxy Tab S8 Plus is the best Samsung tablet for gaming thanks to its outstanding specifications. Its large 12.4-inch AMOLED display is a standout feature, allowing you to enjoy your games with little to no lag.
Its 2800x1752 resolution enhances the vibrancy of images and the punchiness of colors, helping to highlight information about various characters. A 10090mAh battery powers the device for seven to twelve hours (depending on the brightness, volume, and runtime). It's a strong selling point, especially given the large display, because you won't have to worry about your device shutting down in the middle of a game.
The snapdragon 8 Gen 1 processor, when combined with the 8GB RAM, allows for efficient and quick game processing. This gaming tablet has 128GB of internal storage and can hold several games, depending on the titles. You can increase the storage capacity to 1TB, which will give you plenty of room to store your favorite games.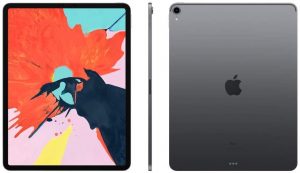 Apple first introduced M1 chips in MacBooks, but in 2021, they unveiled iPad Pros with the same M1 processor. What Apple did was unprecedented, and putting a desktop-class chip in a tablet opened up a slew of new possibilities, particularly in terms of gaming.
You can play any mobile game with the highest fidelity possible thanks to a thermally stable M1 chip and a 120 Hz Pro Motion display. Games like Apex Legends Mobile, which was just released, run at a constant 120 Hz with no frame drops.
The iPad Pro M1 is the best possible tablet for gaming thanks to its overall fit and finish loud quad-speaker array, and ultra-smooth and stable iPad OS.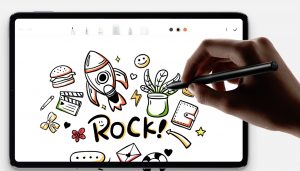 The Xiaomi Pad 5 is a fantastic value-for-money gaming tablet with an 11-inch LCD display with a 120 Hz screen refresh rate, similar to the iPad Pro. Although it does not have the Apple M1 processor, the Snapdragon 860 is sufficient for most mobile games currently available.
Xiaomi has also ensured that the base storage is sufficient, with 128GB available. For an extra $50-60, you can upgrade to a 256GB model. It also has a large 8720mAh battery to ensure that you can play for longer periods.
The Pad 5 is a multimedia powerhouse, with a quad-speaker array that supports Dolby Atmos audio. If you can live with Xiaomi's MIUI, this tablet is hard to beat for the price.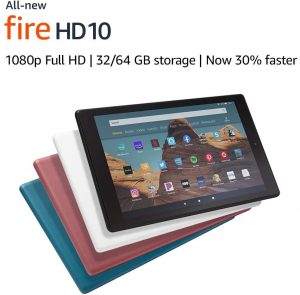 If you're on a budget, the Fire HD 10 is the best tablet for gaming. The 3GB RAM and MediaTek Helio P60T octa-core processor give you enough power to run mid-level games. Popular games like Minecraft and Lego Star Wars run smoothly, so you'll have no trouble exploring different scenes.
If you're looking for a tablet to play games on while traveling, the 10.1-inch display is ideal. It fits comfortably in your hands without making games feel cramped, making commuting gaming a breeze. The screen has a resolution of 1080p, which means it displays bright and colorful images for a pleasant viewing experience.
The dual integrated speakers do an excellent job of pumping out a high-quality sound that completely immerses you in any gaming scenario.
You can also use your 3.5mm stereo jack headphones to get better sound quality and more accurate bass. It's also a considerate way to play without bothering those around you or in public places.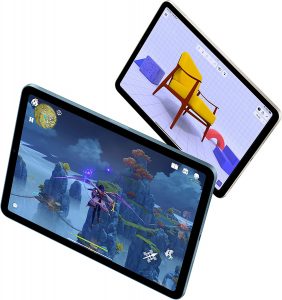 The iPad Air 2022 provides high-end gaming performance, making it ideal for professional gamers. Its M1 chip transports you to the world of gaming with incredible graphics and speed, so you won't have any trouble playing modern or graphics-intensive games.
The 10.9-inch Liquid Retina screen improves color saturation and accuracy, allowing for a more immersive gaming experience. Its sharp image reproduction also reduces eye strain, allowing you to play for longer periods of time without getting headaches or eye fatigue.
Thanks to the landscape speakers, which deliver stereo surround sound, the audio quality is outstanding. They not only make the game more enjoyable, but they also create effects that help you react quickly to threats, which is especially useful in first-person shooter games.
While our favorite pick for the best gaming tablet is the iPad Air, the other options that we have mentioned are also quite impressive. Choose a tablet that suits your gaming needs and enjoy an immersive experience!
More to read:
The Ultimate Guide To Best Mac Apps 2022
Best Websites For Free Education 2022
Games Coming to Xbox Game Pass June 2022
We hope you love our reviews! For your information, we do earn money from commission in the link in the content! For more information click here!