The first digital coin, Bitcoin is going through a rough patch. The cryptocurrency which was trading at around $47000 is currently down to around $29000. Last year, the digital coin witnessed a bull market with prices around $67000. However, a bear market started creeping up late last year pulling the currency further down losing over 40% of its market value. Investors are under the pressure of a Bitcoin bear market with added woes of an economic downturn in the light of recent circumstances including inflation.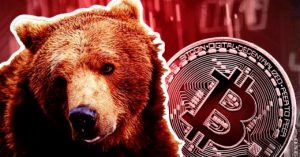 Why the Bitcoin Bear Market?
Bitcoin started 2022 in a slump and has, until now, failed to get its bull streak back. After gaining more than 300% during the height of COVID-19, this is a huge dip, especially for those new investors who stepped into Bitcoin trading to make some money during the pandemic.
Inflation
Since prices of everyday commodities are going up, people are avoiding taking risks investing in speculative stocks like Bitcoin. The coin is now considered a risk asset that experiences high volatility compared to value-based investments. The Fed is raising interest rates as the liquidity is drying up. Riskier assets always tend to underperform compared to safer assets in a volatile market.
Terralabs
Another reason for the Bitcoin market collapse is the downfall of Luna and TerraUSD (UST). These cryptocurrencies collapsed bringing down the entire cryptocurrency market with it leading to a crypto crash. UST which is a stablecoin is supposed to trade close to $1, however, it declined to less than 30 cents marring investor confidence. Now one might ask why is this affecting Bitcoin. Well, the founder of UST, Do Kwon, had amassed a multibillion-dollar pile of bitcoin to help support UST in times of crisis. Investors fear he might sell them altogether to keep his twin cryptocurrencies alive. Besides, Luna Foundation allegedly manipulated TerraUSD's prices and now is in legal turmoil.

Buy or Sell?
A recovery is being noted on the crypto charts last week as digital asset investment products registered positive inflows. The gains were mainly indicated in the Bitcoin charts. While investors are buying Bitcoin and Bitcoin-related funds, Ethereum is in a slump. The second-largest digital currency is experiencing significant outflows with its value dipping for the ninth consecutive week.
Cryptocurrencies are here to stay according to many analysts and investors. Several countries have already made Bitcoin legal and many companies around the globe are accepting Bitcoin as a mode of payment. Other cryptocurrencies like Ethereum and Cardano are gaining more value as well. Be aware of scams that are tending to make big bucks in a short period of time. Digital coins like Bitcoin and Ethereum have a strong underlying technology with strong investors backing them. Always select cryptocurrencies with a strong underlying technology and also check for the names of investors who are backing the currencies before you invest in one.
More to read:
DOJ Asks Twitter to Pay $150 Million Over Data Privacy Allegations
Best Websites For Free Education 2022
Apple Adds Systemwide Live Captions To Its Products
We hope you love our reviews! For your information, we do earn money from commission in the link in the content! For more information click here!