Asus Zenfone is the long-running smartphone series and how can we forget its last model- Asus Zenfone 8. Launched in 2021, Asus Zenfone 8 gave tough competition to massive-sized smartphones with its compact display, durability, high-end performance, and affordable price point. It's 2022 and Asus has its new successorZenfone 9. Yet to be launched, Asus Zenfone 9, has already created some stir in the gadgets market. And not to mention, rumors are plenty too!
So, let's not assume anything and take a look at speculations made on Asus Zenfone 9.
When Is The Release Date?
Amid many speculations about its launch date, Asus confirmed that Zenfone 9 would hit the markets on July 28 at 9 am EST. However, the availability of the Asus Zenfone 9 isn't clear till now. We might need to wait a little more, as Zenfone's availability is kind of an issue for customers.
Rumors Explained
A leaked promo video of the Asus Zenfone 9 revealed a lot about this model. However, some doubts remain unanswered. Let's delve further to know more.
Design
As per rumor mills, Asus Zenfone 9 will most likely have a similar design as Zenfone 8. It will retain the dual rear camera setup but the specs are slightly different than last year's model. Zenfone 9 will have a 50MP main camera and a 12MP ultrawide setup. Besides, there's no confirmation regarding the flip design.
In addition to this, Asus Zenfone 9 has an IP68 rating and a 3.5mm port. Interestingly, the leaked video also showed a side fingerprint scanner for scrolling pages present in Zenfone 9. Apart from these, some unreliable sources also mentioned about triple camera module. But it's hard to believe as there isn't any solid confirmation. So, you can expect the design and look of Zenfone 8 in its succeeding model.
Buy Asus Zenfone 8 here.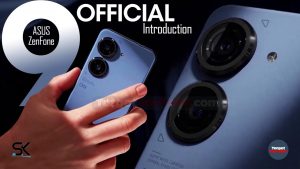 Coming to its features, the leaked video suggested that Zenfone 9 will have a 5.9-inch AMOLED display with a 120Hz refresh rate. The new model, presumably, will include Qualcomm's flagship chipset- Snapdragon 8+ Gen 1.
The Asus Zenfone 9 smartphone rumors also revealed that it'll have a 4,300 mAh battery. Along with this, it'll have dual stereo speakers. We also found that the 50MP main camera will have gimbal stabilization. Besides, some rumors highlighted that Zenfone 9 will have a back tap gesture feature like Google Pixel 6. But there's no confirmation about this.
Price
The Zenfone series is quite affordable compared to other smartphones available on the market today. Like 2021 Zenfone 8 and its Flip model were quite reasonably priced. Take a look at its previous models' prices- The Zenfone 7 costs $830 with its Pro version being priced at $950. Asus Zenfone 8 costs $629 and its Flip charges $970.
Looking at the previous models, it can be predicted that Zenfone 9 will cost somewhere around that same range. However, some expect a slightly higher price due to new features like gimbal stabilization. Although there's any confirmation about the price rise, it's hard to say that Zenfone 9 might be a little more expensive than its preceding models.
Buy Asus Zenfone 7 here.
Despite its leaked promo video, Asus Zenfone 9 has created a lot of expectations among users. Loyal users have been vocal about improvements in cameras and charging options. Besides, the users were quite disappointed with the availability issues of Zenfone 7 and 8. This time consumers expect a broader and faster market availability.
Having said that we hope with this information, you'll some prior knowledge about Asus Zenfone 9 before it hits the market.
More to read:
Apple Watch Series 8: Latest Updates 2022
Google Pixel 6a Listed on Best Buy Ahead of Launch
We hope you love our reviews! For your information, we do earn money from commission in the link in the content! For more information click here!