Updated on July 17th, 2022
Electric Vehicle giant Tesla has already made some good friends in China, since the launch of its manufacturing facility in the Asian country in 2019. Chinese electric carmaker, BYD, has decided to supply batteries to Tesla owing to the company's friendship with Tesla founder Elon Musk.
EV Giants Getting Chummy
"BYD respects Tesla, and we also admire Tesla. We are now good friends with Elon Musk, and we are going to supply him with batteries very soon," said Lian Yubo, BYD's Executive Vice President, in a video interview.
BYD is one of the world's biggest manufacturer of electric vehicles. The company even makes plug-in hybrids and has been called on to supply batteries to other automakers including Toyota. Toyota Corporation turned to BYD in an attempt to make use of the latter's powerful EV technology that comes at affordable prices.
In 2020, BYD officially rolled out its Blade battery, a less bulky lithium-iron-phosphate (LFP) battery. The company strongly believed that LFP would be safer than other alternatives in the market and would not catch fire. Electric Vehicles around the world including Teslas have caught fire making people question the safety of electric cars.
BYD to Supply Batteries to Tesla
Currently, Tesla employs LFP batteries supplied by Chinese firm CATL in nearly half of its cars. The EV maker also uses nickel and cobalt batteries, supplied by LG Energy Solution and Panasonic. It revealed that nearly half of the automobiles it produced in the first quarter were equipped with LFP batteries, which is a cheaper alternative to the nickel-and-cobalt based cells that dominate the Western countries.
Check out ASTRO Gaming A20 Wireless Headset Gen 2 for Xbox Series X | S, Xbox One, PC & Mac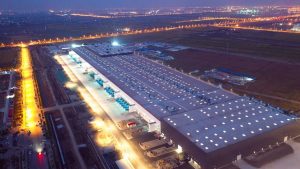 Tesla's China Quest
Elon Musk is expanding Tesla's EV market share by setting up manufacturing plants in major foreign economic hubs. As you can see, expansion to China was a big success because not only is Musk making contacts with big players of the industry like BYD. Tesla is also witnessing increased sales figures in China.
It was Elon Musk's dream to make Tesla the first production facility in China wholly owned by a foreign carmaker. A business savvy Musk fulfilled this dream by making a well-timed decision. China loosened restrictions on foreign ownership of electric vehicle ventures. For an attempt to bring the Chinese automotive industry to the forefront of the world. Recognizing the open market, Tesla immediately started procuring the required permits and licenses to start its manufacturing plant in China. That is how the Gigafactory 3 was born in Shanghai.
Tesla's China sales indicated strong figures at the start of this year. The carmaker ranked first among pure-electric brands. It delivered a total of 65,814 vehicles from its Shanghai factory in March, a majority of these were sold in the Chinese market. According to Tesla, an 85% increase compared to the numbers from a year ago.
More to read:
An Angry Dogecoin Investor is Taking Musk to Court 
How to Use the New TikTok Avatars?
Best Alternatives To Twitter 2022 That You Can Join
We hope you love our reviews! For your information, we do earn money from commission in the link in the content! For more information click here!