Elon Musk is being sued for $258 billion by a Dogecoin investor. According to the complaint filed by the investor, Musk allegedly supported Dogecoin by running a pyramid scheme. The investor, Keith Johnson, wrote in the complaint filed in Manhattan federal court that Musk and his companies Tesla and SpaceX were guilty of racketeering by driving Dogecoin's price up and then letting it fall to levels much lower than its all-time highs.
History
Dogecoin is an open-source cryptocurrency started in 2013 by Jackson Palmer and Billy Markus. It initially started as a joke based on a popular meme featuring a Shiba Inu but then rose to become one of the top cryptocurrencies in the world. In April 2019, Musk tweeted "Dogecoin might be my fav cryptocurrency. It's pretty cool." The tycoon regularly tweeted positive remarks about Doge which made it more popular among crypto investors.
It has been observed that whenever Musk tweets about Dogecoin, the prices of the coin increase.  In 2021, BrandShield, an online threat hunting company, published a report stating that there was a massive increase in suspicious domain registrations for the cryptocurrency in mid 2021.
Elon Musk is being sued for $258 billion by a Dogecoin investor for allegedly supporting Dogecoin by running a pyramid scheme.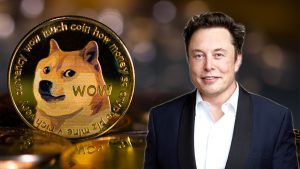 Recent Events
Keith Johnson's case if proved will have major consequences on Elon Musk and his companies. Johnson in his complaint stated that he was an American citizen who had lost his money in a "Dogecoin Crypto Pyramid Scheme." "Musk used his pedestal as World's Richest man to operate and manipulate the Dogecoin Pyramid Scheme for profit, exposure, and amusement", claimed Johnson.
Johnson has requested that the motion he filed to be treated as a class-action lawsuit on behalf of people who have lost money investing in Dogecoin. According to a media report, investors have lost about $86 billion ever since Musk started endorsing the coin on Twitter with his famed tweets.
In the motion filed, Johnson stated that he wants the business tycoon to repay the investments that were shaved off by falling prices in the market. He has demanded Musk pay double the amount in damage, an additional $172 billion to the investors. He wants to block Musk and his companies from promoting Dogecoin. The plaintiff also wants a judge to rule that trading in the Dogecoin is gambling under New York and federal law.
Check out the 2021 Apple 12.9-inch iPad Pro (WiFi, 512GB) - Space Gray $1,349.00
Elon Musk's Response to Dogecoin Scandal
In a Bloomberg interview, Elon Musk stated that he has never asked people to invest in crypto. "I intend to personally support Dogecoin because I just know a lot of people who are not that wealthy who have encouraged me to buy and support Dogecoin," he said during the interview. If Musk thinks this is not promoting something then he should think again. These are the kind of statements that attracted numerous investors to Dogecoin in the past and why he is being sued in the first place.
More to read:
Elon Musk Takes A Jab At Apple For Its App Store Fees
Best Alternatives To Twitter 2022 That You Can Join
The Twitter Edit Button Controversy
We hope you love our reviews! For your information, we do earn money from commission in the link in the content! For more information click here!