After two long years, the MacBook Air is finally here, with a slew of new features to entice you. There's a new design with a variety of colors, an improved webcam, and, of course, the M2 CPU finally makes an appearance. Let's take a look at all of the new features you may expect.
Pricing
The new 13-inch MacBook Pro with M2 is now available for pre-order on Apple's website as well as in select shops such as Best Buy. On June 24th, it will be delivered to merchants worldwide and to those who bought online. The entry-level model with 8GB RAM and 256GB storage costs $1,299. Adding RAM (up to 24GB) or storage (up to 2TB) will cost an extra $200 per level.
Design
Instead of the classic design, the new MacBook Air adopts the M1 MacBook Pro design. As if that wasn't enough, the notebook comes in four different color schemes, including a regal dark blue.
We weren't expecting the bright hues inspired by the iMacs, but it's a start in the right way. Despite its redesigned appearance, the laptop remains as light as ever, measuring only 0.4 inches thick and weighing only 2.7 pounds. Apple finally listened to the public and considerably reduced the bezel. However, there is a notch at the top. Despite the addition of a new 1080p webcam, Apple made no mention of Face ID technology.
Display
The 13.3-inch, 2560 x 1600 LCD display is the same as the previous 13-inch MacBook Pros, thus it's a perfectly adequate work monitor. The display bezels of the 2022 13-inch MacBook Pro are bigger, the refresh rate is just 60Hz, and the LCD screen can't produce the same deep blacks as the Mini LED displays used in earlier MacBooks. The color contrast on the Mini LED screens of a 2021 14- or 16-inch MacBook Pro is greater.
Performance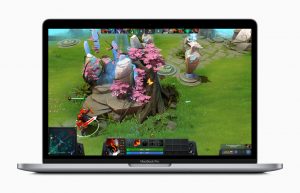 And now, the M2 chip, which most of us have been anticipating. The new chip has a few additional cores as well as some ambitious claims. The CPU has 8 cores that are evenly divided between performance and efficiency. It is quite similar to the M1 chip. The M2 deviates in the GPU cores, which have 10 instead of 8 like its predecessor.
So, what exactly can this new chip do? Apple claims that the M2 processor is 18% more powerful than its predecessor. In terms of PCs, the business says that it outperforms a 10-core CPU by 1.9x while using 1/4 the energy. Apple claims a 35% improvement in GPU performance over M1.
Ports
There are just three connectors on the new MacBook Pro: two Thunderbolt USB-C connections and a headphone jack. Because this machine lacks MagSafe charging, charging can only be done via USB-C, leaving you with only one open port when the machine is plugged in.
Webcam
This 13-inch MacBook Pro retains the previous model's 720p webcam. It's good for professional video chats, but the video and images are not as crisp as those captured by the 1080p cameras included in the 14- and 16-inch MacBook Pro and MacBook Air.
After a two-year wait, the MacBook Air has arrived with a slew of new features. You get a slick makeover, a 1080p webcam, and, most crucially, Apple's new M2 chip. This will be the first MacBook Air to support quick charging, which should please many traveling professionals.
More to read:
A Slew of Updates for Apple Gadgets at Apple WWDC 2022
Some Rumors About the Apple iPhone 15
Interesting Facts About Apple iOS 16
We hope you love our reviews! For your information, we do earn money from commission in the link in the content! For more information click here!