Updated on May 17th, 2021
This review is going to take a look at the Presonus Audiobox 44VSL. This is a great compact interface that can easily help when you want something that is compact (making it excellent for home studio use) but you do not want to give up any of the features.
Choosing the Right Interface
Finding the right interface at the right price can be a struggle. There are many good choices on the market that can meet your needs but you want to be able to choose a unit that offers:
Flexibility
Great sound
Ease of use
The right power
Affordability
Flexibility is important because you do not want to be tied only to the studio, if you need to be on the road or at a different location you want a unit that is going to be able to come right along without issue.
Of course the sound is the heart of the matter. You have to be able to count on the sound as being honest.
Even if you get all the other "have to haves" in a unit, it has to be easy to use. Anything that is too complex to use just takes up time and effort that could be spent on the music.
Compact is great for travel but you do not want to sacrifice any of the power for the sake of ease of movement.
We have all spent way more than we should on units and really wanted to put an end to that practice when we started looking at something new.
We wanted to get a nicely packaged unit that had plenty of perks but we did not want to break the bank buying it.
We went through the list and found that the 44VSL really met every criteria that we felt was important in an interface. It checked off our list nicely and we think it will check off your list nicely as well.
The Presonus Audiobox 44VSL is right in the midrange of  AudioBox USB range. The 44VSL, as the name infers has four analog outputs and inputs, plus the MIDI in and out.

Click Here for Pricing, Pictures and Reviews on Amazon.com
Like all of the Audiobox's it connects to the computer via USB 2.0, which, is a very nice touch since it does seem that Firewire is on its way out.
With Firewire coming to the end of an era, it is important that you have a unit that can move forward without it. It will not be too long before Firewire is a thing of the past which means no more patches, repairs or updates (ugh).
It is absolutely time to do something different like opt for a USB input that is really a stand on its own type unit. The sample rates are 44.1 kHz to 96 kHz with 24-bit resolution recording.
You can easily use this interface with four separate instruments with ease.  The "no frills" design is utilitarian but gets the job done.
PreSonus digital mixing consoles include Virtual StudioLive (VSL) which is installed along with the driver (For Mac's it is a stand on its own app). VSL allows the user to mix from anywhere remotely, it is an on screen duplicator that allows you to control everything from a computer.
I really liked that the DSP which is usually relegated to low latency mixing on this model you have a nice range of Digital Signal Processing features.
You may be wondering how at this price point this model is able to accomplish something that is usually relegated to much higher end models.
DSP chips are used to attack the heavier tasks but for processing channels DSP is controlled and performed by the computer that runs the codes that is provided by the VSL software pack.
The VSL offers a low latency monitoring experience that would please any engineer in the studio. Virtual StudioLive offers great Fat Channel compression that you get with the higher priced PreSonus StudioLive 16.0.2 digital mixer.
Artists are able to enhance their playing when they have a great mix to listen to via the headphones. The AudioBox 44VSL gets the job done.
The Benefits
There are some clear benefits of this model that make it an excellent on the go choice. It is packaged in a very durable case, it is light weight which makes it very easy to carry. The knobs only jut out about a half an inch. It can be considered a half rack size.
It is very well made with copper protecting the front panel which was a great design choice because it does a good job of shielding from EMI.  There is a LED clip for each input control.  As you reach full input the entire light board lights up.
You get high resolution converters that are 24bit/96kHz. It has XMAX pre-amps that run on the 30V power rail which really exceeds what you find with most budget type amps.
Typically when you are looking at budget amps you are surrounded by models that run on 10V or 18V at the most.
The higher voltage is a nice touch because it really gives you a much richer sound experience.  Most users have found that they love the resulting sound.
Benefits at a glance include:
XMAX preamps have a really impressive sound and are hard to beat at this price point
Monitor mix controller allows you to easily control input and mixing
Multiple input combined with the compact size makes this a great mobile unit that can go just about anywhere
Fully loaded with the PreSonus Studio One Artist DAW software for easy setup and the ability to get started right out of the box
Some Changes
There are a few small things we would change if anyone asked us. You cannot power it from the USB, while it does not really affect performance we would like the ability to just plug up the USB and not have to worry about finding a power outlet.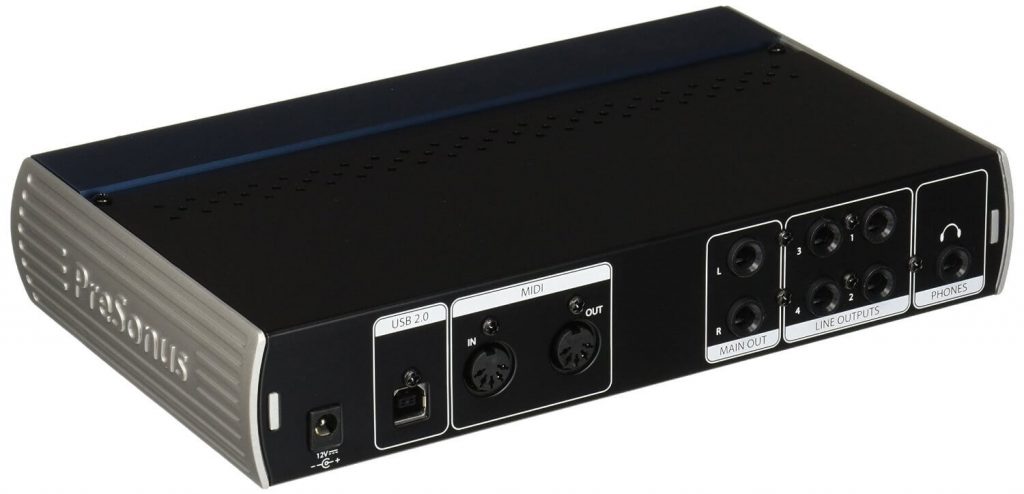 Click Here for Pricing, Pictures and Reviews on Amazon.com
Of course if you did have the ability to power up through the USB you likely would not have the ability to get the amount of power that you do get from the power cord, it's a trade-off.
That is the only real thing that we thought about changing, everything else is nicely on point and frankly we were impressed by the sound. It offers a nice heady sound that really is quite shocking given its price point and its size.
Some Questions
A lot of people out there have some questions when it comes to this model, we put together a few of the ones that we found people were asking the most:
Is it plug and play?
This model is as close as you can get to plug and play without being plug and play. It is so simple to set up, the directions are clear, that basically you take it out of the box and plug it in.
Ultimately, we guess you could say it is plug and play and it was likely not marketed as such because typically plug and play models are not known for being serious options but this is a very serious option so do not let the ease of use fool you.
What is the gain adjustment like?
This unit does take a little getting used to and you may have to fiddle around with the gain adjustment for two reasons:
It is deceptively powerful. Most people do not expect to get the level of power from this unit that they do, so they start out with the gains all the way up and then are shocked by the results, start out low and work your way up until you find the perfect levels for your liking.
Any unit is going to require some fiddling around with the gains to get the perfect balance, it is not exclusive to this model.
Is There a Huge Learning Curve?
This is a really a personal assessment that we cannot answer. If you have spent most of your time working with other equipment it can take a few hours to get used to this interface but like anything new, the learning curve depends on how dedicated you are to learning.
Overall
This is an affordable interface that no one out there seems to be complaining about. The price is right, the size is right and the performance is great.
There is nothing that should prevent you from making this purchase. You can make the purchase and feel confident in your choice. We loved lit like everyone else does! There are a few things to keep in mind:
You will get what you need out of this unit
It is easy to set up and use
The price is cost effective
Most everyone that uses it is impressed
If you are looking for a powerful, compact, affordable interface, this unit is the one you should be considering.
It's a great option for just about anyone.
More to read:
Best Toaster in the U.S. That Are Worth Buying 2021                                    Acekool Toaster TA1
Best Stand Mixers in the U.S. That Are Selling Like Hot Cakes 2021        Acekool Stand Mixer
Summary
Reviewer
Review Date
Reviewed Item
Author Rating





We hope you love our reviews! For your information, we do earn money from commission in the link in the content! For more information click here!