Samsung is fulfilling the forever desire of turning computer monitors into TV. Well, that's possible now with Samsung M8 Smart Monitor. Samsung fulfills this desire with its new monitor that can work as your desktop, laptop, gaming console, and fully standalone smart TV.
This versatile monitor has already attracted many consumers. And with a reasonably low price tag of $729, this smart monitor seems quite wisely priced. But what about its features and performance?
So, to bring more clarity about this Samsung smart monitor here's what you should know about this monitor-cum-TV.
Check out SAMSUNG M8 Series 32-Inch 4K UHD Smart Monitor & Streaming TV here.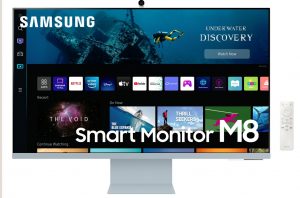 Why Should You Buy SAMSUNG M8 Smart Monitor?
In-Built Smart TV
Samsung M8 Smart Monitor- the name itself suggests the biggest selling point of this product. That means you can plug in this monitor to your gaming console or HDMI to enjoy your favorite shows via streaming apps. All this is possible just through the SmartHub interface, typically found in all Samsung TV sets. The SmartHub is quite easy to navigate and you can install your required apps right on your home screen.
Besides, it also includes Samsung Smart Remote, which is quite breezy to use. Well, you might be thinking about voice recognition features that are now available on most smart TVs. So, Samsung smart monitor has also tried to include this. That means you can connect Alexa and Bixby for voice commands.
Apart from all these, we totally love how this smart monitor can control other smart devices in the house. Just switch from display to smart home hub. Lastly, Samsung smart monitor is also compatible with Apple AirPlay. You can beam videos and photos from your iPhone to this smart monitor with just a few taps.
Design
Coming to the design of the Samsung M8 smart monitor, we're quite impressed by it. A refreshingly appealing, stylish, and slim design makes this M8 monitor perfect for home and office usage. Some users have reported that this monitor looks quite similar to the latest MacBook.
Moreover, it has attractively thin bezels and some really interesting color options. All-in-all, we absolutely love this design and its colors. And interestingly, this monitor with such colors adds a personality to it and perfectly compliments smart TVs.
Display
Samsung M8 is not just a stylish monitor but also comes with a great display. Its 4k display screen is good enough for entertainment and work both. It's easy to juggle between apps, delivers vivid colors to enhance your viewing experience, and offers crisp text when working. We love how it supports HDR for brightness and extra-bold colors to enhance the content you watch.
Besides, this smart monitor also delivers a great audio experience. Owing to its stereo speakers, M8 smart monitor handles video calls, movies, and other audio-driven tasks quite well. But if you need more precise and sharp audio, we suggest connecting a soundbar or computer speakers. However, we weren't much disappointed with the audio quality. We also appreciate M8's in-built 1080p webcam. You can integrate it with Samsung Smart Hub apps and a computer via a USB-C. This camera has great photo quality compared to other webcams. M8's webcam delivers crisp and quite detailed too. However, we feel there could be more improvements in the camera.
Apart from these positive points that we found in Samsung M8 smart monitor, we think there are a few aspects for improvement too. Since it's one of the first smart monitors so the expectations were quite high. Nevertheless, Samsung M8 fulfilled most of it and offered good value for money too. But we hope that its succeeding models will cover up for lags in this current model soon.
More on Barkingdrum
All We Know About Samsung Galaxy Flip 4
How To Get Google Assistant On Samsung Galaxy Watch 4
Apple's 13-inch MacBook Pro with M2 Chip Review
We hope you love our reviews! For your information, we do earn money from commission in the link in the content! For more information click here!