Updated on April 4th, 2023
What You Should Know About Apple AirTag Stalking
Apple AirTags have once again found themselves on the wrong side of a media storm. Two women have sued Apple because their former partners used AirTags to stalk them. This is not the first time Apple AirTag stalking has taken place. Car thefts were rampant after the release of AirTags. A Twitterati Jeana tweeted that she was followed around all night by an AirTag and later found the device stuck to the front wheel of her car.
There has been multiple incidents like this very one where Apple AirTags have been used to stalk someone by placing the device secretively in their cars either to steal cars or to trace the location of a person.
What Is An Apple AirTag?
These are button-sized devices from Apple that you can attach with your keys or put it in your wallet to help track these items using your iPhone in case they get lost. And these are just a measly $29. Convenient right!! However, imagine if someone else slipped an AirTag into your bag. He/she could covertly track you wherever you go. This gave birth to Apple AirTag stalking.
Apple's Comeback - Technology to Prevent Unwanted Tracking
Once an AirTag is set up on Apple's Find My network, only the user is able to access the location of their lost iOS device. Apple also implemented an anti-stalking system to alert users through a notification that the an unknown AirTag is moving with you and its owner can see your location.
Apple has loosened this rule for family members. When a user wants to share their AirTag-tracked item with a friend or family member user can activate Family Sharing, where safety alerts can be paused or disabled to prevent the family member's ‌iPhone‌ from detecting it as unwanted tracking.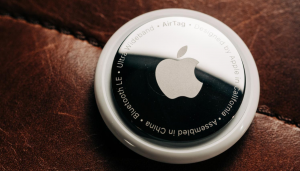 The Brightside
AirTags lets out a long beep if it is separated from its owner for 72 hours. This is a 60-decibel tone about the same volume of a casual conversation. This sound will only go off if the AirTag has been out of range of the owner's phone for three consecutive days. This means that a stranger can stalk them for three free days but if the stalker lives with you then that gives them the freedom to frequently reset the clock and follow you anywhere.
Alarming Stalker Numbers
A research report by U.S Department of Justice mentions that more than 10 million Americans have likely faced stalking in their lifetimes, with more than a million facing this threat every year. Domestic violence cases are even more steeper with most of its going unreported. If modern crime movies have taught us anything it is to be wary of stalkers.
The only way to know if you are being stalked is to constantly check your alerts to see if an AirTag is following you around. If you feel an AirTag is following you make sure you take some rapid turns to ensure the AirTags on your tail. For those using Android devices, there is an app called Tracker Detect, an official Apple app on the Google Play Store, that allows people who don't own any Apple devices to scan for nearby AirTags. It is recommended that Android users download this app to be aware of any suspicious stalking activities. As they say prevention is better than cure!
More to read:
You Won't See a New Apple MacBook Pro Until Next Year
Ask Apple: A New Series of Interactive Questions & Answers for Developers
We hope you love our reviews! For your information, we do earn money from commission in the link in the content! For more information click here!