Updated on May 18th, 2021
Searching for the perfect electronic drum set can be a challenge when you are on your own, we are here to help! We have reviewed the Yamaha DTX950K so that we can make your selection process a little easier.
Electronic drums are a great option for anyone that:
Has limited space
Wants to practice silently
Needs something reliable for the studio
Wants to have more composing possibilities
Electronic drums are a great option when you have limited space but want amazing sound. Your neighbors make appreciate your electronic drums more than you do because you will be able to practice silently any time of the day or night and not disrupt anyone else.
Most of the time all you see is electronic drums in the studio. It is very rare to see full size acoustic drums for studio purposes.
An electronic drum kit is ideal for composing. They really open up a world of possibilities for anyone that is interested in creating their own scores, recording and practice.
The Problem
The only issue with electronic drums is finding a kit that will really work for your skill level and needs. This is actually a huge market so there are a lot of options to filter through to find a kit that will work well for your needs. It can take a lot of time and dedication to do the research on your own.
There are many different brands and models to consider. Yamaha is usually the professional's choice for several reasons. They know how to make electronic drums sound like acoustic drums because they specialize in acoustic instruments as well.
Unlike other brands Yamaha does not seem to have a problem going back and forth between electronic instruments and acoustic instruments and making them all excellent examples.
Having a little help to find the right kit can really pay off. We set out to review the Yamaha DTX950k to help you to decide if this is the right kit for your needs.
What Does the DTX 950K Have to Offer?
This is a professional electronic drum set that is made by one of the most popular instrument brands on the market. Yamaha is well-known for putting in the engineering into all of their instruments. This is their top of the line, high end electronic drum kit. The price reflects the level of quality.
The DTX950K has a lot to offer. We were pretty impressed from the minute we opened the box. The first thing that really has the wow factor is the DTX heads.
They are not mesh and they are not rubber they are a new technology, Textured Cellular Silicone Heads. They are the result of a lot of time and money put into research and development with the goal of making heads that offer acoustic feel while managing to impart the technology that affords easy play.
These heads are really something to write home about. Not too long ago "rubber" heads were considered the height of playability but do not let that belief color your perception of these heads. These heads will quickly become the new standard for the professional.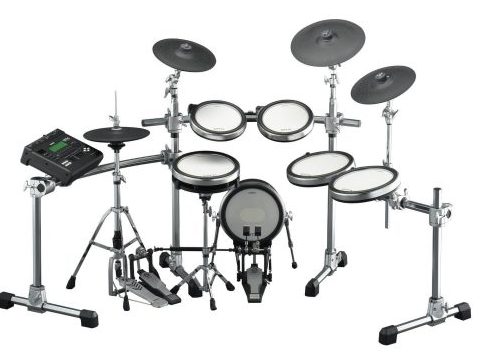 Click Here for Pricing, Pictures and Reviews on Amazon.com
They are engineered to give you the best possible "natural" feel. This is Yamaha's top of the line kit and they really have put in the effort to perfect the heads and it really shows. They are easy to play and they sound great.  Each head is nice and beefy and designed to avoid mis-triggers.
They are hardy feeling heads that are durable and nicely proportioned.  They are built for the pro so they can stand up to tons of use and never waiver.
The upgrades do not end with heads. The entire chassis is solid. The heads fit nicely in the chassis and provide a sturdy base. The heads come together nicely. The heads are easy to set up and tear down.
You get:
6 pads
3 cymbals
A module
Nicely engineered stand
This outfit is what you would expect from Yamaha. Yamaha has tons of experience with manufacturing acoustic drums and they take that knowledge to create these perfected electronic kits and even use the same hardware.
Everything on this kit is exactly what you would hope it to be.  We started our review of the setup up with taking a close look at the stand.
The Rack
We liked this fully adjustable stand. If you have a long wing span you can adjust the stand to accommodate you nicely. If your reach is a little shorter this kit can still work for you because you can easily cozy it all up without any issue. The pads are nice and hefty but they can still be brought in pretty close if you do not have an especially long reach.
The Yamaha Hexrack works well for just about any musician. It is sturdy, easy to set up and easy to break down for transport. We thought the nicest thing about this rack is that it was easy to deal with.
A few of us tried this kit out and each of us have a different style and different reach capabilities and it worked out well for all of us. It speaks volumes about a rack when you have several different people able to use it comfortably and they are all different sizes.
The Brain
Once we stopped oohing and ahhing over the pads and the rack we figured it was time to get down to business and do a little playing. The brain is impressive as expected. Yamaha is well known for producing advanced electronic controls and they certainly have not fallen short with the DTX950K.
It is from the DTXtreme line but has an added feature that we think any musician would really appreciate. It has a DAW control right on the front panel! This means that you do not have to worry about any recourse to your laptop or computer. It is a great option that is really freeing.
DTX950K theme seems to be easy to maneuver hands on controls. We already mentioned that the module works as a DAW control which of course makes solo productions a lot easier than they can be with other kits. Right out of the box this kit allows you to handle all of the basic functions like rewind, record, play and stop right on the front panel.
Other functions can be added to the DTX950K to the special buttons which makes customization so much easier.  This is an incredibly easy to use tool that will enhance your skill level and abilities.
Of course the heavier editing will still rely on the computer or laptop but having the ability to record while sitting at the kit makes it easier to compose and record.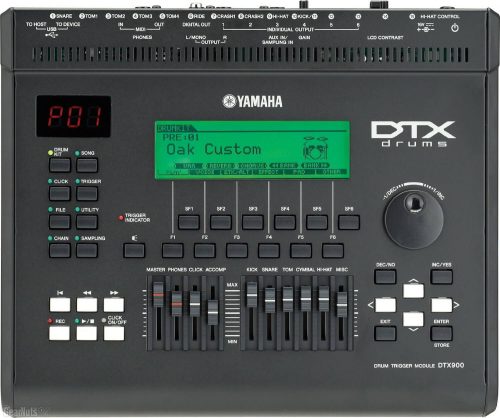 Click Here for Pricing, Pictures and Reviews on Amazon.com
The Sound
We were happy with much that the kit had to offer right from the box. We did find that the rock kits sounded a little machined but with a little tweaking and changing up techniques we were easily able to overcome it.
One of the best things about this set up is the sound. Right from the factory it is easy to play and sounds great but it can stand a little tweaking to match your particular style.  We like to think of the factory presets as something to build on to really get the best sound.
Playability
We have to give this kit a full 5 star rating when it comes to playability, it is actually hard not to play this kit the way it is meant too. The triggers on the head are perfectly sensitive. The triggers are well laid out and intuitive.
As mentioned the rack is fully customizable to work the bet for your specific comfort level. The sound is great and the play feels completely natural. Any drummer would love this kit.
Overall
We liked this setup quite a bit. We really cannot point out any area that needs any massive improvements or any reason that we could not make the recommendation to buy this setup but this is a professional grade kit with a professional grade price tag that some musicians may find to be cost prohibitive.
Yamaha has done an exceptional job with this drum set that really would enhance any musician's skill level. It comes highly recommended by not only our team but basically by anyone that has made the purchase. If you have the money in your budget to spend on a high quality kit that is built to be used this is the kit you should be considering.
It is not "cheap" and some would say not really affordable but when it comes to durability, playability and having just the right features you would be really hard pressed to find a kit that beats this one out.
This is the kit that will last you a lifetime. It would be a great addition to any studio. It may be the best kit that you will ever find. The technology is there. The engineering is there. The hardware is even top of the line.
More to read:
Best Toaster in the U.S. That Are Worth Buying 2021                            Acekool Toaster TA1
Best Air Purifier in the U.S. for Better Respiratory Health 2021             Acekool Air Purifier
Summary
Reviewer
Review Date
Author Rating





We hope you love our reviews! For your information, we do earn money from commission in the link in the content! For more information click here!