Updated on April 3rd, 2022
The Yamaha HS8 review took a look at this sub to determine whether it is worth purchasing. We all know that Yamaha is a name to be reckoned with in the audio and musical instrument industry but we still had to take a good hard look just to be sure that it was advisable to buy the Yamaha HS8.
Name brand is always important but it is never "enough" to promote a purchase. There have been plenty of incidences where a very popular brand really produced a lemon.
Yamaha is usually a very trusted name but you still have to be able to be a savvy consumer and take a look at what makes a product worth buying.
A quick Yamaha HS8 review will take a look at what would make this a stand out option and what there is to improve on this model.
Having the information, you need about sound, construction and what other users have to say can easily make the choice so much easier for you.
Understanding your options and why you would want a subwoofer is the first step in deciding whether you not only need a subwoofer but why you may want to consider Yamaha HS8 as the subwoofer you choose.
Deciding whether you even need or want a subwoofer is really the first step in the process of shopping. There are plenty of options on the market for subwoofers but you do have to pay attention to the details like whether the cabinet is well made or whether the sound is there.
While we do have to take a look at the Yamaha HS8 before we can make a recommendation we do know that Yamaha typically offers reliable products that offer a great sound.
Why Do You Need a Subwoofer?
A lot of small home studios opt to not have a subwoofer and while you can limp along without one you should know that you are actually cheating yourself out of some "emotion" that flows through the sub.
Consider that the subwoofer is like the filling in a pastry, it fills in those deep rich bass tones that bring the real emotion to music.
You can limp by without one if you have really great active monitors but in most cases you do not realize what you have really been missing until you hear it, then you have an ah ha moment and realize that you have not been truly hearing music or your mixes without it.
Subwoofers seemingly go in and out of vogue, of course in the top studios you see them prominently but in smaller studios you may or may not see them around.
It really is not all about that bass, the subwoofer actually benefits the entire system by clarifying mid-range notes as well.
A subwoofer can easily enhance any main speakers and do it so that it is subtle. A lot of people think of a subwoofer as being bumpy and loud but they can simply be a part of the greater system and bring clarity to the sound.
The Yamaha HS8 is a good example of sub that can get the job done and that brings plenty of versatility for controlling the sound.
What Is the Yamaha HS8?
The short answer is that the Yamaha HS8 is a subwoofer that has a frequency range of 2Hz to 160Hz. It has a black foil finish that is made to look like the main speaker.
There is a metal rear panel that houses the heat sink for the amplifier. The controls and connectors are also housed in the back rear panel.
There is a metal grill that protects the single 8-inch driver that is powered by 150W amplifier. There is an internal split that are used for the stereo input that feed the sub and the two speakers.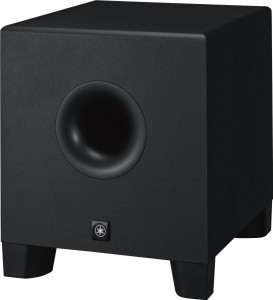 There are also high and low controls that offer a variable range from 80 Hz to 120 Hz are found on the rear panel.
The cabinet is constructed from MDF board. It is a sturdy cabinet that is durable and pretty good looking.
It is a simple look very boxy but it is innocuous which is what you want your equipment to be, you do not want the speakers to be center stage. It has a simple but very effective design.
The level control is centered and is used to adjust the overall level of sound. The polarity inverse switch can be engaged depending on where the speakers are placed in relation to the woofer. There are both XLR and TRS input jacks. The outputs to the speakers are balanced XLR's.
It would have been nice if there was a footswitch to allow the ability to bypass the sub. It would have been nice to be able to have this switch as a mixing tool but this was one thing that the folks at Yamaha overlooked.
How Does It Sound?
Frankly the HS7 speakers offer plenty of lows so that the HS8 is not really needed in a home studio or even a smallish professional studio.
The one thing that you will notice that if you do not have the Yamaha HS8 on hand you will find that you are lacking that 3 dimensional sound.
There are some clear benefits to adding the HS8 to your system. It has a small driver but it adds depth to the sound that is ideal to monitor at a neutral set up.
There are no rattles what so ever with the HS8 sub. The cabinet is nice and tight as is the grill and the rear panel so you do not get that rattling at certain levels that you find with other subs.
The crossover can be adjusted so it would be a good match for other active monitors (different brands) which gives you much more flexibility.
For example, if you Adams speakers and you need a sub you can easily hook in the Yamaha HS8 sub without an issue.
Some subs are built for one specific package and when you try to modify by adding another type of monitor you wind up with a messy system that sounds awful.
Would it be best to use this sub with the Yamaha HS7 main speakers? Probably, only because they come from the same manufacturer under the same line so they are very likely able to complement each other but there are users that are mixing and matching systems with the Yamaha HS8 and finding that it works very well for them.
The sound of this subwoofer is pretty on point. It offers a great deal of clarity for mid-range tones and bass.
You do not get that echo type sound that no one is fond of and you may actually pick up some of the things that you have been missing with your music.
This subwoofer offers seriously excellent design elements like the metal grill that is securely fastened to the front of the speaker so that there is no vibration from it at all.
In so many cases the subwoofer's cabinet will rattle with every beat and it becomes a huge annoyance.
Yamaha has taken the steps necessary to create a cabinet that is designed to enhance the sound and minimize an untoward noise.
It is the little "unseen extras" that really make the Yamaha HS8 impressive like the extra braces that are used inside the cabinet to support the drive all the way down to the locking nuts that are used to secure the rear plate to the cabinet. It is these little extra considerations that change the way the sound is emulated.
The experience of listening to this subwoofer is memorable. It will change how you listen to music.
Overall
You need a sub, everyone needs a sub, even if you space is limited. Remember the sub is not there is bump up the bass only it is there to ensure that you are not missing anything.
The Yamaha HS8 offers a clear concise sound that compliments the mains nicely. The only thing that Yamaha should consider in the future is that footswitch so that users could easily bypass the sub when they needed/wanted to.
Other than that one minor upgrade that would be nice to have, this is a very reliable sub. The cabinet is nice and tight, the drive is small but gets the job done and the finish is decent. Overall this is a good bet.
It offers a semi-compact silhouette which makes it easy enough to place. It is not too small nor is it too large. It comes in at just the right size.
The sound is there and there is nothing about the sound that needs to be addressed or changed.  It projects well and is easy to set up.
While it is not the cheapest sub on the market it is fairly priced and is not overpriced. It is a good value.
Overall it is a good investment that will serve you well.
More to read:
Best Hand Blender in the U.S. That You Must Check Out 2021 
Best Stand Mixers in the U.S. That Are Selling Like Hot Cakes 2021      
Summary
Reviewer
Review Date
Reviewed Item
Yamaha HS8 Studio Subwoofer
Author Rating





We hope you love our reviews! For your information, we do earn money from commission in the link in the content! For more information click here!