Updated on March 17th, 2022
Drumming in church is probably one of the most challenging tasks for a drummer. The pressure to perform is quite high when you play in a house of God!
The key here is to drum quietly, but not too quiet because you want everyone to hear your beat.
And by everyone we talk about the band and the visitors. The first thing to achieve a good sound for church is by playing with a band that plays in harmony.
However, we have some awesome tips for your to improve your drumming in church. These tips are about how to drum quietly in church. So let's get started.
Tip #1 Use Different Sticks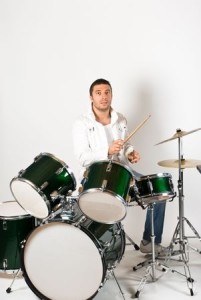 Try using smaller sticks for a change. Most drummers drum with 5b's, try drumming with 5a's this will reduce your volume instantly.
However, don't go too small, for you will overcompensate.
Tip #2 Use Darker Cymbals
It's recommended to use darker cymbals like a K Light Ride. This is because the church will amplify the sharpness of a normal cymbal.
When you use darker cymbals the sound will get more washy and won't pierce that much.
Tip #3 Pay Attention To Your Cymbal Stick Technique
The first thing to do is hitting your cymbals differently. Instead of hitting them with the tip try hitting them with the neck or shoulder of the stick.
This will reduce the volume and make the cymbals, especially crashes and rides sound a lot softer.
Tip #4 Listen To The Room
Churches often cause a echo, when this is the case you know that you have to reduce the flashiness of your sound.
If you implement to much fills and frills it will make your play sound muddy and messy. You don't want this to happen.
However, if the sound falls flat and doesn't echo in the room you play, you are allowed to spice up your beat a bit.
Tip #5 Mind Your Elbows
When you keep your elbows in it will force you to use your wrist more than your arms. Doing so will likely reduce the loudness of you strikes.
Tip #6 Trust Your Ears
Make sure you leave one earbud out when you use in-ear monitoring. The sound you hear from your in-ear monitoring device may be deceiving.
Always use your own hearing to make sure that your sound is perfect.
Tip #7 Raise Your Set-up
When you raise your setup it's harder to strike loud, especially on the snare. Your hits will have less reach when you raise your set-up. So if you have sound issues make sure you use this tip.
Tip #8 Play Without A Drum Screen
Playing without a drum screen will force you to watch your sound personally. It will also allow you to be more connected with the rest of the band members as you are more engaged when you watch your volume.
Tip #9 Watch The Crowd
If you see people grimacing, covering their ears or just look very uncomfortable you know that you have to reduce the sound.
Tip #10 Feedback Is Your Friend
The easiest way to check if you are doing fine is to ask someone. When you have a break from playing ask around and see what people think of your sound.
If you get negative feedback you have all the reason to adjust your sound using one of the previous 9 tips.
These tips will surely put you in the right direction and reduce your volume. When you find the perfect balance between all these tips your sound will be perfect.
However, make sure you don't overdo it, playing to soft might be just as bad as playing too loud. And please, just listen and trust your own ears!
We hope you love our reviews! For your information, we do earn money from commission in the link in the content! For more information click here!