Music streaming giant Spotify is looking to expand its footprint in the audiobook business. This will be the third vertical of Spotify's business that includes music and podcasts.  Company CEO, Daniel Ek, spoke at length during Investor Day 2022 stating the vast opportunity for Spotify in the audiobook market.
The company began testing audiobooks as early as 2020. It released the first Harry Potter book narrated by stars including Daniel Radcliffe, David Beckham, and Dakota Fanning. Early last year, it offered nine audiobooks including Mary Shelley's Frankenstein narrated by David Dobrik; Narrative of the Life of Frederick Douglass, an American Slave read by Forest Whitaker; Kate Chopin's The Awakening narrated by Hilary Swank; Jane Austen's Persuasion narrated by Cynthia Erivo.
Playing to Win
"We believe that audiobooks, in their many different forms, will be a massive opportunity," said Ek at Investor's day 2022. "Today, the global size of the book market is estimated to be around $140 billion. That's inclusive of printed books, e-books, and audiobooks, with audiobooks having only about a 6-7% market share," said Ek adding, "but when you look at the most penetrated audiobook markets, it's actually closer to 50% of the market. So call that an annual opportunity of $70 billion for us to expand and eventually compete for. And just as we've done in podcasting, expect us to play to win."
According to an Edison Research study published by APA, the audiobook market grew by 25% in 2021 to $1.6 billion, slightly above the podcast market figure which stood at $1.45 billion that same year. However, Spotify's presentation stated that the market is even bigger and is possibly worth more than $9 billion. Ek claimed, "With one major player dominating the space, we believe we will expand the market, and create value for users and creators alike. And this third vertical of audiobooks further builds on our ambitions to be the destination for creators. While it's still early, we expect audiobooks to also have healthy margins, above 40 percent, and be highly accretive to the business. And here again, we will apply the same differentiating foundations of ubiquity, personalization, and freemium to attract both creators and users, and drive engagement."
Ubiquity is Spotify's strategy to make access to the music service as easy as possible for listeners on its platform which according to the company brought in many users.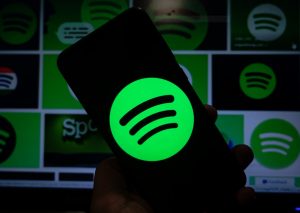 Audiobook Extravagance
Audiobooks tend to be expensive. To beat the audiobook competition, the company will have to brainstorm the pricing of its offerings.  Platforms including Amazon's Audible and audiobooks.com are based on credits (1 credit per book) at a monthly cost of $14.95 for access to top titles. Tech giants including Apple and Google have their audiobook offerings as well, with popular titles usually priced at $15 or more. Since Ek mentioned freemium, looks like we might get a few months free to trial run select audiobooks.
Check this audiobook, the Subtle Art of Not Giving a F*ck: A Counterintuitive Approach to Living a Good Life.
Building the Third Vertical
The efforts for building an audiobook platform started a while ago. Last year Spotify decided to acquire Findaway, an audiobook platform that lets content creators create, distribute, and monetize their work. However, the Findaway deal isn't closed yet as it is still under review by the Department of Justice's antitrust division.
The audiobook move is in the backdrop of the success of its podcast platform. Its recorded a podcast revenue of £170 million for 2021. The platform hosts more than four million podcasts, with a whopping 182 million subscribers signing up at the end of the last quarter.
Spotify's target for the audiobook platform is an annual revenue of $100 billion in a decade. "And we are accelerating our move from a one-size-fits-all to a much more dynamic and open platform. A platform that will entertain, inspire and educate more than one billion users around the world," informed Ek.
More to read:
Winter is Coming: Coinbase Hiring Freeze Warns a Crypto Winter
Best Websites For Free Education 2022
Apple Adds Systemwide Live Captions To Its Products
We hope you love our reviews! For your information, we do earn money from commission in the link in the content! For more information click here!