Apple is dipping its toes into the automotive industry and automakers are not convinced. The tech giant introduced a new generation of its CarPlay software in June.  The software seeks to replace your car's user interface; interior screens, gas gauges, speed dials, etc, with a digital version powered by an iPhone.
What is Apple CarPlay?
Currently, CarPlay technology is equipped to turn a car's touchscreen into an extension of a connected iPhone This enables drivers to use apps like Siri, Spotify, and navigation on a bigger and more convenient screen. The next version of CarPlay that was announced at Apple's Worldwide Developers Conference, will kick things up a notch by replacing a vehicle's built-in interface entirely. This means Apple CarPlay will control essential vehicle functions like the radio, air conditioning, and heated seats.
You can even monitor the speedometer and fuel with the CarPlay interface. Apple says drivers will be able to select from several different colors, layouts, and styles for various features. Yet another feature of the new system, according to Apple, "Useful widgets showing things like real-time weather and calendar events can be displayed on vehicle screens."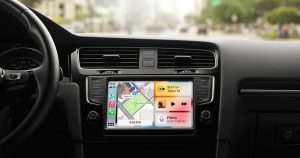 Auto Industry's Dilemma
It is a known fact that many users in developed nations own iPhones as it has become a popular choice worldwide. People even own iPads and other Apple gadgets that are popular these days. Since a large number of users with iPhones would prefer their car to be powered by Apple software, the automakers will have to now make a hard choice. Should they build their own infotainment system or should they opt for the Apple software? Building a proprietary infotainment system would be a significant financial investment. Opting out of Apple CarPlay would mean that they will lose out on customers who prefer Apple software as they are already accustomed to the interface.
According to Apple, the number of people opting for CarPlay integrated cars is numerous. Apple engineering manager Emily Schubert said that 98% of new cars in the U.S. come with CarPlay installed. She claimed that 79% of U.S. buyers would only buy a car if it supported CarPlay.
The Connected Car Era
Carmakers across the world have started to sell additional services and features to their internet-powered infotainment system. GM revenue from its in-car subscriptions stands at $2 billion per year.  And expects the figure to grow to $25 billion per year by 2030. Tesla recently started selling its "FSD" driver-assistance features as a subscription that costs as much as $199 per month.
According to a McKinsey report, the car software market will grow 9% per year through 2030 and could account for $50 Billion in sales by 2030. Apple wants a share of this money as well and reportedly.  Te tech giant has already secured cooperation from several major carmakers.  To back up that point, Swedish automaker Volvo has announced that it has added Apple CarPlay software to all its cars.  Looks like Apple CarPlay is gaining traction in the auto market, at least with the luxury brands.
More to read:
Top TikTok Slang Words And Phrases You Need To Know
Apple Watch Series 8: Latest Updates 2022
Apple's Lockdown Mode Will Now Protect Your iPhone from State-sponsored Hacking
We hope you love our reviews! For your information, we do earn money from commission in the link in the content! For more information click here!