Updated on April 3rd, 2022
Modern rock drumming can be identified by a number of trademark characteristics, most notably power and punch. Early rock and roll drummers were lucky if they were recorded with one or two microphones.
Nowadays certain engineers will place no less than two mics on each drum, combined with a plethora of overhead room mics.
Each drum gets an enormous amount of attention in the studio and for this reason it's important to find the ideal mix of stick, head and mic to get closer to the sound you want.
In this review we will examine a number of leading brands and head types in order to weigh up the pros and cons of each.
It's important to note that the drum head won't do all the work itself, and quite often the sound produced on your favourite album can be down to individual elements such as the player's technique, the type of stick, the microphone used, mic placement, and also the post recording mixing and mastering that is done afterwards.
Head types
The two main types of head we will discuss are coated and uncoated and their single and double-ply incarnations. In general, coated heads produce a softer, more rounded tone with a touch less attack.
On the other hand, uncoated heads are known for producing a bit more attack and definition.
Whatever the result, it is still possible to get a wide range of sound from each type of head by using production techniques such as EQ.
Here we can digitally enhance the output from the microphone to increase or decrease head characteristics.
A small boost in EQ can add definition where it it may have before been lacking or improve the drum tone immeasurably.
Snare
Snare taste varies from player to player and is often deeply personal. Due to its natural sound and frequency range, the snare is usually the most audible drum on any kit.
It produces a sound that largely lies around and above the mid range which our ears are naturally designed to be more sensitive to. It's this range that the human voice also predominantly occupies.
The Remo WeatherKing is one of the most popular snare drum heads in the world.
Remo WeatherKing Ambassador Coated Drum Head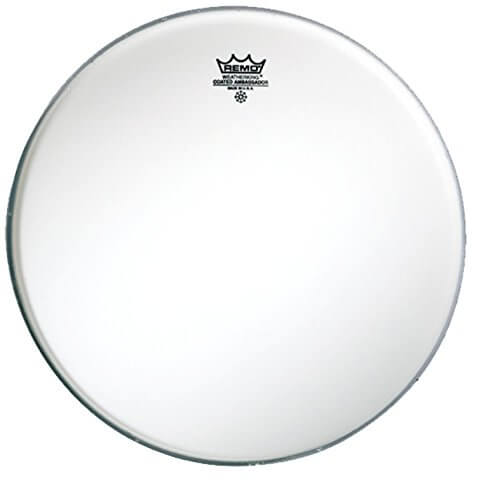 Click Here for Pricing, Pictures and Reviews on Amazon.com
It's a coated head of medium thickness meaning it's not too light to sustain heavy playing, yet it's not so thick to dampen the drum's natural resonance.
You'll get a nice crisp sound from a WeatherKing with the option of harnessing a lovely rimshot ring, should you go for that style.
Evans too produce a vast array of options for snare but one worth considering for rock players is definitely the latest Level 360 offering – 'The HD Dry'.
This head is a polar opposite of the Remo WeatherKing in that it will stifle the majority of overtones from the drum, leaving a warm, dry tone.
This head is ideal for players who are going for more of a Steve Gadd-style dryness to their snare sound.
For seriously hard hitters all brands offer reinforced heads with extra ply or 'power dots' in the middle. The Aquarian Hi-Energy drum head is one such type.
You'll get a nice crack from any snare using the Hi-Energy but at the cost of sound scope.
There is really only one tuning they work but durability will not be an issue here.
Bass drum
For a powerful rock bass drum sound it's hard to look past the Evans EMAD2. This drum head is 2-ply for extra long life and comes with the option of two dampening rings.
Evans EMAD2 Clear Bass Drum Head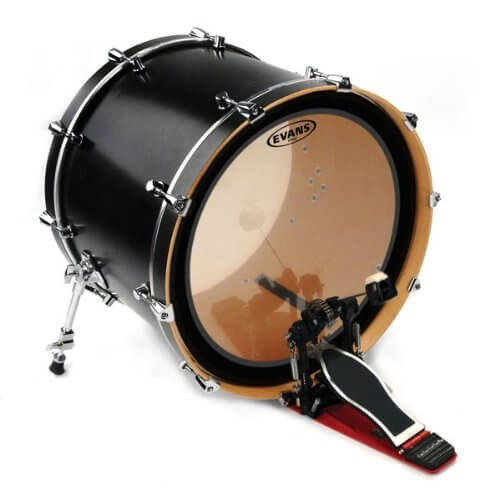 Click Here for Pricing, Pictures and Reviews on Amazon.com
These rings can be placed in the surrounding sleeve which is attached to the drum head for different levels of sound control.
The attack and boom from this head is very impressive and fits the demands of any situation, especially rock and metal.
The Remo Powerstroke Pro Clear is a similar design to the EMAD with the same dampening ring concept.
Remo Powerstroke Pro Clear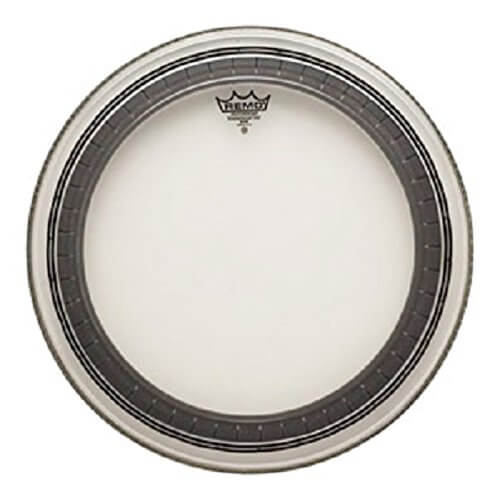 Click Here for Pricing, Pictures and Reviews on Amazon.com
There's a nice response with the Powerstroke and not much between the two, but for my money the EMAD wins out for tonal structure.
It's one of the easiest bass drum heads to get a crisp and fat rock sound with, ever.
Toms
For a coated sound the Remo Coated Ambassadors have long been a player favourite. They produce a defined sound with a wide tuning range.
Remo Ambassador Coated Drum Head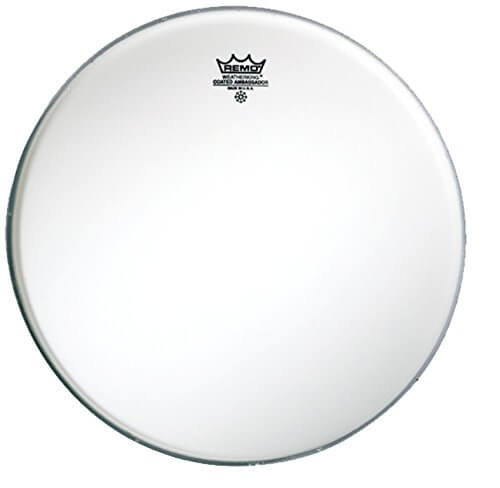 Click Here for Pricing, Pictures and Reviews on Amazon.com
You can use them for a variety of styles from deep rock to lighter, looser jazz settings.
For an uncoated option you can try the Ambassador Clear or the Pinstripe Clear. The pinstripe helps control drum overtones for a more contained sound.
The Remo clear range is all in all very durable and the head response produces plenty of 'slap'.
Evan's G1 and G2 are probably still the most popular Evans tom head. They too come in coated and uncoated varieties and are slightly less responsive than their Remo counterparts.
You get more of a sense that Evans have tried to minimise certain natural drum overtones here and that may or may not be to your liking.
One head well worth checking out is the latest Level 360 head from Evans – The EC2. This is a controlled 2-ply head with a light ring of dampening on the underside.
Evans EC2 Clear Drum Head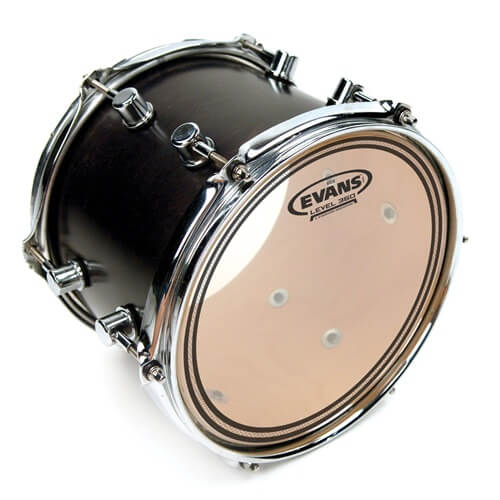 Click Here for Pricing, Pictures and Reviews on Amazon.com
The tone produced is very slick, and in most cases there is no need for additional dampening such as moon gel.
When tuned right the drums tend to sing with the EC2's whilst still sounding defined with a nice attack.
Resonant heads
For the snare you'll likely want an extremely thin resonant head. This makes for a faster and cleaner response from the snares themselves.
Here you could try the Aquarian Classic Clear, Evans Hazy 300 or the classic Remo Diplomat. There's not much in the difference between these heads so play around and go for the best offer you can find.
Remo Coated Diplomat Drum Head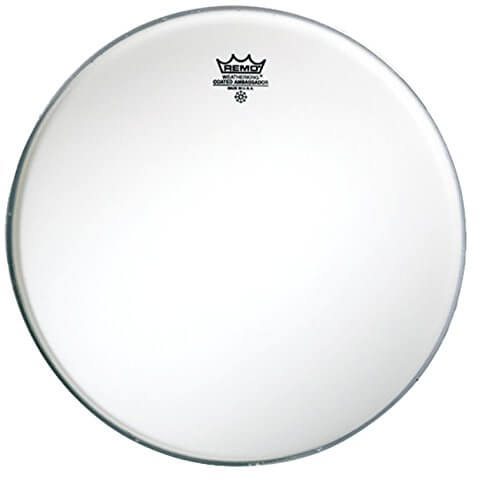 Click Here for Pricing, Pictures and Reviews on Amazon.com
For toms it's common to use either single-ply or in some cases double-ply heads. Double ply will give a longer sustain which can be nice for larger drums like floor toms.
Single-ply heads tend to brighten the sound and cut the sustain down.
In most cases single-ply will work well for rock and the shorter sustain often makes them a bit more manageable in the studio. Remo Diplomats fit the bill nicely.
For the bass drum resonant heads there tends to be little difference between the products on offer if you're going for a typical modern rock sound.
Nowadays front bass drum heads tend to be emblazoned with band logos and have large holes cut in them for miking.
That said, if you're after a John Bonham-like open bass drum sound you should try experimenting with a full uncut resonant head. One such head is the Remo Powerstroke 3 Resonant.
Remo Powerstroke 3 Resonant Bass Drumhead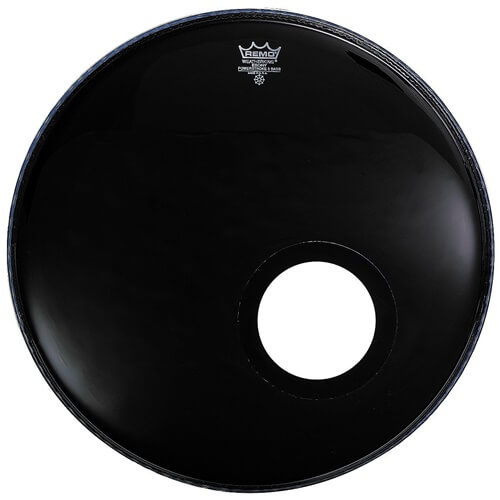 Click Here for Pricing, Pictures and Reviews on Amazon.com
Tune the head extremely high and use a small bit of dampening. Long felt strips work well for this type of tuning and can be run under the resonant head when tightening.
You'll want to fasten the strip so it goes across the diameter of the head and sits snugly in contact so it can lightly take away some of the more unruly overtones.
Recommendations
Bass drum
Snare
Toms
Conclusion
Personal taste is a huge factor in deciding the best heads for your setup and the above selections are just a handful of the options available to drummers today.
Be sure to weigh up factors such as durability and sound preference before you make your purchase and you'll be right on track to getting the perfect rock drum sound.
More to read:
All About Snare Drums and How to Tune Them Perfectly
Summary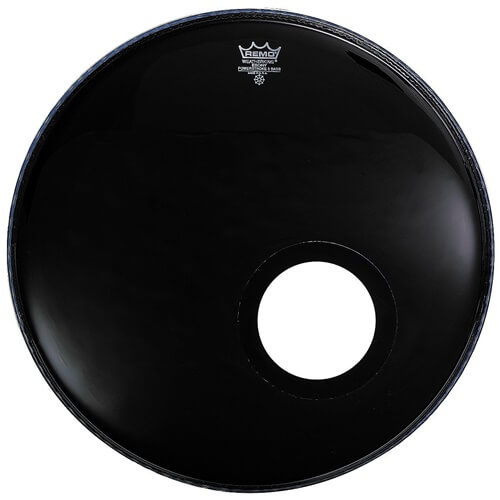 Article Name
Description
Looking for the best drum heads for rock can sometimes be harder then you think that's why we created these tips for selecting the best drum head possible.
Author
We hope you love our reviews! For your information, we do earn money from commission in the link in the content! For more information click here!