Updated on April 2nd, 2022
Finding the right mic for your instrument can be an arduous task. When it comes to drum kits you're dealing with multiple instruments all in one, each with their own individual sound characteristics.This article will review Sennheiser E602 II, a microphone which is specifically designed to capture low frequency instruments such as a bass drum.
Bass
The bass drum is a key component of every drum kit. Getting that perfect bass drum sound means finding a mic that can deliver clarity and punch.
Most vocal mics are not designed with sub-bass frequencies in mind and whilst they can produce clean results, much of the audio spectrum will be neglected.
A Shure SM58, one of the most popular mics in the world, has a range of 50Hz – 15,000Hz. Most bass drum mics will cover a wider range, one which can cater to the sound potential of a modern kick drum.
Mark II
The Sennheiser E602 II is a dynamic cardioid microphone especially suited to larger drums, bass guitars and upright basses, and even some low wind and string instruments like tubas and contrabass. Sennheiser's latest version of the mic, the mark II, is 40% lighter than its predecessor.
This reduction in weight means the Sennheiser E602 II can be used with smaller, less robust mic stands, and in turn save much needed space in the studio. Thankfully this decrease in weight has also affected the Sennheiser E602 II price.
Unboxing the E602 you'll find it's designed with an integral stand mount which you can attach to any standard mic stand fitting. The look is curved and sleek.
The additional lightweight protective pouch will protect against dirt and scratches but is no substitute for a proper hard case.
The mic itself is a nice size and feels well built, something that's important if you plan on doing a lot of live gigs.
The basic Sennheiser E602 II mark II specs:
Microphone Type: Dynamic
Polar Pattern: Cardioid
Frequency Response: 20Hz-16kHz
Output Impedance: 350 ohms
Colour: Black
Connector: XLR
Weight: 0.71 lbs.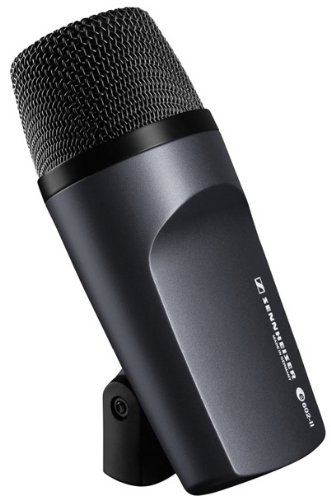 Click Here for Pricing, Pictures and Reviews on Amazon.com
Sound
First impressions of recording bass drums with the E602 gives a warm and clear response. The bottom end has been enhanced to bring out the sub frequencies.
There's nice crisp clarity on the attack too, hinting towards more modern bass drum sounds that have become popular in recent times.
In this respect, the Sennheiser E602 II is closer in response to the Audix D6 which retails at a marginally higher price. There's also a pronounced wet beater sound which puts it apart from some of the competitors like the widely popular AKG D112.
This enhanced low end will suit many styles from rock to pop to country but might not suit fans of more traditional recording styles.
It's not that you can't work with the mic but that you might find yourself rolling some of the bottom frequencies off for a more subtle result.
There's a dip in the mids around 180Hz which you can hear when compared the Electro Voice RE-20, a more versatile mic but at a far higher price.
The E602 is the cheapest of Sennheiser's low frequency microphone range which also features the E901 and the E902. The E901 is a boundary layer microphone designed to sit internally at the bass of the drum.
Like the E602, the E902 is a dynamic mic with a similar frequency response. Unlike the E602 there's no bottom end boost with the E902 and the presence peak is slightly higher too.
Here's how similar mics on the market perform when compared to the E602:
Shure Beta SM7b: Fairly flat sounding with not much frequency enhancement.
Shure Beta 52A: Strong boost at 5KHz. Less bottom end.
Audix D6: Even more bottom than the E602 with similar high end.
Electro Voice RE-20: True response with little frequency enhancement. Only goes as low as 45Hz.
AKG D112: Not as much high end boost, slightly woollier sounding than the E602 with no low enhancement.
When placed inside the kick drum we get a more rounded sound with less 'oomph' and a lot more clarity. There may be too much beater attack for most listeners when you use the E602 this way without any EQ.
As far as microphones go It's already very high frequency orientated and gives off plenty of 'slap'.
For this reason the E602 has the potential to clean up dull and poorly tunes drum kits and will impress many on first use.
It's also designed with extra padding in the mic head to deal with wind issues, which makes it better suited to miking just outside the air hole of the bass drum head.
With smaller kick drums and larger sized drums the E602 performs admirably. Ideally it is suited to larger drums, floor toms or rack toms - 14 inch and above.
The extra sub capabilities give impressive results especially if you're going for a classic power rock sound.
You start to lose much of the E602's capabilities with smaller drums as they just can't reach the frequency depths that it is tailor-made to cover.
Sennheiser have tried to take the pain out of drum miking with the E602 by focusing on enhancing the frequencies we associate with a full rounded bass sound. But don't be under the illusion that the E602 is solely restricted to drums.
Testing the E602 out on other low end instruments, such as electric bass guitar and upright bass, it delivers a healthy spectrum of detail.
The scoop at 100Hz - 1500Hz means you do end up with slightly recessed mids and stronger sub and high end characteristics but over all the E602 is perfectly compatible.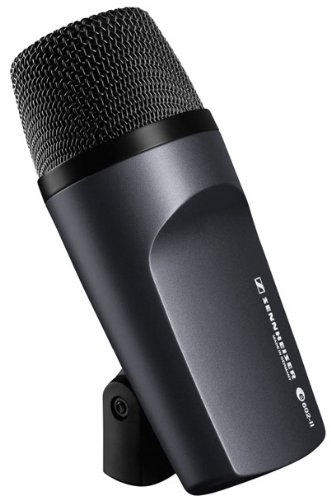 Click Here for Pricing, Pictures and Reviews on Amazon.com
Price
The E602 is the cheapest amongst the popular competitors out there. It retails for less than an Audix D6 and is half the price of the Sennheiser E902 and the MD421.
The Shure Beta 52A and the SM7b are closer in price and offer great products but neither cover sub frequencies as low as 20Hz like the E602 does.
Pros
Sounds great on kick drums and bass guitar
Great value
Cons
Conclusion
Keep in mind that this microphone is designed for use on low end instruments, especially bass drums and bass guitars.
Users with little experience mixing will find it easy to get an impressive sounding bass drum sound with the E602.
It's well built from solid aluminium and and robust enough to withstand the rigours of live sound.
To summarise this review, the E602 is a great little microphone for the money and perfect for musicians and engineers on a budget.
Read also:
TOP 10 Best Microphone Stands for Singing Drummers with Reviews.
Best Toaster in the U.S. That Are Worth Buying 2021                                    Acekool Toaster TA1
Best Stand Mixers in the U.S. That Are Selling Like Hot Cakes 2021        Acekool Stand Mixer
Summary
Reviewer
Review Date
Reviewed Item
Author Rating





We hope you love our reviews! For your information, we do earn money from commission in the link in the content! For more information click here!