Updated on April 2nd, 2022
For the past 20 years Presonus have been innovators in the world of digital audio work stations. In those 20 years the landscape has dramatically changed for both amateur and professional recording.
The recording studio has, for the most part, moved to the bedroom. We can hold in the palm of our hands more technology than you could fit in most 1970's studios.
Multitrack recording has developed and improved to the extent that a basic audio interface can cost you less than a beginner grade musical instrument.
With the AudioBox, Presonus has created a one-stop-shop for home recording enthusiasts. Today we will dissect the benefits and disadvantages of this product.
Compact
Straight out of the box the AudioBox certainly looks the part, with its cool blue front and shiny aluminium side panels. To hold it's a solid piece of kit too. No worrying signs of cheap plastic outer parts which might be prone to crack or break.
AudioBox is powered by just the one USB cable which prevents your recording setup turning into a bundle of untraceable wires. They've also been kind enough to include the cable, which is a welcome sight. As far as size goes it's around 6 inches square and less than 2 in height. It's neat and portable, which will come in handy if you happen to do most of your recording on the move.

Click Here for Pricing, Pictures and Reviews on Amazon.com
First up is the two channel inputs and these are 'combo-jacks', meaning they can take both XLR and ¼ inch jack inputs. As well as saving on space this also helps to keep the cost of the unit down. For example, you could plug your XLR microphone lead into channel 1 and an electric guitar directly into channel 2.
As an added bonus the AudioBox will provide the power for your guitar signal, so there's no need especially for a DI box. If you do decide to use a DI, do be careful with your levels as the sensitive preamps can lead to excessive clipping.
Control
There are 5 adjustable dials on the front panel of the AudioBox.
channel 1 volume
channel 2 volume
Mixer (turn left for inputs, right for playback)
Master
Headphones
Fans of Spinal Tap will be pleased to see that the headphone level goes all the way up to '11'. The build and feel of each dial is solid and smooth turning, so there's little chance of slippage. Also included is a 48v phantom power switch for use with extra sensitive condenser mics.
At the back of the AudioBox there's 2 MIDI connections – 1 in and 1 out. A handy addition, especially if you find yourself low on USB ports. Along with the ¼ inch headphone input there are 2 TRS outputs, left and right which can be used to monitor your recording and playback.
Sound
The AudioBox is USB 2.0 and will work with either PC or Mac. Installation is relatively simple and you also receive a demo version of their 'Studio One' software. Customers are invited to try out the free 30 day trial and then upgrade, should they choose to.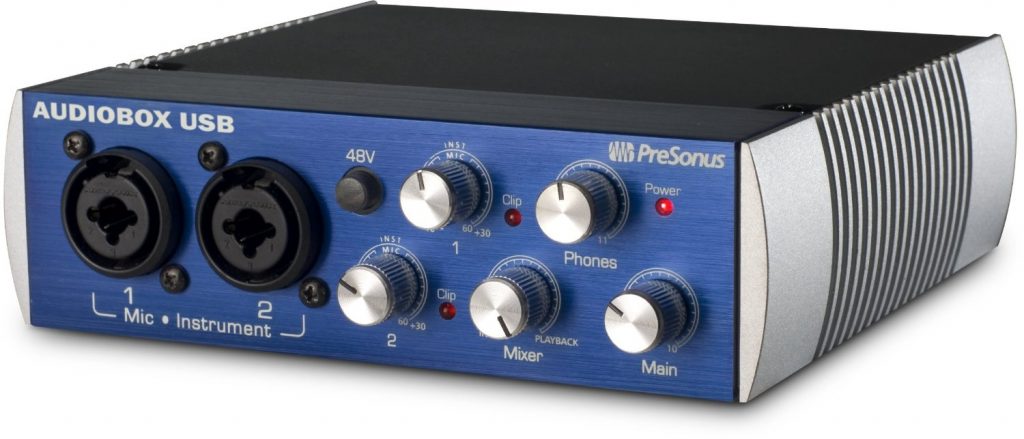 Click Here for Pricing, Pictures and Reviews on Amazon.com
Studio One has some nice features and works well with the Presonus hardware. Latency can be reduced, in some cases to under 10ms, to provide a comfortable working environment. Benefits of low latency mean you can play and monitor yourself, whilst adding effects to the track without any nasty delay, which for many years was the the bane of computer recording. Anything under 10ms is considered extremely good, even by today's standards.
The Presonus AudioBox has the ability to do 24 bit recording which places it above some of its competitors. It's also compatible with 44.1k and 48k sample rate. During testing there were no issues with handling two audio inputs and monitoring at the same time. The AudioBox performed extremely well and without a hint of lag.
The preamps in the AudioBox are impressive and make for a nice warm recording. They are extremely quiet and definitely hold their own amongst the other hitters. It's rare to find this kind of quality preamps in an introductory/beginner audio interface. Most preamps in this category have a dynamic range of about 90db – the Presonus AudioBox has a dynamic range of 120db.
Studio
One Presonus include a demo version of their latest Studio One software with most of their AudioBox packs and it is a pleasant and useful application.
There is the option of a 30 day trial before you buy so you can get to experience all the premium features it has to offer.
After you install the AudioBox drivers and software, simply launch the program and it will automatically select the correct driver.
Studio One performs well with the AudioBox and comes with a range of effects and plugins. It's an easy piece of software to get to grips with and is fairly intuitive for those with little experience of computer recording.
You can also choose from a number of presets and monitor in real time without any latency issues.
The Ampire guitar effects plugin is an impressive piece of kit and also comes with a tonne of useful presets. You can get some quite convincing results when working with just a dry guitar signal.
Also included is a handy collection of drum loop samples at varying tempos which can be easily dragged onto your project. Pleasingly, the AudioBox is conflict-free with all other recording software so you are not obliged to make the switch.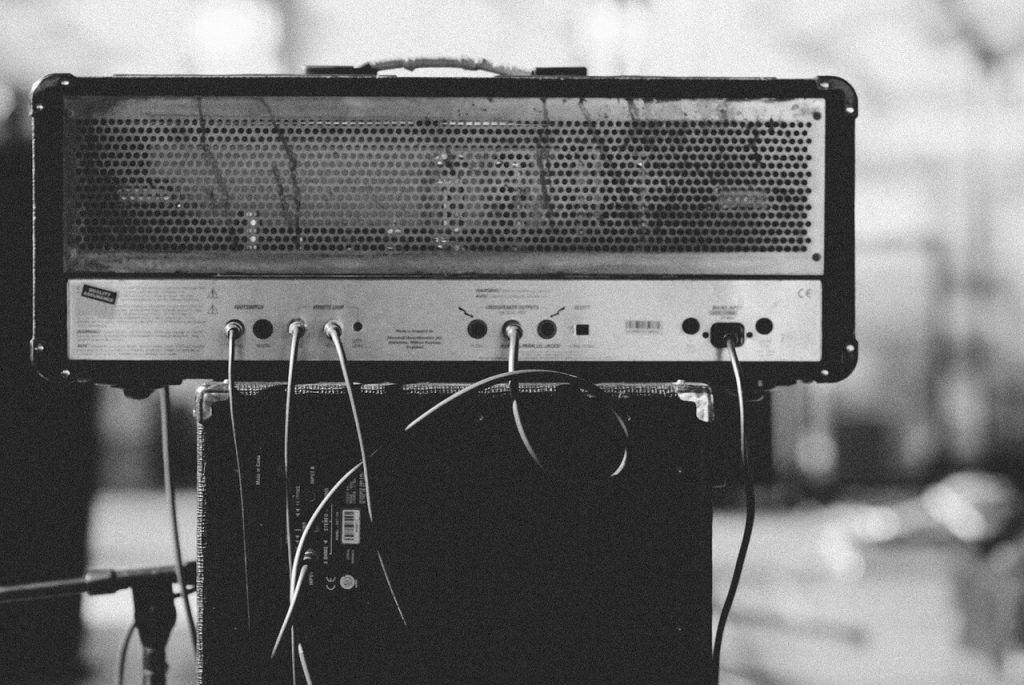 Pros
Low latency
Quiet preamps
Hard to beat price
Cons
Conclusion
With the AudioBox Presonus have created an audio interface that will be music to the ears of countless budding musicians and producers.
The AudioBox has all you need to make clean and professional sounding tracks without having to break the bank.
If all you require is the ability to record one or two tracks at a time then this product will suit you down to the ground.
With low latency drivers and simple plug and play setup it's easy to see why Presonus have already done extremely well with the product to date.
The one Achilles' heel is perhaps the limited headphone outputs which can prove tricky when trying to work with bigger multiple room setups. For most users this will not be an issue.
To conclude, If you're in the market for an audio interface you can't go far wrong with the AudioBox.
More to read:
Best Toaster in the U.S. That Are Worth Buying 2021                                    Acekool Toaster TA1
Best Stand Mixers in the U.S. That Are Selling Like Hot Cakes 2021        Acekool Stand Mixer
Summary
Reviewer
Review Date
Reviewed Item
Presonus AudioBox USB Audio Interface
Author Rating





We hope you love our reviews! For your information, we do earn money from commission in the link in the content! For more information click here!