Updated on April 2nd, 2022
In this article we will discuss some of the best drum set brands, their pros and cons, and the overall value for money that they offer.
Whether you're searching online or in the local music store you will encounter a multitude of top drum kits varying from the modestly priced to the exorbitant.
Best Drum Set Brands include: Tama, Gretsch, Yamaha, Sonor, Ludwig, DW Drums, Pearl.
Many drum set reviews focus only on one brand at a time which makes it an arduous task to weigh up the pros and cons.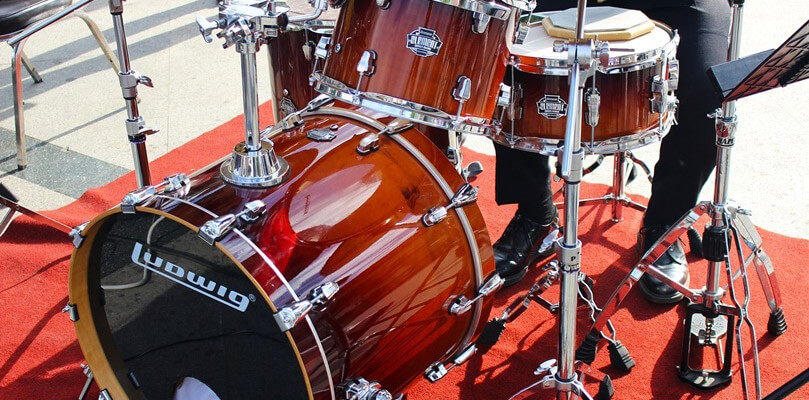 Today we will talk at length about the individual characteristics of each kit and the addition features such as hardware and build quality.
We will try to answer the teasing question of what is the best drum set brand for each level. Who makes the best drum sets and what are the best drum kits?
The article has been graded in price from beginner, to mid-level, to advanced highend kits. Finding the best drum set for your needs requires a consideration of many factors.
Let's get right into it.
[toc]
Best Drums: The Buying Guide
Drum sets range in price from $100 to over $10,000 should you have the disposable cash to spare. So what is it that makes one kit worth one hundred times the other in price?
Well, some might argue that the difference is negligible and usually a waste of money. Others will swear that you can hear and feel the difference.
One thing is for sure though, there are marked differences that you can be aware of and look out for on your search for the right purchase.
Beginnings
The overwhelming majority of drum sets are made from wood, whether it's multi-ply or carved from one solid piece. The former is the cheaper option and easier to mass produce. The latter type of drum tends to be reserved for the big spenders and is usually custom built to order.
A beginner kit will usually set you back anything from 150$ to $300 and is perfect for getting to grips with your drumming.
Don't expect much durability with these kits as they are not built for the road. Fittings will be cheap, leading to wear and tear over the months and years.
Many drum set reviews will fail to mention the pitfalls surrounding purchasing such bargain bin drum kits. Another issue with the entry level drum sets is that they don't often offer replacement parts.
There will not be the same level of care and attention to an entry level kit and quite often the sound that each drum will produce is inconsistent and prone to producing a lot of unwanted overtones.
Almost everyone starts out on a cheap kit like this and in reality there are many positives to be taken from this experience.
Playing on a cheap kit for months and even years opens up your ear to the real difference in sound that the better sets produce.
The experience of learning and playing on a subpar drum kit will keep you in good stead going forward.
How can you be expected to appreciate the nuances and craft of an elite drum set without having first hand experience of the opposite end of the quality spectrum?
Having progressed on from beginner drumming you could find yourself in the market for an upgrade.
Best Drum Set Reviews
Here we'll run down a list of contenders for the best drum set starting with lower budget and all the way up to high-end kits.
Performance Percussion PP300R
The PP300R is a full size drum set aimed at those on a limited budget, namely beginners and adolescents. It contains everything you need to get started with you drumming including cymbals and hardware stands.
It comes with five drums, bass drum, three toms and a snare. The sizes are 22"x16" for the bass drum, 13"x11" and 12"x10" for the two front toms, 16"x16" for the floor tom and 14"x6½" for the snare.
You won't even have to fork out for a drum throne here as Performance Percussion have included one in the deal.
The hardware is impressive for a kit in the sub $400 range and will hold up to some abuse. There's nothing worse than shoddy, light hardware with little durability, especially when it has to cope with the demands of a beginner starting out.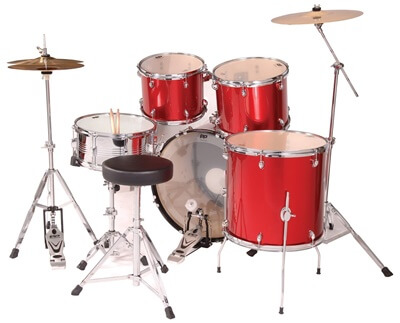 The bass pedal is chain driven and gives a nice response. It's reasonably adjustable and we were able to get an acceptable range of spring tensions.
Also included in the pack is a set of 14" hihats and a 16" ride cymbal. The sound from the cymbals is quite cold and metallic but it is to be expected at this price range.
Considering a top of the range ride cymbal could set you back more than the total price of this drum set, that's not a surprising complaint.
The stands have double-braced bases which allows for more strain such as loading up with larger cymbals or adding additional auxiliary crash stands.
The stock drum heads are not too bad actually and there is a nice sound from the bass drum right out of the box.
The stand out performer though is the snare, made from steel, with a healthy crack sound when tuned up a touch.
You can order the PP300R in four different colors including silver, blue, black and red and they'll even throw in a set of drumsticks and a tuning key for good measure.
Pros
Decent hardware for the price
Cons
Larger sized drums won't suit all beginners
Tama Imperial Star
With the Imperial Star, Tama have offered a competitive alternative to those willing to keep within a smaller budget.
It's a five-piece drum set including drum throne, bass pedal, hi hat stand, snare stand, cymbal stand and a set of cymbals too.
The toms are connected to the bass drum which may or may not be to your liking. Each tom holder has an 'omni-ball' fitting for maximum positioning.
It's quite easy to get the toms nice and low so if you're buying for a youngster, this might be music to your ears. The HP10 bass drum pedal performs well and is sturdy enough not to worry about putting your foot through it.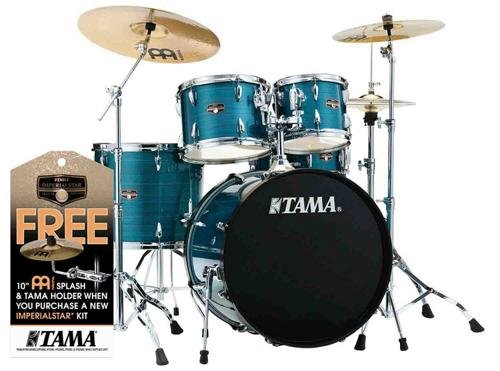 The sound from the bass drum is powerful if a little boomy but this can easily be resolved by either using some muffling or a switch of the drum heads.
An Evans Emad compliments the drum and bass drum beater nicely here. The cymbals that accompany the Imperial Star are Meinl's BCS series. There's a 14 inch set of hi hats along with a 16" crash cymbal and 20" ride cymbal.
18"x22" Bass Drum, 8x10 & 9x12 Rack Toms, 14x16 Floor Tom, and 5x14 Snare

HS40W Snare Stand, HH45W Hi Hat Stand, HC43BW Boom Stand, HC42W Straight Stand, HP200P Bass Drum Pedal, MTH600 Tom Holder, Throne, and Floor Tom Legs

Includes Drum Throne

Comes with free 10" Splash Cymbal
They're more than adequate for a kit of this price category. Considering that most drum sets in this price range (under $600) usually come with limited or no hardware and no cymbals, the Tama Imperial Star is a great product for the money.
It's perfect for starting out on your drumming journey and not too flimsy to cause frustration in the long term. Plus it's a stunning looking drum set and comes in a number of colours including white, red, blue and black.
Cons
For the money, none really
PDP Mainstage
PDP make good drum sets at competitive prices. The PDP Mainstage is a perfect drum set for a beginner but expect it to last more than a year or two.
Being a tad more expensive than the PP300R, the PDP Mainstage is better built and offers a better overall tone. The 7-ply shells are made from poplar wood and with a 45 degree bearing edge on each drum.
This edge makes for a fuller response from each drum head. Drum sizes are 8" and 10" from toms, 14" floor tom, 22" bass drum capped off with a 5x14" snare drum.
The kit comes with two immaculate finishes, black and bronze, which make it look more like a mid to high end kit.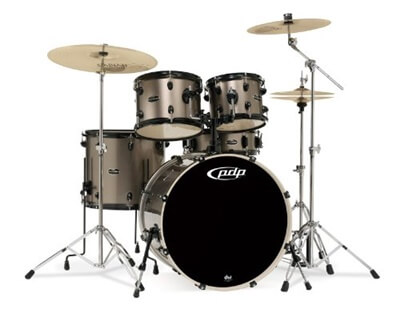 Hardware includes a snare stand, hihat stand, boom ride stand and a crash stand. PDP specialise in solid hardware and they don't disappoint here.
Also included is a well built PDP bass pedal which should withstand the heavy hitters out there. The overall feel to the kit is solid and secure.
The bass drum doesn't move thanks to the strong spurs at the front. The toms are easily adjustable and position which is important in every drum set. Each drum is easily tuned and getting a warm tone was no major task.
The bass drum is very impressive sounding and works well with the supplied pedal. There's a real nice sound between the bass drum and snare and they are the two most important components of any drum set.
The only downside to purchasing a kit like this is that you will have to buy your own cymbals too. Granted some stores will be more than happy to throw in a set of hihats, ride and crash in order to close the deal so do bear that in mind.
All in all the PDP Mainstage is a solid bargain for the price and if taken care of should last a long, long time.
Pros
Cracking bass and snare sound
Gretsch GS1
The Gretsch GS1 is another beginner level drum set in the same bracket as the PDP Mainstage. It's even in and around the same price, namely under $800.
It too is made from poplar wood or mahogany which is a cheaper alternative to the more expensive maple, beech and birch options.
The standard sizes are 10", 12" and 14" floor toms with a 22" bass drum and 14" snare. The bearing edges have been cut to 30 degrees.
As is typical with many Gretsch drum sets, the toms are more shallow than many of its counterparts. In this case the front two toms are 7" and 8" in depth respectively.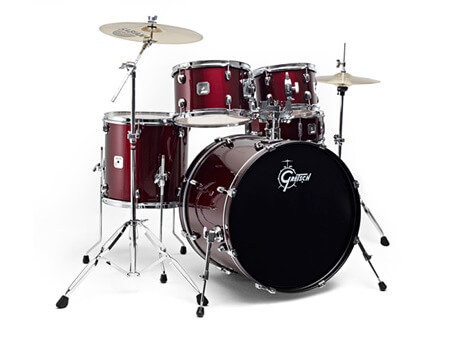 This can be of benefit to smaller drummers, allowing easy lowering of the toms above the 22 inch bass drum.
Many find that the greater space below the resonant head of the drums makes for a richer and fuller tone too.
The snare is an impressive addition to this drum set. It is surprisingly loud and can keep up with the loudest of bands.
Each drum is equipped with Gretsch's own resonant and batter heads which, whilst not the most robust on the market, should keep you in good stead for a good few months of playing.
Colour-wise you can choose from black or red finishes. Gretsch also have released the GS2 pack which is ultimately the same drum set with added Gibraltar hardware and a set of Sabian SBR cymbals.
Gretsch have put together an impressive kit for the money and one that would certainly be worth checking out should it cover your demands.
Cons
Shallow toms might not be to everyone's taste
Yamaha Stage Custom
For in or around $1000 you can get yourself one of the most popular mid-range kits with the Yamaha Stage Custom five-piece drum set.
Each drum is a 6-ply birch wood shell and comes in a range of finishes including black, white, red, deep blue, natural and dark wood.
The birch shells offers a slightly higher pitch to maple and there is very slight reduction in volume when compared to maple drums in general.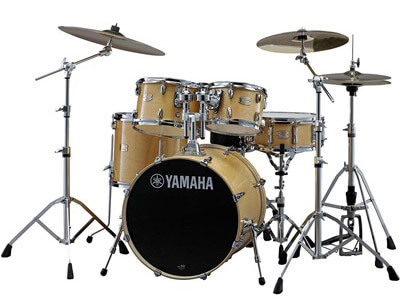 That said, Yamaha produce are one of the best drum set brands around and the Stage Custom does not disappoint.
With 10" and 12" front toms and a 16" floor tom as standard, Yamaha have covered the basic fusion style setup. The bass drum is 22" although you can get a 20" should you wish.
A slight disappointing feature is the tom mount on the bass drum which makes tom positioning limited to a smallish range.
Not good news if you like to experiment with alternative setups. If you like you can shell out for one of Yamaha's handy tom mount clamps and instead position the toms off of either a rack or a cymbal stand.
The Yamaha Stage custom is an ideal drum set for drummers who want something closer to pro level but don't want to break the bank.
Cons
Tom mount on the bass drum
Tama Superstar Hyper-Drive
Tama have long produced some of the best sounding drum sets. The Superstar Hyper-Drive represents one of their higher end products.
It's a six-piece drum set with two floor toms, both free standing on legs. Tom sizes are 10", 12", 14" and 16" with the typical 14" snare and 22" bass drum.
This is just a shell pack only, meaning there is no hardware or cymbals included, just the six drums.
In a regular setup the toms are not connected to the bass drum, rather they are attached to two cymbal stands either side of the kick.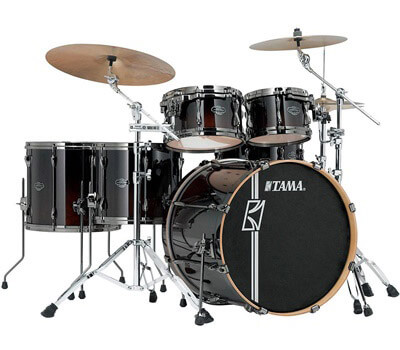 Positioning is made easier with the 'StarCast Mounting System' which is essentially a ball and socket type fastener that clamps to the hoop.
The sound of the drums is beautiful. Tama have done a great job in ensuring pure tone throughout the kit. The bearing edges have been cut to 45 degrees and the 6-ply maple shell provides fully resonant characteristics.
The stock drum heads on the Superstar Hyper-Drive are the 'Power Craft II' model and certainly make each drum sing.
You might find yourself replacing them in a few months if you tend to hit more on the hard side. The drums come with 'Zinc Die Hoops' which Tama claim have more density and offer more crisp rimshots than regular triple-flanged hoops.
If you're in the market for a 1-2k drum set then the Tama Superstar Hyper-Drive should definitely be checked out.
It's one of the best drum sets for the money.
Cons
You'll still have to fork out for hardware
Gretsch Catalina Maple
Another drum set from Gretsch, and this time it's the widely regarded Catalina Maple Series. This is the first maple wood drum kit we have covered.
Each drum is 7-ply and looks outstanding in any finish. Gretsch have gone for 30 degree bearing edges here again.
The 10" and 12" toms now come in a 5 lug configuration. The tom mount is a ball and socket design and very easy to use.
It feels solid when you tighten a tom in any position with no fear of lateral movement or slippage.
The Catalina Maple Series comes with Evans drum heads right out of the box which is an added bonus for those who hate cheap stock heads.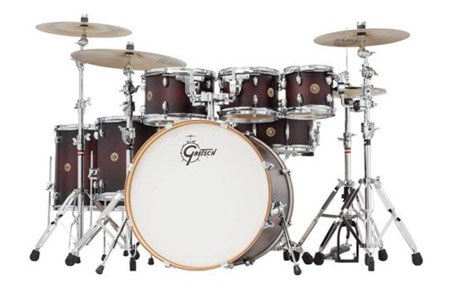 The drum sizes are typical enough with 10", 12" and 14" toms, the latter having a 14" depth too. These toms are really rich and warm with the Evans heads and need very little adjusting.
The bass drum is 22" with a nice attack and just enough body. It seems overall that Gretsch have spent the extra mainly on the sleek design and it is sleek.
It's a beautiful drum set but consumers with shallow pockets would do well to compare and contrast with the GS1 before they part with their cash.
Cons
Not a huge leap up from the GS1, apart from price
Sonor ProLite
Sonor have always had a great reputation for creating beautifully crafted kits, and the ProLite series is no different.
Hand built in their German factories, the amount of attention to detail in this drum set is second to none. Even the shell colouring and finish can take two weeks or more to complete.
You can preorder your ProLite with custom sizes in mind. If you prefer a 13" snare and an 18" bass drum, that's no problem, Sonor can ship it to your style and taste.
In fact you can get bass drum sizes in anything from 18 inch to a whopping 24 inch diameter, and all with wooden hoops.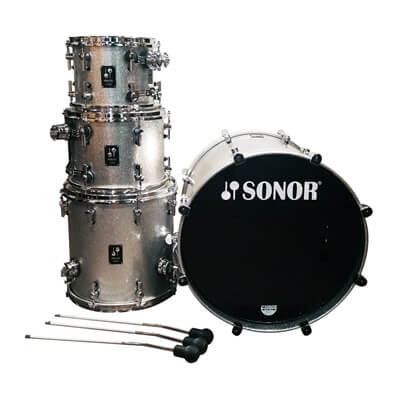 Snare and toms instead come with 2.3mm Power Hoops although you can order a die-cast hoop for your snare if you prefer.
Each drum has a slightly bigger space between hoop and rim which Sonor reckon allows for a true and freer resonance. A key component of the ProLite snare is the addition of Sonor's 'Dual Glide System' strainer.
The beauty of this strainer is that you can remove the entire fitting when changing resonant heads without having to adjust or loosen the strainer tension.
Catering to the custom market means that you will have to provide or buy your own selection of both hardware and cymbals.
An average five-piece setup with two toms, snare, bass drum and a floor tom will set you back a good chunk of change, around five grand give or take, but if you find the right supplier they'll more than likely do you a good deal on an accompanying set of hardware to go with your new ProLites.
The maple shells on the ProLite are a work of art, not just in their design. There is a warm, rich tone from each of the toms and great clarity in the kick drum.
It's true that the ProLite is as good as it gets when it comes to Sonor and quite possibly drums in general.
Cons
Not as many finishes as other competitors
Ludwig Classic Maple
Ludwig's Classic Maple Series is a top of the line drum set with quality abound. On first impressions the Classic maple Series looks like something out of a legendary Led Zeppelin live video.
It has all the hallmarks of the drum kits that were favoured by the great Henry Bonham. Completely handmade with American maple, these drums sound amazing and give powerful projection.
They are 7-ply and 6mm thick and come in a range of finishes. Each drum is built using Ludwig's Radio Frequency Shell technology which means the wood grains are cross-laminated over each other.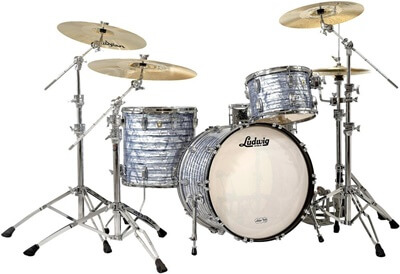 The shell is then specially bonded in order to create a perfectly flat and compact drum. The bearing edge is then sanded to an exact 45 degree angle ensuring that the drum head sits perfectly flat on the drum every time.
The 14 inch snare drum is 6.5" in depth and extremely versatile. It can be tuned to suit a range of styles from jazz to heavy rock more than adequately.
There's a gorgeous natural and musical ring to this drum if left without any dampening. Toms are responsive and loud and reminiscent of the classic rock drummers of the 60s and 70s when played at volume. With a nice set of coated drum heads the toms are easily configured for a retro vintage jazz style.
Should you choose the Ludwig Classic Maple be sure to research the hardware fittings before you do so. Whilst Ludwig provide their own range of accompanying stands, we did find them not to be as robust as some of the other stands available on the market.
When all's said and done, Ludwig still continues to be one of the really good drum set brands out there.
Cons
Hardware not up to competitors
DW Collectors Series
DW, or Drum Workshop as they are also known, have been in the drum manufacturing game for a relatively short time compared to many of their well known competitors.
In this short time DW has risen to the top of the drum construction industry and has amassed a vast legion of adoring fans from both professionals and amateurs of the artform.
Starting out as a maker of bass drum pedals, DW have gone on to set the standard in drum manufacturing and are considered one of the best drum set brands.
Indeed, many DW innovations have been huge influences on other manufacturers. The Collector's Series of drums is the flagship line from Drum Workshop.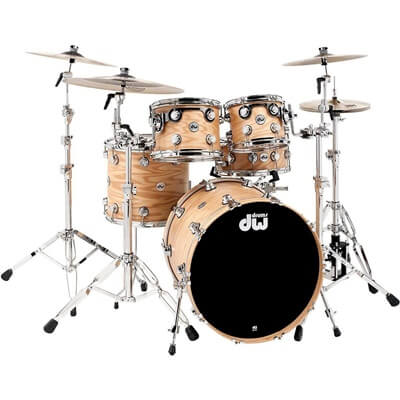 Made from American maple shells, these drum sets are of the highest quality. Each drum is fully customisable in size and made to DW specifications.
In many cases your order will be created from wood from the same tree where possible, to give a more uniform sound.
The 14"x6" snare drum is solid and produces a fine, crisp hit. It's noticeably heavy in build and feels robust even when playing at volume.
Collector's Series drums all come with Remo's custom DW single-ply heads on the batter and resonant sides which are pretty high standard.
The toms really sing when equipped with an Evans G2 for example. You immediately get that clean, punchy and pure DW tone that is immediately identifiable on radio and live gigs.
Bass drum sizes are again fully customisable in diameter and length. Inside the bass drum you'll notice DW's own dampening system which provides just enough cover for both front and back heads to produce a rich kick sound.
The Collector's Series is and always has been an emblem of quality drum making and will withstand the test of time.
Pearl Masterworks
Pearl have been creating drum sets for the consumer market for over 70 years. Masterworks is the flagship series that represents the pinnacle in Pearl's drum crafting.
No expense has been spared in the making of these drums and from first impressions it's clear that Pearl have went with a focus on designing and building awe-inspiring drums.
The finish on the Masterworks has a level of detail that hasn't been seen before on modern drums. But how do they sound?
Well that depends on how you select your kit. You can choose from maple, birch, African mahogany, gumtree or even mix and create your own custom shells.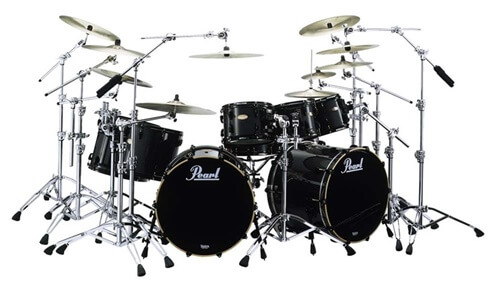 There's also three thicknesses to choose from; thin (4-ply & 5mm), medium (6-ply & 7.5mm) and thick (8-ply/10-ply & 10mm/12.5mm).
You can select from a number of custom shell interiors and exteriors as well as five 'sonically tested' bearing edges.
There's no doubt Pearl have done their utmost to offer their customers choice after choice.
Everything from extra long legs on shallow floor toms to the inclusion or exclusion of a bass drum mounted cymbal clamp fitting.
Pros
Choice, choice and more choice
Cons
Might be out of many a price range
Conclusion
Considering the best drum kits and the top drum brands is a lengthy ordeal leaving a lot of interpretation to the individual player's tastes.
As you can see from this article the amount of drum set brands and drum kits available is colossal and when it comes to making a decision you may feel overwhelmed.
That's why it's important to get your priorities straight and to know what exactly you expect from your purchase. Can you afford to spend $6,000 or only $600?
For those new to drumming there's no point jumping the gun too early and getting into serious debt!
That said if you can stretch to the modestly priced Gretsch CS1 or the PDP Mainstage, you'll be making a shrewd investment.
Both drum kits are well equipped although you will have to supply the cymbals in the case of the PDP.
For very young players or if you're not sure you will take to drumming fully, then perhaps consider something cheaper along the lines of the Performance Percussion PP300R or perhaps an African Drum like Djembe to get started.
For post-beginner/intermediate players looking to make the step up from their dishevelled basement kits the Gretsch Catalina Maple is a quality and classy product.
If you prefer a more rock orientated setup then perhaps you will do well to consider instead the Tama Superstar Hyper-Drive.
Both are some of the best rated drum sets in their price range and hold up well to both the rigors of live playing and the demands of studio sessions.
Finally on the more advanced spectrum, for those looking to invest in a kit for life and a real work of art it's hard to look past two contenders. Namely the Sonor ProLite Series and DW's Collector Series.
Both are worthy of the title 'best drum set' but must be played in person for you to discern which qualities are to your taste.
The DW Collectors will always be a big hit amongst professionals for its big sound and look but the ProLite is an extremely versatile kit and one that will only get better with age.
Whatever your level, ability or age, be sure to do your best to visit your local music store in order to play the kit that interests you so you can fully determine what in fact is the best drum set for you.
More to read:
Make Your Own Homemade Drum Set Today
TOP 3 Best Drum Set for The Money & Affordable Drum Kit Reviews
The Definitive Guide To African Drums
We hope you love our reviews! For your information, we do earn money from commission in the link in the content! For more information click here!