Whether it's a community picnic, quick burgers on a hectic weekday, or simply grilling egg sandwiches for breakfast, there's something about utilizing a grill that improves both the cuisine and the atmosphere. If you're thinking about buying an outdoor grill for the first time or updating your present one, you should consider the size of the grill as well as the area available for cooking. You should also examine how accessible the power supply is in the area where you intend to use your barbecue, as well as the grill's general longevity.
 Here are 5 best grills 2022 that we highly recommend:
1. Weber Genesis II E-335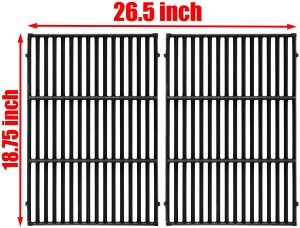 Weber's smart technology is incorporated directly into the Genesis II E-335, and it can even be synced with your smartphone for remote monitoring, making it a top contender in the list of best grill 2022. It's a big grill with a 9,000 BTU sear zone burner and a 12,000 BTU side burner that can handle just about any chore you can throw at it.
With infinity ignition, we were able to get the Genesis II E-335 up and running in no time. It was ready in 10 minutes, and the Flavorizer bars are angled stainless steel, leaving a traditional grid-mark pattern on steaks and veggies when grilled.
You may connect the probe to your smartphone and program it to check for a certain type of meat and cooking preference. It notifies you when the meat is at the ideal temperature for a juicy, medium-rare steak, eliminating the need for guesswork.
This is a substantial grill, weighing in at over 85 kg. You can watch the grill from your phone, but you can't modify or regulate the temperature, so keep that in mind when slow cooking your meat.
2.Hamilton Beach 25361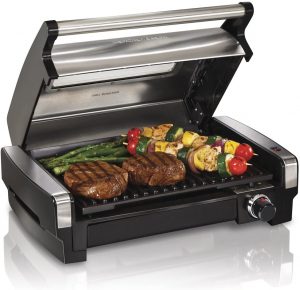 The Hamilton Beach 25361 Indoor Grill is a terrific alternative if you want an indoor grill that not only sears food nicely but is also small and easy to store. It's also reasonably priced, ranking among the least expensive alternatives in our roundup of the best grills. Hamilton Beach 25361 is an expert at grilling. It achieves high temperatures for precise searing, whether you're cooking steaks and burgers or seasoning crisp veggie kabobs. While the functionality may be simple, the Hamilton Beach 25361 Indoor Grill is straightforward to operate.
While it is not the cheapest on the market, it is on the lower end, making it a nice alternative for anybody looking to test out an indoor grill without making a large investment.
It can achieve temperatures of up to 450 degrees Fahrenheit for searing meals to seal in taste and juices, or you may use the adjustable temperature dial to find the ideal temperature for whatever you're cooking. The closing lid even allows you to make those trademark grill marks.
There's also no need to continuously raise the cover to keep an eye on your meal. The useful glass lets you keep an eye on how supper is progressing while also preventing heat loss. The 118-square-inch grilling surface can comfortably prepare enough food for up to six people, so while the Hamilton Beach 25361 Indoor Grill is small enough to fit in a small space, it can still accommodate family-sized dinners.
3.Cuisinart CEG-980T Outdoor Electric Tabletop Grill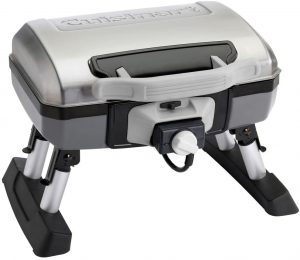 One of the greatest portable electric grills is the Cuisinart CEG 980T Outdoor Tabletop Grill. This grill is so small and light that you can pack it up and bring it with you. It does not require any assembly. It features a 145-square-inch grill area and can cook four pounds of fish, eight steaks and burgers, and six to ten chicken breasts.
This grill is available in two sizes: tabletop and versistand, which has longer legs. The grill, however, is the same in both variants. The Versistand model may be raised to your chest.
If you live in an apartment, you don't have to forego wonderful grilled dinners. Cuisinart is a high-quality kitchen appliance and tool company that produces one of the smallest electric grills on the market. The model is designed to resemble a stainless steel briefcase. Its compact form fits well in even the smallest of spaces, and its folding legs make placement and storage a breeze. Despite its diminutive size, the appliance can accommodate three people. The grill warms up in five minutes, saving you a lot of time. A lid liner accelerates the cooking process by reflecting heat to the meal.
4. Traeger Grills Ironwood 650 Wood Pellet Grill and Smoker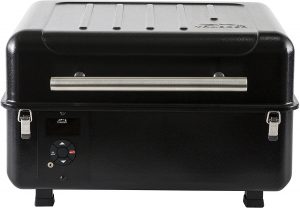 Traeger changed the grilling game over 30 years ago when they introduced the world to wood pellet grills. Though other wood pellet grill companies have emerged, Traeger remains a tough competitor, especially when considering their Traeger Ironwood 650 Pellet Grill.
To use the Traeger Ironwood 650 Pellet Grill, just plug it in and add hardwood pellets to the hopper, which are then transported to an auger and lit. Hardwood pellets impart a delicious smoky wood flavor to veggies and meats that gas grills cannot match. To increase the intensity of the smoky flavor, use the Super Smoke Mode button.
A fan circulates the heat and smoke, while a drop tray collects grease and other drippings to keep the flames burning and heat flare-ups at bay. With a cooking capacity of 650 square inches, you can accommodate eight entire chickens, six pork butts, or five-rib racks at once.
This Traeger Ironwood 650 has outstanding technical features which makes it a strong contender on our list of best grills. For example, after you've selected the temperature, the grill will keep it there for you. It also has WiFi and a built-in meat probe, allowing you to monitor the interior temperature of the meal and the grill from your phone.
5. Kamado Joe Classic lll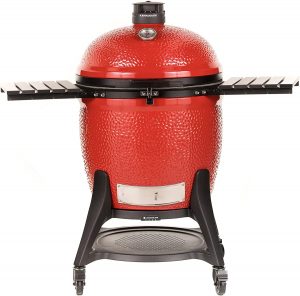 If you intend to cook meat, the Kamado Joe Classic III is the grill to utilize. Despite taking a little longer to heat than gas grills, the Kamado Joe Classic III is the most sophisticated ceramic charcoal grill on the market, providing the optimum sear and softness to your meats, as well as a smokey taste.
The SlōRoller Hyperbolic Smoke Chamber insert is what distinguishes the Kamado Joe Classic III. It's intended to uniformly spread smoke and heat in rolling waves, allowing the food to cook more fully without the annoyance of hot patches.
Even better, it has a multi-level rack that allows you to cook on the top 18-inch surface or four additional half-moon grates for a total of 510 square inches of cooking area.
This charcoal grill offers an overall temperature range of 225 to 750 degrees Fahrenheit, with a maximum temperature of 500 degrees Fahrenheit when using the SlōRoller. An airlift hinge on the top allows you to manage the air and temperature.
We hope our handpicked best grill 2022 models helped you make your choice.
More to read:
Best Websites For Free Education 2022
The Ultimate Guide To Best Mac Apps 2022
How To Get Windows Cheap Or For Free?
We hope you love our reviews! For your information, we do earn money from commission in the link in the content! For more information click here!