Updated on April 3rd, 2022
Beyerdynamic is one of the world's longest established audio equipment manufacture since being founded in 1924.
As one of the biggest manufacturers of microphones, headphones and audio systems they have long competed at the high end of the consumer market.
To this day, all Beyerdynamic products are manufactured in Germany and come with the long-standing reputation of high quality design and durability. Today we will review their DT990 Pro 250 ohm range headphones.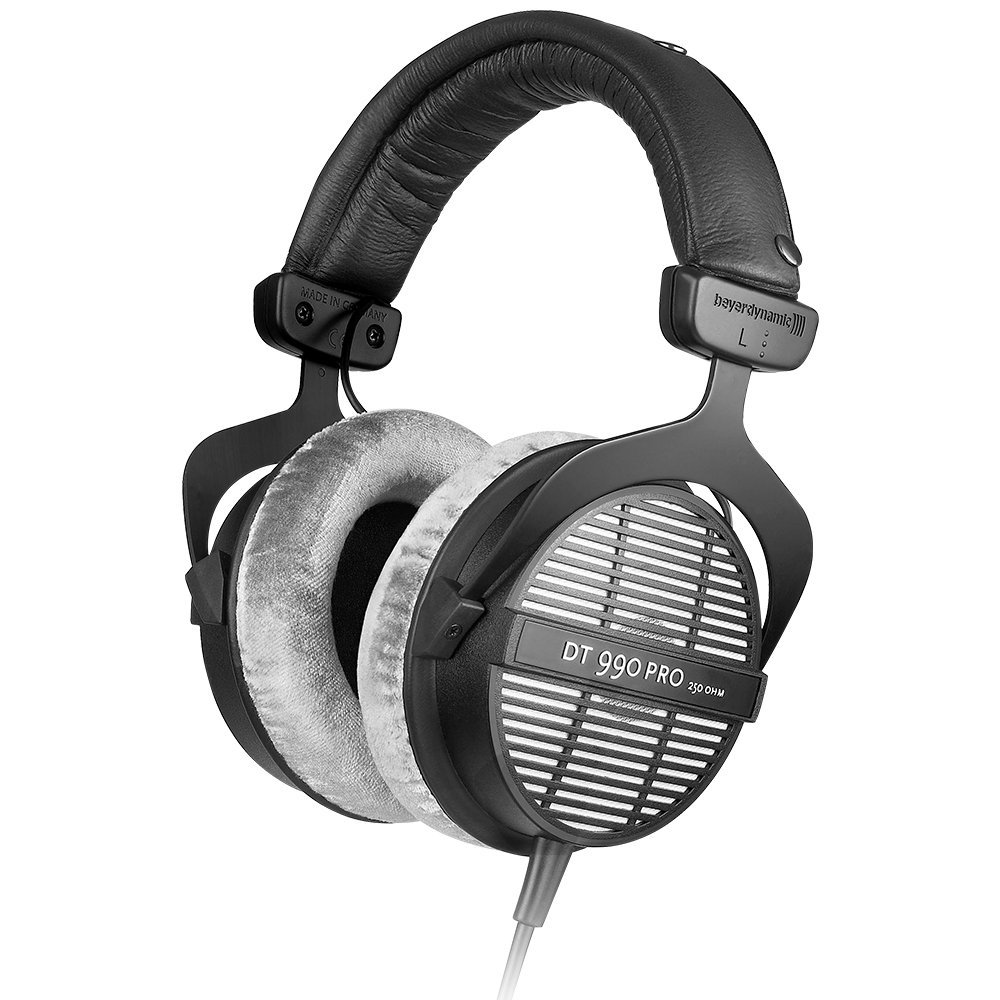 Click Here for Pricing, Pictures and Reviews on Amazon.com
Impedance
This DT990 Pro 250 ohm sits around the middle of Beyerdynamic's headphone offerings, with some going as low as 32 ohms and all the way up to 600 ohms. Generally with higher ohms, or impedance, you need more power to drive the speaker.
For example, the 32 ohm headset will work well with most smaller and portable devices as it requires less power to run the drivers.
The DT990 Pro 250 ohm is a different, bigger beast, requiring that extra push to get it to produce its optimum capabilities. In most cases this means availing of amplifiers to boost the audio signal.
The DT990 Pro 250 ohm model can indeed be used with or without an amplifier, although listening directly through everyday iPods and MP3 players will mean a reduction in overall sound quality.
First impressions
On first wear it's clear that Beyerdynamic designed the DT990's with comfort in mind. The circular ear pads are covered in a plush velour making everyday wear an extremely comfortable and snug experience.
The set fits nicely and cups each ear without applying too much pressure. Users who wear glasses will be pleased to hear that the DT990's are perfectly compatible and will cause no obstructions.
Comfort is paramount when it comes to long recording or gaming sessions and the makers were right to make it a priority.
The DT990's are without a doubt one of the most comfortable on the market. The 3 metre cable may be a godsend or a curse depending on your day-to-day use.
The look and feel of the DT990's is classic Beyerdynamic. From the first touch they feel like a quality product, solid in build and sleek in design.
They're a touch on the large side when it comes to alternative headphones in this price range but if you're planning on using them in the studio or for gaming then that won't be of concern.
The aluminium headband makes the DT990 a very flexible and durable product. It can withstand moderate twisting and torsion without any issues whatsoever.
The notch adjustment on the headband means you should have no problems finding a nice fit for yourself.
The DT990's feel comfortable enough to use on long sessions without feeling like you've just had your head squeezed by a professional wrestler.
Also included is a handy case which is big enough to double up as a holder for any other audio accessories.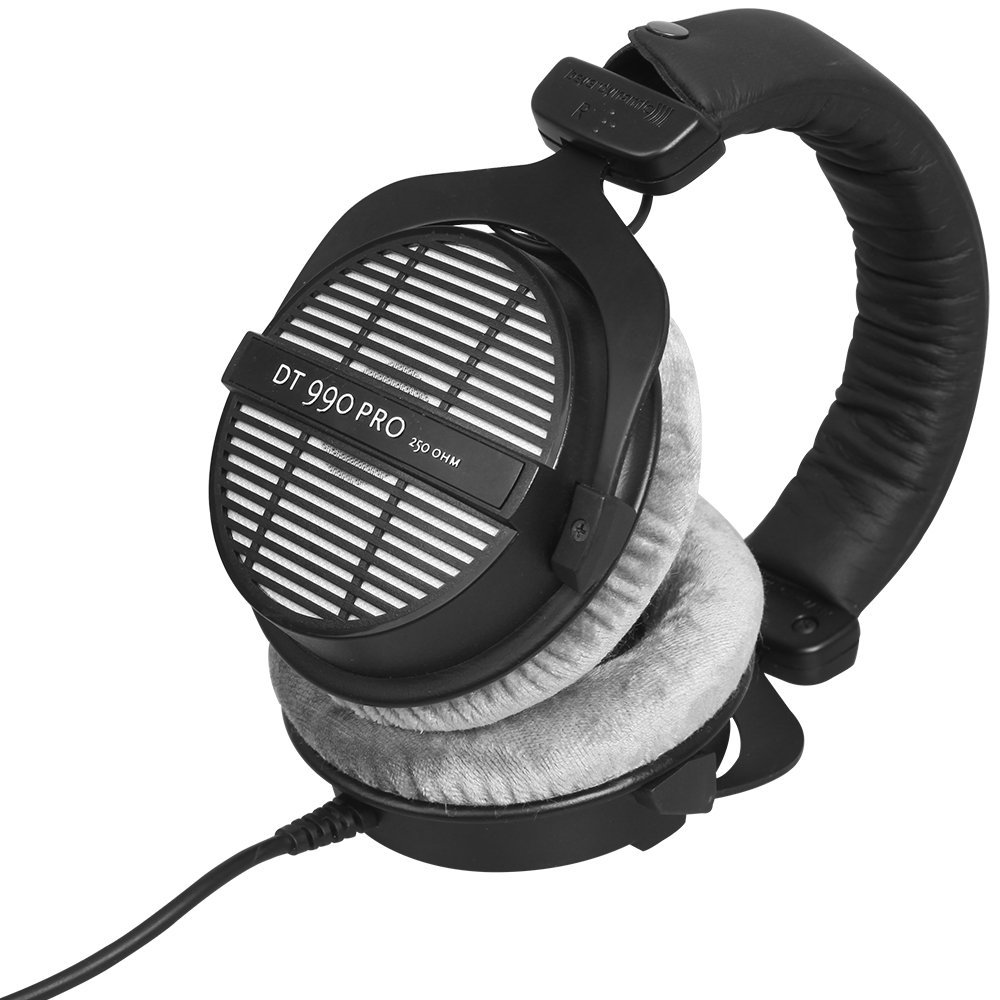 Click Here for Pricing, Pictures and Reviews on Amazon.com
Sound
The DT990 ear pads come with a semi-open grill on the outer side, which means there will be some audio leakage from the drivers inside.
The isolation is not high with these headphones so at low volumes it can still be possible to hear some outside noise and interference.
This may or may not be an issue for you depending on how you wish to use them but it's worth bearing in mind before you make your purchase.
If you are looking to use these headphones in play-along situations you'll find them well up the task.
As long as you're working from an amplified signal, the DT990 drivers can take some pounding whilst keeping a true balance between highs and lows.
Recording vocal tracks may prove tricky with some inevitable leakage coming from the DT990's semi-open era pad design.
Lows
The low range on the DT990's is represented well with a full and tight bass sound. There's nice presence and the quality is high, certainly up there with anything in the equivalent price bracket.
On unpowered sources it's quite obvious that you're not getting the full capabilities that Beyerdynamic have built in.
You'll still get a warm rounded sound when using with iPods and Mp3 players but for the full effect these headphones require amplification.
This added power gives the low-end that much needed lift. When it comes to extreme bass mixes, the DT990's are not quite as hard hitting as some of its competitors on the market. For most users there's plenty there to get your teeth into.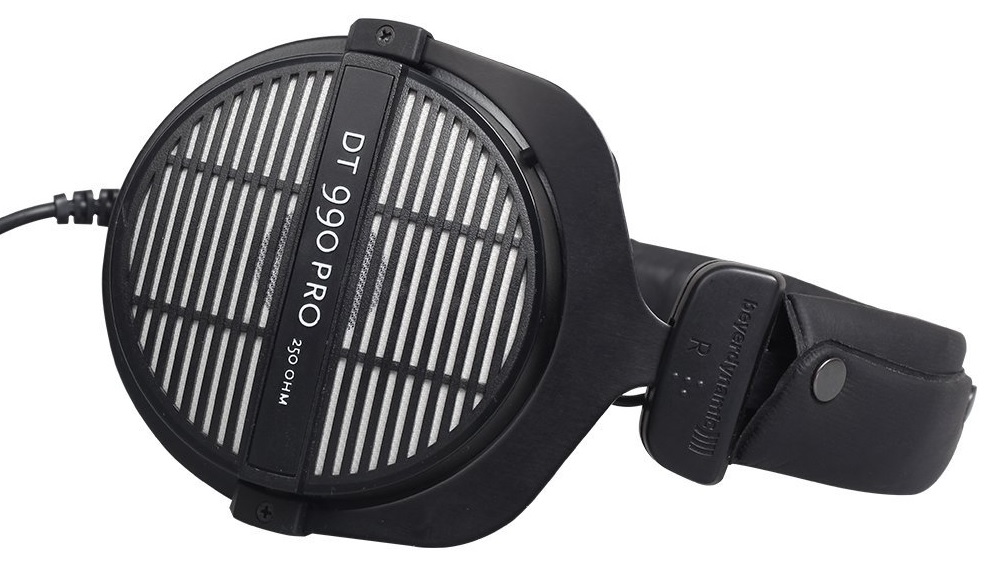 Click Here for Pricing, Pictures and Reviews on Amazon.com
Mids
The mid range is very natural but is ever so slightly recessed when compared to similar headphones. There's no harshness and overall you get a nice rounded sound.
With certain songs you might feel that the vocal line sounds marginally more distant than usual but this can be altered with a small bit of EQ if you find it wanting.
Highs
There's some nice detail in the high end which overall adds to the balanced sound. To be super-critical, the DT990's are not ideally suited to music which is highly dependent on a treble-heavy music.
They  will be perfect for most music aficionados and serious gamers.
Overall the sound produced is one which Beyerdynamic can be very proud of. The highs and lows are balanced and kind to even lower quality audio sources, such as below par MP3.
The size and design of the ear pads means they work great with games and movies. The DT990's work really well spatially to give you a totally immersed experience.
Pros
Well built
Super comfortable
Great value Cons
Ideally require amplification
Low isolation
Conclusion
This review concludes that the DT990 Pro 250 ohm is a highly respectable product for the money. The sound quality is top drawer and will enhance any multimedia experience.
The ace in Beyerdynamic's hand here is the design and comfort that the DT990's boast, which places it streets ahead of anything the competitors currently have to offer.
Sound-wise you won't go too wrong with your money when purchasing a pair of DT990's, and with the Beyerdynamic reputation for durability, you can be sure they'll be around you for many years to come.
More to read:
Best Toaster in the U.S. That Are Worth Buying 2021                                    Acekool Toaster TA1
Best Stand Mixers in the U.S. That Are Selling Like Hot Cakes 2021        Acekool Stand Mixer
Summary
Reviewer
Review Date
Reviewed Item
Beyerdynamic DT990 Pro Headset 250 ohm
Author Rating





We hope you love our reviews! For your information, we do earn money from commission in the link in the content! For more information click here!