On June 6, 2022, Apple announced the next major software update for the Apple Watch, watchOS 9, at its annual developer conference, WWDC 2022. A developer beta is expected to be released soon, followed by a public beta in July that anyone can test.
All newer Apple Watch models are unlikely to get an official rollout until the autumn, or at the same time as the next Apple Watch. Apple announced watchOS 8 and its developer beta in June 2021, for example. The first public beta was launched in July 2021, followed by the official launch in September 2021. We're expecting a full launch in September 2022, with watchOS 9 new features launching in June and a public beta following in July.
Supported Devices
Every year, one of the most common concerns is whether Apple will continue to support older Apple Watch models. Apple maintained compatibility with all of the devices that were supported by watchOS 7 with the release of watchOS 8, though many functions were limited.
Because rumors suggest that Apple may finally drop the Apple Watch Series 3 from its lineup, watchOS 9 is likely to be the smartwatch's final update. Because of its low price and compatibility with Apple Fitness+, Apple may be able to keep it going for another year. The following is a list of devices that should work with watchOS 9:
Apple Watch Series 6
Apple Watch Series 7
Apple Watch Series 6
Apple Watch SE
Apple Watch Series 3
Apple Watch Series 5
Apple Watch Series 4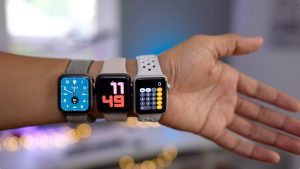 WatchOS 9 New Features
According to GSM Arena, watchOS 9 includes four new watch faces. Some of them are Lunar, Playtime, Metropolitan, and Astronomy. Existing watch faces have also been updated; the Portraits face now displays the depth effect on photographs of cats, dogs, and landscapes, and some classic watch faces, such as Modular, Modular Compact, and X-Large, now have customizable backdrop colors and gradients.
The Workout app now includes more information and metrics. Custom workouts allow you to create a structured workout with individualized work and rest periods. New warnings, such as pace, power, heart rate, and cadence, can also be added.
A new Multisport workout type for triathletes has been added to the Exercise app, which uses motion sensors to analyze movement patterns and automatically transitions between any sequence of swimming, biking, and running workouts. To help runners improve their performance, watchOS 9 now displays additional running data such as stride length, ground contact duration, and vertical oscillation.
Those who run frequently can now compete against their previous best or last time. The required pace for a specific distance and time target is calculated using a new pacer mode.
WatchOS9 Health Features
In iOS 16 and watchOS 9, the Health app will get some updates, including a Medications section to help you keep track of and monitor your medications. You'll be able to log them from Reminders as well as your wrist.
With watchOS 9, there will be some significant improvements to Apple Watch sleep tracking. The software will bring details about REM, Core, and Deep Sleep, as well as when you were awake, to the Apple Watch, providing a graph similar to what Fitbit devices provide.
In the Health app on your iPhone, you'll be able to see metrics like heart rate and respiratory rate, as well as track your sleep over time with comparison charts.

Apple Watch Mirroring
Apple Watch already has several useful accessibility features, but watchOS 9 will add the ability to double pinch to begin a workout or take a photo.
Apple Watch Mirroring is a feature that allows you to stream your Apple Watch to your iPhone and fully control it using iPhone assistive features like Switch Control and Voice Control.
WatchOS 9 Public Beta
The public beta of watchOS 9 is not yet available. After the developer beta, it will most likely go live this summer.
You will be able to install it quickly and easily at that time. Simply go to Apple's beta software program website and follow the on-screen instructions. It's completely free and only takes a few minutes to complete.
More to read:
Some Rumors About the Apple iPhone 15
Apple Adds Systemwide Live Captions To Its Products
Interesting Facts About Apple iOS 16
We hope you love our reviews! For your information, we do earn money from commission in the link in the content! For more information click here!