Updated on April 4th, 2022
Sennheiser HD 650 review is a quick way to learn as much as you can about these headphones. The HD 650 Headphones are Sennheiser flagship model.
They have been around for a while but still have quite the following. When you create something that offers everything that you want in a headphone, time seems to stand still.
Many headphones wind up getting pushed to the wayside as soon as the latest model makes an appearance but even after Sennheiser has released other models in the line the HD 650 are still considered a favorite.
When something works the way the HD 650 works serious listeners are willing to stick with it. The HD 650 has been one of the bestselling headphones that Sennheiser has ever made.
Many users will buy these headphones over and over again if something happens to their original pair. Sennheiser has actually made it very easy to have repairs made to these headphones so either users have the repairs done or they just buy a new pair because they are that highly regarded.
Who is Sennheiser?
If you are in the music industry or even film you likely have heard the Sennheiser name. The produce headphones, microphones, aviation headsets, monitors, conference equipment and other IT equipment.
This international company employs over 2600 people worldwide. They have production plants in Germany, the US and Ireland. Each plant is assigned to a specific line of products.
The HD 650 are manufactured in Ireland under the strict supervision of the German engineers that created the HD 650.
When you hear the term "German engineering" if you are like most people you think of quality and innovation.
German engineering and the quality that it brings to mind has never been truer than when it is applied to Sennheiser.
Initially Sennheiser was simply known as Lab W for Laboratorium Wennebostel when the company began in the 1940's.
Sennheiser was destined to become a worldwide force to be reckoned with in the audio industry but had very humble beginnings in a small half-timber home.
The first year brought the then Lab W a nice offer from Siemens. They were asked to replicate a microphone, which they did and as you say the rest was history.
The company quickly took off and began to branch out. They focused more on research and development then they did on manufacturing and started to create their own product lines instead of replicating product lines for other companies. Using the capital that they earned from replicating microphones they were able to design their own line.
It did not take very long for Sennheiser to quickly become a leader in the industry. Today they are recognized as a global leader in audio equipment.
Sennheiser is committed to producing innovative sound equipment. They are dedicated to continued exploration into the world of audio.
When you buy a product from Sennheiser you know that you are getting the best that audio engineering has to offer.
Their philosophy has been to simply bring the best product that they can to market that would satisfy even the most evolved listener.
The Sennheiser HD 650
The Sennheiser HD 650 have a big following. That may be an understatement. They are super popular among audiophiles that take their sound seriously. The first thing you notice about the HD 650 headphones is that they look like they mean business.
You will never hear anyone say that they are flimsy or lightweight because they are neither. They are well padded and the ear cushions are very comfortable but they are heavy.
They are not really well suited for use at the gym or while you are out for a run. They are really meant for home/studio/office type use.
In other words, these headphones are serious headphones that should be used when you are stationary and are not really meant to be portable.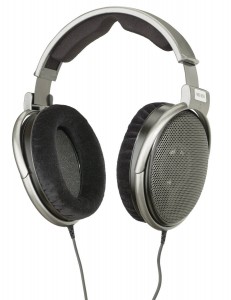 It is important that you understand if you are looking for portable headphones for your Ipod these are not them. As a matter of fact, the HD 650 headphones are a power mongers.
Your little Ipod cannot really do them justice in providing them with the power that they need to really emulate the sound that they can.
There are plenty of great things about these headphones that will make you want to get a pair for when you need some serious listening time. First off we have to admit that the hand selected drivers are ideal.
Each driver is perfectly matched (and you can tell the minute you plug up) they are logged and identified as a service to you.
If something happens to one driver Sennheiser can easily match the driver that is left so that you never lose your original listening experience.
The Sennheiser HD 650 generous 9-foot cable is durable and also user replaceable. We thought that was an important feature since we all know that cables seem to run into trouble every now and again.
We also loved that the mini plug adapter is included. The design is very "modern" and looks high tech but they are super comfortable.
Sennheiser put a lot of thought into these flagship headphones and it come shining through in the look and the feel of the headphones.
They offer an elegant looking silver titanium finish that speaks to the quality of the engineering of these headphones.
The Sound
The Sennheiser HD 650 have an  open design that allows crystal clear sound to pour through.  They offer really exceptional special sound. They are ideal for home theater, different music genres and are optimized for HD recording.
The bass is full and noticeably fuller than most other headphones. The open design allows the listener to avoid that can in the ear type sound that you can get from even the highest quality headphones.
When you listen to the Sennheiser HD 650's it seems as if the sound is in the room itself not just in your ears. You feel very connected to the sound. It is a refreshing listening experience.
The other noticeable thing about the Sennheiser HD 650's listening experience is that you really do not experience any fatigue from listening.
There are some headphones out there that literally just wear your ears out after any extended listening period but the HD 650 felt fine for hours and hours. They would be great in the studio.
It maybe that they are engineered to be very comfortable and that the open design allows your ears to not feel like they are "stuck" under a cup even though they are.
Your ears actually feel liberated when you are wearing these headphones. The sound is true and the only word that comes to mind is "clean".
The Down Side
These are big headphones so they are not ideal for every situation. If you know you are going to be sedentary like on an airplane, then they would be great to travel with.
If you are looking for something that can hook up to your Ipod or MP3 player this is not the headphones for you.
These are "serious" headphones. Some users have talked about buying an amp for them but the reality is that is completely unnecessary.
There are some critiques about the color of the sound and that the headphones are for a more "laid back" listener. The reality is these are professional grade headphones they offer a neutral listening experience.
They are without a doubt great reference headphones but may not be appreciated by any listener that does not distinguish between loud and sonic balance.
They offer great sonic detail and a nice boomy bass.
Most users have found them to be right where they hoped they would be. As a matter of fact, a whopping 89% of the users have offered up a 5-star rating for them on a 5-star scale.
There is not much that can be done to improve these headphones. They are powerful and offer a true sound. What else can you ask for?
Overall
If you are looking for a really high quality listening experience than the Sennheiser HD 650 headphones can bring that to the table.
If you are familiar with the Sennheiser name than you are already well aware of the engineering and quality that goes into every pair.
They offer a unique listening experience whether you are using them for your home theater or you are just plugged into your laptop listening to some MP3's.
They are expensive but they are worth every penny. All you have to do to fall in love with these headphones is to listen. You will soon be a convert and like the rest of the audiophiles that follow Sennheiser products with adoration.
It does not take much to sway a music lover over to the HD 650 because they represent so many genres exactly as they should be represented. They are unpretentious and honest.
If you want a set of headphones that will take you right to the top of listening pleasure these are them.
More to read:
Best Air Purifier in the U.S. for Better Respiratory Health 2021             Acekool Air Purifier
Best Stand Mixers in the U.S. That Are Selling Like Hot Cakes 2021        Acekool Stand Mixer
Summary
Reviewer
Review Date
Reviewed Item
Sennheiser HD 650 Headphones
Author Rating





We hope you love our reviews! For your information, we do earn money from commission in the link in the content! For more information click here!