Updated on April 3rd, 2022
Choosing the right headphones changes the way you listen to music. The Sennheiser HD 800 review can help you to better understand what you should be looking for in headphones.
Headphones are ideal for so many situations. They help you to block out the rest of the world and really immerse yourself in the music.
If you are a musician you know how important it is to be able to hear your practice sessions via headphones so that you can get a "true" feel for your own music.
Headphones have evolved over the years. There is a difference between headphones and ear buds although the term is often used interchangeably. Ear buds sit inside the ear while "headphones" usually cover the ear.
History of Headphones
It may be hard to believe but not everyone enjoys listening to the same music that you do. Headphones have been bringing people privacy since the late 1800's.
Initially headphones were not used for musical pursuits but instead were used by telephone operators.
These early "headphones" were actually very heavy and not very comfortable. They leaned on the shoulder and leaned against the ear with a headrest.
They were not very ergonomic and certainly were not very good at transferring sound but these early headphones were technically the beginning of the headphone history.
By 1895 headphones had already evolved quite a bit and were now two ear piece that were held on by a stick. At this point some innovative individual started a service to bring opera into the home via a pay for service and these stick type headphones.
The service was super expensive at the time but it is the first recorded incidence of headphones being used for pleasure to listen to music.
It would take quite a few years before anything that would look familiar to us would emerge.
It was 1949 when the first modern looking headphones came to the market. Audio giant AKG was then a film company but left the talkies in the dust and focused completely on headphones.
Headphones stayed rather chunky and can like until Sony showed up with the Walkman. The Walkman required that portable headphones became available.
Since the Walkman craze than the IPOD phase headphones have sort of bounced back and forth between being small and large and somewhere in between.
Today we have moved back toward the over the head ear covering headphones but they are far more comfortable and offer a much more accurate sound.
There have been quite a few models that have left their mark on audiophiles but very few can really stand up to Sennheiser.
Sennheiser is known for producing not just headphones but for producing technological wonders that are disguised as headphones.
They are known for bringing luxurious headphones that are very hard to beat to market.
How Does the Sennheiser HD 800 Measure Up?
The Sennheiser HD 800 not only measures up but it sets the standard. These headphones are hand made in Germany using high quality materials. They are built for two things 1. Comfort and 2. Sound.
They offer the largest transducers industry wide. They are dynamic and offer exquisite sound and comfort. We took a closer look at the Sennheiser HD 800 to understand what makes them such a stand out option.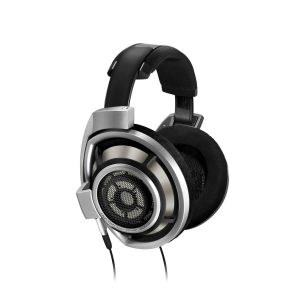 Click Here for Pricing, Pictures and Reviews on Amazon.com
First impression when you see these headphones is that they have rather large ear cups but soon after putting them on you realize that the need for the larger ear cup is clear.
The drivers are moved forward in these headphones to offer a much clearer stereo sound. The cups themselves are covered with soft micro fiber.
The cushioning is ample and you can easily see that these are not just headphones they are luxury headphones.
The plastic and metal work on the headphones is sublime, every detail has been well thought out. These are the upper end of the price spectrum for Sennheiser and they have literally spared no expense in crafting these headphones. The memory foam cushioning is not overkill but instead a literal cradle for your head and ears.
The patented transducer measures in at 55 mm. The diaphragm on this transducer is located in the outer ring not in the center which produces less distortion than if it was in the center.
The driver mount is angled to mimic the way the ear captures the sound of speakers for a truer experience.
Sennheiser has taken the time to test each driver, measure each driver and give each driver its own unique identifier so if something should go wrong they can provide you with an exact match.
How Do They Sound?
Ultimately all the chat in the world is not going to make a difference if the sound is not there. The sound is where you will really notice what luxury listening is like with the Sennheiser HD 800.
Great headphones should not be determined by how loud they can go or how much bass you can squeeze out.
Instead truly great headphones offer a supersonic balance. The balance or the sweet spot is when everything comes together perfectly and you no longer are aware that you have headphones on.
These dynamic headphones are not noticeable when you are wearing them, you do not notice the headphones because you are completely connected with the music.
The sound that pours through these headphones passes right through them and connects deeply with the listener.
They weigh about 330 grams but you barely notice the weight because they are made for complete comfort and the sound is just that perfect. You lose sight of everything but the music. The sound is simply amazing.
The sound comes from the front of the headphones giving you a more open listening experience. The sound is spacious.
You do not suffer the same listening fatigue that you do with other headphones. These headphones are an entirely different caliber of listening. They sound perfect!
So What's Missing?
Well first we have to say that these are absolutely top of the line luxury headphones. You would be really hard pressed to find any competitors that could compare.
If you are serious about music these are the headphones that you need to own but we were left scratching our heads a little bit because there was no 3.5 adapter.
Sennheiser maybe did not consider that the 3.5 adapter should have been included with the package because these top of the line headphones are so divine that you would be willing to do without.
On the consumer's side of the fence if you are willing to lay out some serious cash for a great listening experience it would be a nice way to say "hope your satisfied, here's the adaptor".
Oddly enough these are not likely the best option to listen to an Ipod, which of course is not really a big deal but you should know if you have the cash and are willing to part with it the Sennheiser HD 800 are just not the best headphones for Apple products.
A few users have squawked about the noise canceling ability of the Sennheiser HD 800 but frankly we did not catch any issues and seemingly 90% of users did not either.
On a scale of 1-10 these headphones have come in at a solid 9.5 time and time again. Honestly they deserve a 10 in every arena. They are comfortable beyond belief.
They sound like the best pair of dynamic headphones out there. They look great but they are on the large size. Which is why they get a 9.5 most of the time.
Of course losing that half a point because they are on the large side is really moot because they need to be that large since they are toting around the largest transducer in the industry. Where were they supposed to put it?
Overall
We can't stop raving about these headphones. They are perfect in so many ways. Home theater listening (check). Receiver (check). Laptop (check). CD's (check). The list is extensive of when these are the perfect headphones for listening.
There is just some really short advice when it comes to the Sennheiser HD 800; BUY THEM. You will not be disappointed. These are what headphones have been meant to evolve into.
It is rare when a company revamps or pulls out a new model in their top of the line series because there is not much to really improve upon but Sennheiser did when they went from the 650 to the 800.
The 650 is still available in the series so the 800 has really just been an addition to the line. The 650 is still an incredibly great headphone but the 800 just brings a little something extra to the table.
Rarely do we "gush" about equipment but the HD 800 is gush worthy. They are the best headphones on the market right now and it will be very interesting to see if someone else can out do Sennheiser. Buy them!
More to read:
Best Hand Blender in the U.S. That You Must Check Out 2021               Acekool Hand Blender
Best Air Purifier in the U.S. for Better Respiratory Health 2021             Acekool Air Purifier
Best Toaster in the U.S. That Are Worth Buying 2021                                    Acekool Toaster TA1
Summary
Reviewer
Review Date
Reviewed Item
Author Rating





We hope you love our reviews! For your information, we do earn money from commission in the link in the content! For more information click here!