Updated on April 3rd, 2022
Choosing an electric drum set is not easy. This Yamaha DTX522K review will help you to make an informed choice about which electronic drum set is right for you.
A lot of people do not realize that choosing the right electronic drum kit is a process. It is not quite as simple as picking out a kit that meets your budget or one that someone you know happens to have.
It is a process to determine which kit is going to meet your needs best so that you get out of it what you hope to.  All of the pats of the e drum set are important components but none more important than the drum module.
The drum module is the "brain" of the operations and all the flash and good looks in the world cannot compensate for a module that is not on point.
Sure it is nice to have some high speed looking pads but having all the show and no go will affect the sound and that of course is the most important goal.
Evaluating an electric drum kit on quality of the tones is far more important than evaluating based on the number of tones.
You can have a kit that literally offers 1,000s of tone combinations but if they are not on point to begin with, it really is a halfhearted offer.
A lot of manufacturers look to reel you in with some flair in the looks department but as soon as you start playing you realize that the sound just is not there. You wind up with a drum kit that is slow to respond and even skips a few beats.
The Yamaha DTX522K has all the show and the go that you need. Yamaha offers a brain that gets all the tones right because of years of development.
What's in a Name?
Can you find drum kits that are decent by no name brands? Probably, but there is a certain amount of risk involved when choosing a kit that comes from a brand that has not made a name for itself in this particular niche industry.
Yamaha some would say is THE name in the electronic drum niche. They have been making electronic drums for a long time and some would say that they have perfected the art.
On the business side of things Yamaha has been a leader in the industry for so long that you can rest assured that they are not going anywhere. You know if you need repairs, parts or services you will be able to easily get your hands on them.
A name in this industry is very important because it points to reliability and dependability. The Yamaha name is the first clue that you are considering a reliable electronic drum set. When you choose a product from Yamaha you are choosing a product with years of experience behind it.
The Features
The Yamaha DTX522K offers a great deal of the most wanted features. It features the DTX502 drum module which is hailed as offering incredible sound. This is a great set that offers plenty of bang for your buck.
This kit offers a lot of the features that you would expect with kits that cost two to three times more. The pads are responsive and have that real drum feel. You get:
A snare pad
2 cymbal pads
Bass drum pad
3 Tom pads
Hi-hat pad with a pedal controller
RS502 durable drum rack
The pad on the snare is crafted from textured cellulose silicone so that you do not get the crossover noise. The Toms and the kick pad have the traditional pads that are also very responsive and natural feeling.
They rebound naturally and give you the real drum feel when you are playing them. This a 3 zone kit that offers clear sound that is true.
The rack was designed to be easily set up and transported which is a huge bonus to anyone that understands what it is like to travel with your e drums. The rack is durable and somewhat customizable.
Yamaha has produced a great kit that is affordable. You can easily drop thousands of dollars on an electronic drum kit but thanks to the Yamaha DTX522K you don't have to. You can get all the quality that you want from kit at a fraction of the costs.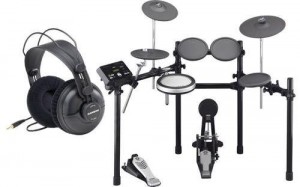 This is an ideal kit not only for practice but for gigging as well. It offers a ton of memory which is nice for setting up before the show.
There are over 600 different percussion choices as well as over 100 keyboard sounds or voices. Thanks to the USB port you are never confined to what is loaded already, just plug up your laptop and the sky is the limit.
Speaking of memory this model has 2 times the amount of memory of an earlier version. The amount of memory is more than ample and then some.
The controls are user friendly and intuitively placed which means that it is far easier to get used to the control on this kit than it is for most kits. The design of the panel was designed with the user in mind first.
The buttons are labeled for easier recognition and the LED/LCD display is ample enough for you to see at a glance. These quality upgrades are usually found on much more expensive models.
You have the standard headphone jack for silent practice and a MIDI out jack as well so that you can use this kit as your MIDI controller.
The best part of the DTX522K is without a doubt its brain. It is a swift responding module that makes this kit easily one of the best kits at this price point. It offers amazingly accurate sounds without delay.
In other words, this kit does exactly what you would hope it would.
The Sound
Yamaha has done an excellent job with the sounds that the Yamaha DTX522K plays. They are true and clear. The tones are right on point and the instrument sets sound as if the instruments are in the room with you.
The sound is the most impressive part of the DTX522K. It can be a challenge to find a e drum kit that comes really close to the real thing especially one that can easily emulate close to the real thing for discerning ears but the DTX522K does just that. It emulates every sound like it is the original.
Room for Improvement?
After reviewing the DTX522K it is very difficult to find anything that Yamaha could have done differently. It offers everything that you would want available for practice sessions and for performance all at a great low price. Is there a way to improve on that? Not really.
According to all users the kit comes exactly as they hoped it would. The pads are high quality and even the rack works perfectly.
Typically, with drum kits at this price point there are a few little tweaks that you have to make but not with the DTX522K. it is great as is right out of the box. There is no need to make any adjustments.
Even constructing the rack is easy because Yamaha designed it to be easy. This kit is made to be easily transportable and the rack is a testament to that. It is easy to construct, break down and move.
Overall
The Yamaha DTX522K Review proved to not be a disappointment. It proved itself in several arenas like an easy to use drum module and pads that offer the realistic feel of traditional drums.
Usually putting together these kits can be a headache but Yamaha made sure to design this kit so that it could easily be put together.
It offers just about everything you could ask for in a drum kit. It has the sound. There is nothing that Yamaha could have done differently to improve this kit. They have crossed their T's and dotted their I's.
There are no skipped beats like you can sometimes experience with other kits at this price point. Every note gets played every time.
This is a truly reliable kit that will serve you well in both practice sessions and performance sessions. It is marketed as an entry level type model but truth be told any player would be happy to have this.
It has gotten rave reviews from the least experienced player that had to start from scratch and was appreciative of the easy to use controls to the most experienced player that loved the sound.
This kit comes highly recommended by users that are both experienced and inexperienced and unlike other models there are no suggestions out there for improvements.
The price point is right where it makes it affordable for most people. If we sound like we are gushing it might be because we are.
Rarely does an instrument show up that has so much to offer for such a nice price. There is nothing else you could ask for in a drum kit. Buy it!
More to read:
Best Stand Mixers in the U.S. That Are Selling Like Hot Cakes 2021        Acekool Stand Mixer
Summary
Reviewer
Review Date
Reviewed Item
Author Rating





We hope you love our reviews! For your information, we do earn money from commission in the link in the content! For more information click here!