Updated on April 2nd, 2022
We are all pumped up about the AKG K701. There has been some high hopes about these headphones. We know not every audiophile is crazy about clunky over the head headphones, but that is there loss.
When you have serious editing and you need to catch every single sound you need over the head headphones.
If you have not heard about these headphones  yet than you really need to pay attention to this review.
The anticipation to try these high speed looking headphones out was really palpable among our crew.
We like headphones and we like trying out high quality phones to see what we have been missing with the lower end cheaper models.
Okay so we may not have been alone in our crazed anticipation because they literally sold out as fast as AKG could crank them out.
There was a lot of really excited people out there that were scooping them up as quickly as they could be made which is rare for high end (keyword for expensive) headphones but the more people bought them the more people wanted them.
Once we finished checking them out we really understood why everyone went so nuts for them, when something is this good the news travel fast.
The Real Deal
We got these headphones and frankly they are the real deal. What exactly am I talking about? The engineering the sort of nostalgic look all of comes together to create by far the most amazing headphones.
We did not even get to the real nuts and bolts of it all and I was thoroughly impressed by these headphones. Take a look at what these headphones have to offer below and you today will be shaking with anticipation waiting for them to be delivered to your door.
So what's the Big Deal?
There are a lot of things that come together to make these headphones a pretty big deal.  We will start with all the attention to detail that has been paid to everything from the ear cups (we talk about that below) to the wiring.
AKG's German engineer team really looked at every detail. The cabling is described in the literature as "true bi-wiring".
These headphones are engineered so that each motor has a separate ground instead of one shared one. This helps to keep the headphones absolutely quiet, which is very unusual.
You do not hear the gentle hum of the motors or the electrical sound that you find with other models. Even the quality of the wiring is superior. The wire is 99.99% pure copper.
The voice coils are made up of flat wire, which are typically only seen in speakers, microphones or loud speakers and almost never, ever found in can type headphones.
The flat wire wiring allows for a higher concentration for the magnetic field which helps to affect much better control over the diaphragm.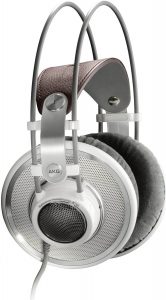 Click Here for Pricing, Pictures and Reviews on Amazon.com
They also have the patented Varimotion Transducer. Every inch of these headphones has been well thought out and designed to make your listening experience the best experience you will ever have.
The diaphragm is designed so that it is thicker in the middle than it is on the edges so that the middle acts like a tweeter. The outsides of the diaphragm produce all the low frequency sounds.
The diaphragms design has runnels cut into them to improve the impedance. AKG puts it much more elegantly by stating that "the diaphragm has been optimized to prevent unwanted vibration modes."
And "results in lower harmonic distortion, extended bass response, and higher maximum loudness."
A Nod to Comfort
The 701's are built for long hours in the studio. These are really so comfortable that you will never become fatigued even after a hard day of listening.
The ear cups are nicely padded and covered in a soft material that feels almost velour like. They are soft on your ears without making your ears feel overheated and uncomfortable.
The foam cups are "3 D Foam" which is super dense. The design of the ear cups allows for the drivers to be placed behind the ear so the sound can be aimed at the ear giving you a much better listening experience then having the drives right over the ear.
The leather that creates the head band to keep the headphones on are simply luxurious. It is the little things that really start to add up that make these a pair of the best headphones I have ever used.
These are professional grade headphones they are not made to plug up to your IPod. They have a ¼ jack plug to hook up easily to an amp. A converter is included with the headphones so you can use them with your MP3 if you wanted too.
You also get a cradle to dock your headphones which is a foam cutout on a pedestal so you can easily secure your headphones when you are not using them and not have to worry about damage to the headphones. The cradle really comes in handy.
Leakage
They have open backs so they are a little leakier then we would have hoped but again these are professional grade and are not really made for "company".
The converter that is included with the setup is not really a reasonable option to connect to your IPod or other MP3 device because these headphones are not really practical to walk around with or to be around other people.
They are an awesome choice for monitoring, editing and just listening with a high quality headset.
The Catch
These are high end headphones and like most high end technologically advanced headphones they are a bit difficult to drive. You need an amp.
Keep that in mind when you make your purchase without a good amp you are going to be disappointed.
Does that added expense mean that this is the deal breaker for buying these headphones, no it should not, and it is just something we wanted to share with you.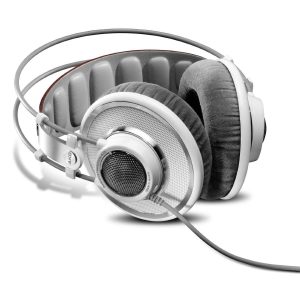 You can get a great amp from a bevy of sources, of course the fact that these are made for professional listening also would mean if you are reading this you likely already have a few amps laying around that you can use.
The Break in Period
Before you really get to listen to these headphones the way they were meant to be heard you are going to have to be a little patient. There is a break in period of at least 100 hours.
What we did was set them up in a room plugged up to a CD player set to repeat. We would go in once a day and make sure it was all running and just left them alone.
Of course you can do the break in yourself but we did not want to form an opinion without the break in period. The word is that they can be very aggressive until the break in period is through.
We are not engineers and really do not understand the break in period well but we have heard from enough experts that have recommended that you just let them get used to the music to believe it to be true.
The Sound
We were impressed by the sound clarity. The highs were crisp and clear the lows never faded into mids. In a word these are balanced. They offer the entire package. They look great.
They sound great no matter what you are listening too, we went through the whole range of genres looking for problems and could not find any.
Everything sounded exactly the way it should. We were able to pick up sounds that we had missed before on some favorite old tracks. We were able to quickly find errors and necessary changes on new tracks.
Finally headphones that made the entire job easier!
The Cost
If you have not been shopping for high end headphones recently you may find the cost a bit of a sticker shock but in the end they are well worth the investment.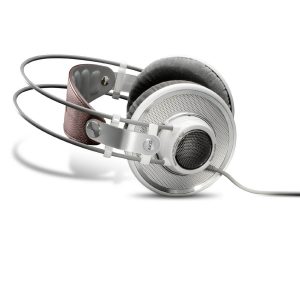 Click Here for Pricing, Pictures and Reviews on Amazon.com
They have the power, the sound, the look and they are built to last. If you want to invest in yourself and improve your monitoring results these are the headphones that you want to purchase.
Overall
The anticipation was well worth it. They panned out exactly as we hoped.  They are still flying off the shelves so if you want to get yours now is the time to get them. If you wait they may not be available when you go to order them.
We highly recommend these headphones for anyone in the industry that wants an impressive listening experience. They are designed to affect an experience we can hands down guarantee that you have never had before.
Remember give them time to break in, use a good amp to get the right amount of power and expect great things because they deliver on every front.
Once you own these no other headphones will ever make sense again.  No fatigue, no heat, no discomfort, plenty of power, crystal clear sound, what else can you want?  Buy them!
Read also:
Best Air Purifier in the U.S. for Better Respiratory Health 2021             Acekool Air Purifier
Best Toaster in the U.S. That Are Worth Buying 2021                                    Acekool Toaster TA1
Summary
Reviewer
Review Date
Reviewed Item
Author Rating





We hope you love our reviews! For your information, we do earn money from commission in the link in the content! For more information click here!