Seattle-based e-commerce giant, Amazon has filed a lawsuit against 10,000 Facebook group admins over fake reviews. The company has accused these admins of coordinating fake reviews in exchange for money or free products. According to a press release from the company.  These groups are set up to recruit individuals who are willing to post incentivized and misleading reviews on the retail giant's stores in the U.S., the UK, Germany, France, Italy, Spain, and Japan.
Fraudster Review Groups
"Amazon will use information discovered in this legal action to identify bad actors. And remove fake reviews commissioned by these fraudsters that haven't already been detected by Amazon's advanced technology, expert investigators, and continuous monitoring," the e-Commerce giant said in the press release.
One of the Facebook groups the e-Commerce behemoth identified was "Amazon Product Review". This group had more than 43,000 members until Meta took down the group earlier this year. The e-Commerce platform's investigations revealed that the group admins tried to hide their activity and evade detection by swapping a few letters.
A History of Fake Reviews
The e-commerce giant has been plagued with fake reviews that falsely boost product ratings for years. A Washington Post investigation in 2018 revealed that fake reviews dominated some product categories like Bluetooth headphones and health supplements. The Post found a cottage industry selling fake reviews on Facebook. Sellers approach Amazon shoppers on Facebook across "dozens of networks to give glowing feedback in exchange for money or other compensation," according to the Post.
Over the years, e-Commerce retailer has sued many fraudulent reviewers and counterfeit sellers. In 2016, the e-Commerce giant issued a lawsuit against three merchants for allegedly sharing positive reviews about their products from fake accounts. Earlier this year, the company sued AppSally and Rebatest, alleging the websites of posting fraudulent product reviews in exchange for free goods or money.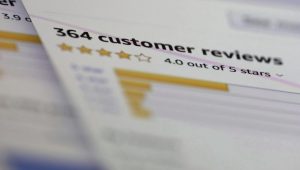 The tech giant has also teamed up with K.F. Beauty, Valentino, and Salvatore Ferragamo to sue alleged sellers of counterfeit products on its platform. In addition to Facebook groups, the e-Commerce seller said it has a team of investigators who find fake review schemes on platforms like Instagram, TikTok, and Twitter and report findings to those companies.
The e-Commerce giant acknowledged the scope of its fake review problem in a blog post last year. "Due to our continued improvements in detection of fake reviews and connections between bad-actor buying and selling accounts,we have seen an increasing trend of bad actors attempting to solicit fake reviews outside Amazon, particularly via social media services," the e-Commerce behemoth wrote.
According to the e-Commerce platform, it has reported more than 1,000 fake review groups to social media platforms in the first quarter of 2021. The company has seen an uptick in the number of fake reviews being posted online, not to mention the regulators are taking notice as well. The e-Commerce giant will need to assess the fake reviews after the lawsuit to see if there is a reduction in the number of false reviews.
More to read:
TikTok Is Rolling Out A New Program "Follow me" For Small Businesses
Amazon Is Slowly Turning Alexa Into An Automated Virtual Assistant
Twitter 1, Musk 0: Twitter Wins First Legal Battle of the Twitter Elon Musk Lawsuit 
We hope you love our reviews! For your information, we do earn money from commission in the link in the content! For more information click here!