Updated on April 3rd, 2022
One of our favorite brands has added a great option that is easy to use. Anyone that wants an easy to use interface that is going to make recording easy.
This is a simpler to use interface than other options in the line. There are a few things that we decided we liked about the Focusrite Scarlett Solo. The simplicity was a big selling point for us as was the price.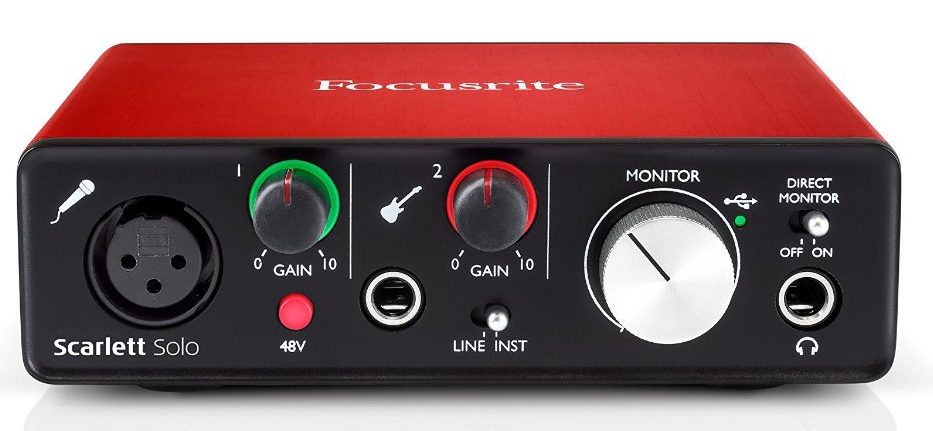 Click Here for Pricing, Pictures and Reviews on Amazon.com
As a musician or studio engineer price point is always an important feature but you cannot sacrifice quality for price. This interface allows you to have a nice balance of both. This is a great option for anyone that is concerned with price and that expects great quality.
With the Scarlett Solo you get all the essential features with a great sound quality without the high price tag. This is a basic model that offers great results. This may be the model you have been looking for to add to your repertoire of equipment.
Focusrite!
Focusrite is a well-known name in the audio world. They have a strong reputation for providing quality AI options. Focusrite has over 20 years of history for providing great options.
This global brand has a presence in over 160 markets worldwide. They offer equipment that is found in studios around the globe and often used by professionals.
Focusrite is well-known for putting the work into their equipment to make it more durable without sacrificing the sound.
They "focus" on building equipment and software that enhances the recording experience and makes it easier for both pros and amateurs to cut those perfect tracks.
It is hard to find a product that Focusrite creates that you can't get behind because they really do the work.
They spend a lot of money and time on research and development and hire some of the greatest programmers and engineers which results in reliable cutting edge products.
They also focus on consumer friendly prices which makes their equipment range accessible to anyone that wants reliable equipment.
Focusrite and its subsidiary Novation has one goal in mind to help people make great music!
The Basics of the Focusrite Scarlett Solo
As we mentioned the Scarlett Solo offers every basic essential that you need to record great music. While it does not have a great deal of bells and whistles it would be a great partner for both the amateur musician and the professional musician.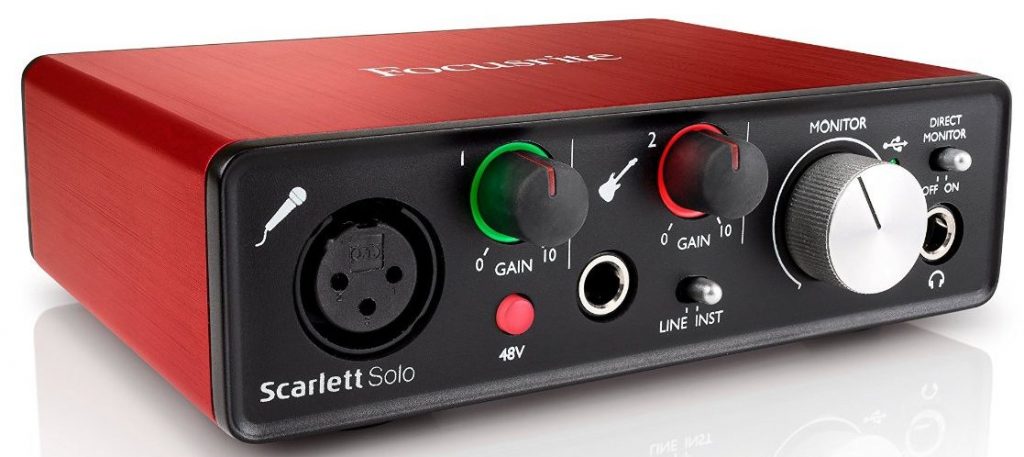 Click Here for Pricing, Pictures and Reviews on Amazon.com
Here are the specs:
Preamp (Focusrite) for phantom power
DI for keys or guitar
Sample rates up to 96KHZ -24 bit
105DBp dynamic range
Visualization of gains with Halo
Witch for direct monitor
Dial for volume at front
Chassis of aluminum
USB connectivity
1 XLR, 1 1/4″ inputs
1 stereo RCA, 1 1/4″ outputs
20 Hz – 20 kHz +/-0.3 dB frequency
Kensington Lock
As you can see the Scarlett Solo has all that you need to make great music. We liked that it was simple and we liked that it was very portable. You never know when you will need to pull up stakes and move to the next place with your interface.
We really put this interface through the rigors by utilizing it with keyboards, guitars and vocals and have to say that it never failed us.
What We Found
The features were pretty impressive especially when you consider the price point. I know we keep coming back to the price point but it is an important consideration and if it matters to you as well than this is the interface you want to buy.
This AI offers a great deal of value it has all the features that you need, it cuts out a lot of the junk that you will never use and it delivers. What else could you want?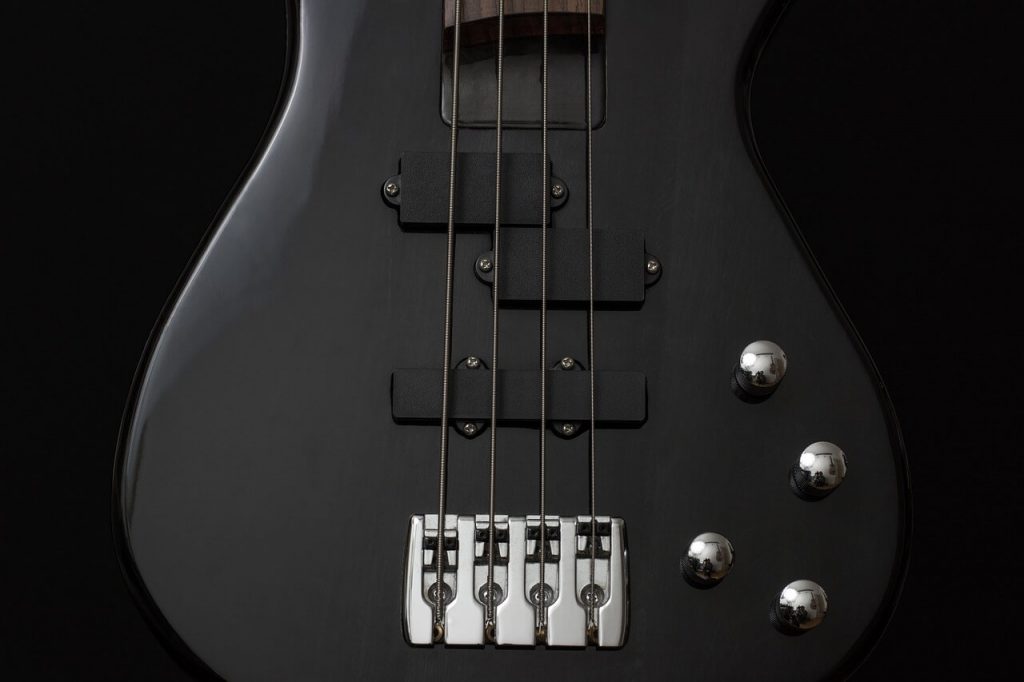 We have to be frank and tell you right out of the box this is not a huge shocker. You will not be very impressed with first looks because it does not look like much but once you plug it up you will see why we recommend this purchase.
There was only one thing that we found could be improved. It only has one XLR for a single mic but if you only need one mic than you should not even notice that you only have one option.
 You can use your monitors with this interface and easily switch between headphones and your monitors.
The volume control dial is nice and chunky which we liked. We also were really impressed with the overall build.
The chassis is nice and solid that you can be confident in. The size is ideal because it is completely portable but more importantly it is built tough so you do not have to worry about bumps and bangs while you are transporting it. This thing has a really powerful built that can stand up to a lot of stress and never miss a beat.
Focusrite clearly put a lot of work into the chassis and the solid state components. We found that the ports were nice and tight which we like.
You know no matter how many times you are told not to, tugging on the connectors always seems to be something that we instinctively do and in many cases regret.
While we are not recommending that you tug on the connectors we can see if you made the error of just pulling out, that the ports would hold up nicely. They are constructed to withstand a lot of abuse.
It is great for moving around because you have the phantom power so you do not have to worry about lugging an ac adaptor around with you.
Of course the phantom power also works great in the studio because it is just one less thing you have to worry about finding a power outlet for.
The software suite is also a bit selling point for us. You get the Novation Bass Station and Ableton Live Lite is also a DAW favorite for us.
You get the 1GB Loopmaster as well. We are not wild about Loopmaster but having it on board does not hurt because you never know what you may find.
We are not big Loopmaster fans but can honeslty say that after a little digging around we may be converted we found some real gems after spending a bit of time looking around. We think you will too.
We do love the Ableton Live and have had the pleasure of working with it in the past so we were pretty stoked when we found out that the Scarlett Solo had the Ableton Live software.
Usability
Lets face facts whether you are a pro or an amateur, easy setup up and use means that you can put your focus where it is needed into the music.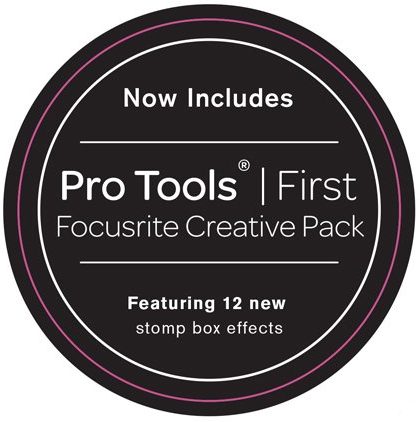 Click Here for Pricing, Pictures and Reviews on Amazon.com
This is an easy to use out of the box interface that will work great in many different settings. Yes, it is basic but it is not just for beginners.
Anyone that needs something simple and reliable will love this interface. It works great, it brings simplicity into the studio and can easily be used anywhere on the road whenever inspiration strikes.
We loved the simplicity and know that we keep mentioning it but we really want to drive that idea home. It is super simple to use and it really gives you the results that you want.
We Recommend It
Overall we recommend the Focusrite Scarlett Solo because we trust the brand, we liked the style and we were impressed with the function.
Focusrite Scarlett Solo is priced right and it has all the experience of Focusrite behind it. It is a reliable interface that we are sure you will be happy with.
It offers everything that you need without a lot of stuff to get in the way which we find with other more jazzed up interfaces.
We find that sometimes that sometimes more options do not make for a better interface it just makes for a busier interface that requires more work and more attention which of course takes away from the music.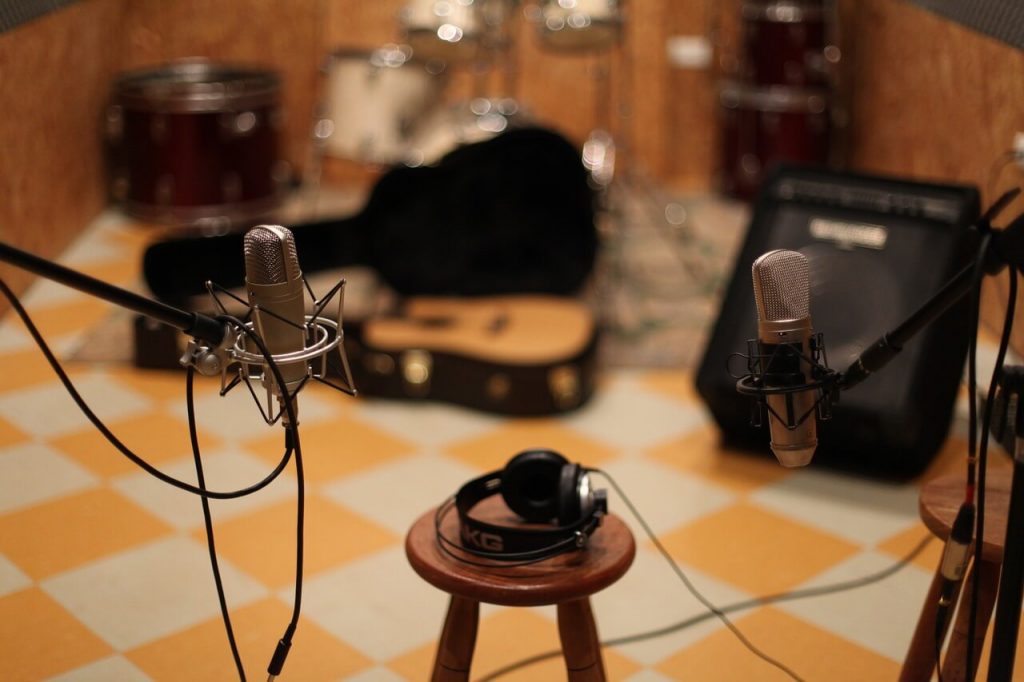 Simple is a good thing to have in the studio. The less you have to fiddle with the interface the more time you can spend with the music. Focusrite Scarlett Solo is a sensible option that should be a part of every studio.
If we had to pinpoint who would love this interface the most we would have to say that anyone that moves around a bit with their equipment or anyone that is short on space in the studio.
It would work great for a beginner or someone that just really wants to worry about the music and not have to worry about a learning curve with the equipment.
We think every studio should have one on hand because it is so affordable, really built well and can compliment so many situations.
Overall if you are in the market for an easy to use interface the Scarlett Solo should be on your radar!
More to read:
Best Professional Audio Interface of 2021 Complete Reviews with Comparisons
Summary
Reviewer
Review Date
Reviewed Item
Author Rating





We hope you love our reviews! For your information, we do earn money from commission in the link in the content! For more information click here!