Updated on April 4th, 2022
The Ludwig Accent Drive Drum Set Review will help you to gather the information that you need to decide whether this kit is the right kit for you.
There are a few things that make a drum set a great set. Choosing a drum set for an experienced drummer is really not that difficult because they have determined what they need in a set.
The experienced drummer knows what they want, they know what sound they want, where they need their drums to be placed and what construction works for them.
The inexperienced drummer would have a little more difficulty determining which set is best for their needs. Both the inexperienced drummer and the experienced drummer should be looking for the same level of quality and should have a good understanding of what the "options" mean.
Purchasing a drum kit for a beginner is a very important step in mastering the drums. The wrong kit to start out with can turn into a study in frustration not a study of percussion instruments. Starting out on the right foot means starting out with a reliable kit.
There are primarily 2 different configurations that drum kits are sold as, it comes down to personal preference as to which type is ideal for you. The "Fusion" style offers:
10" and 12" mounted toms
14" floor tom which can be either mounted as suspended or can be freestanding
22" bass drum
Most "Standard" kits have:
12" and 13" mounted toms
16" floor tom
22" bass drum
The size of the drums changes the sound that you get from them. The Fusion kits have a punchier sound while the bigger Standard size drums give you more volume.
It really is a personal choice as to which type of kit you want both are acceptable options.
A complete kit will come with all the hardware that you need. Most kits are 5 or 8 pieces of course at the professional level the kits can be very large and have many more pieces but for the sake of this article we will only be looking at the 5 or 8 piece kits. The Ludwig Accent Drive Drum Set is a complete 5-piece kit of the "Standard" configuration.
Choosing the kit that will work best for you really comes down to a few different things:
Price point
Standard or Fusion choice
Completeness
If you are a beginner the reality is dropping thousands of dollars on a drum kit is not highly recommended. Even if you have some experience, unless those drums are going to make you money through performance you do not want to invest a lot of money. Price point always is a consideration.
You have to ask yourself "can I get the same results from an affordable option?" nine times out of ten the answer is yes you can get the same results without having to take out a loan.
As a new drummer, Standard, is typically the best choice. For many experienced drummers Standard is the best choice based on the type of music that they usually play.
As a beginner to get the most versatility out of your drum kit you want to choose Standard.
Completeness is another big point to consider. You want to choose a kit that has everything you need to get started. The little things like hardware can start to add up cost wise quickly.
Luckily the Ludwig Accent Drive Drum set comes complete and can also check off the other two standards when you are choosing an entry level set.
What Comes with the Kit?
The Ludwig Accent Drive Drum Set has it all! Everything that you need to get started is shipped with the kit. Here is a list of what is included:
The Drums:
8 x 10 in Tom
16 x 22 in Bass Drum
9 x 12 in Tom
5 x 14 in Snare
16 x 16-inch Tom on the floor
The Hardware Pack:
Drum throne
Double Braced Stand
Snare Stand
Cymbal Stand
Hi Hat Stand
Bass Pedal
In addition to all of the above you get a 13 cymbals (hi hat) and a crash cymbal (16) to get a truly complete kit. This is a great entry level kit. Most users have found that this kit is easily worth 3 times what they paid for it.
Ludwig is a brand of the Steinway Music Group which really should perk up anyone that is considering this kit.
The Steinway Music Group is a long standing member of the musical instrument community, best known for their pianos, that has always been dedicated to providing high quality musical instruments and the Ludwig Accent Drive Drum set is a good example of their commitment to quality.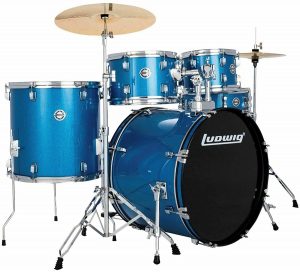 Click Here for Pricing, Pictures and Reviews on Amazon.com
This entry level drum kit is made from quality materials and is built to provide the drummer with excellent sound. The drum shells are a 9ply Poplar shell that has a rich lacquer finish.
Some Things You Should Know
Every user has had the same complaint about this kit whether they are beginners or have years of experience. The cymbals are not of the highest quality.
Just about every user has rave about the price point and the level of quality that they are but they have also said that the cymbals are a disappointment.
Ultimately you will want to change out the cymbals, but it is an easy step to take considering that this is a very low cost kit that has everything else that you need to get started.
Every kit will have something that needs to be replaced or upgraded with this kit it is the cymbals.
The other thing that you should know is that this kit needs to be assembled from the ground up. In other words, if you have no experience in putting together a drum kit you may want to get some help. There are tutorials online that can walk you through it.
The only drum in the kit that comes completely set up is the snare all of the other drums have to be assembled including the heads.
At this price point which is roughly half of what other manufacturers charge it is well worth taking the time to construct the kit. It should not take more than an hour to pull it all together and be able to start playing.
On the upside this kit is shipped with the upgraded hardware package that is typically reserved for much more expensive models.
There have been some other upgrades as well to this kit the last couple of years like an improved chain drive pedal. It is the attention to detail that really sets this kit apart from other kits at this price point.
This is actually a top shelf set that is offered at a very low price. It has the Steinway name behind it and that really does count for something.
Most people do not realize that this kit is made by Steinway or more people would jump on the offer.
Overall
Whether you are a new drummer or someone with some experience you will be able to appreciate this kit. It is geared toward beginning drummers not because it is a lower quality than more expensive kits but because the price point is so low.
There have been several experienced users that have commented that they take their Ludwig kit with them on the road for gigs because it works so well and they did not have to pay a king's ransom for it so they feel more comfortable traveling with this kit.
As a beginner you could not ask for more. It is a complete kit that will get you started nicely and help you to improve your skill level. It even looks great. You have a couple of color options and the finish is decent.
There is plenty of attention given to detail that makes this a stand out kit at any price point but much more so at the price point that it is offered at.
Any professional will tell you that entry level should not mean low quality. As a student it is imperative to have a highly functioning kit that you can rely on to hone your craft.
Cheap kits can produce bad players. The Ludwig Accent Drive Drum set may be low cost but it has never been described as "cheap".
This is a great option for any drummer new or experienced that wants a reliable kit that is at a very nice price point. This is the kit that you will keep for years even as your skill level improves.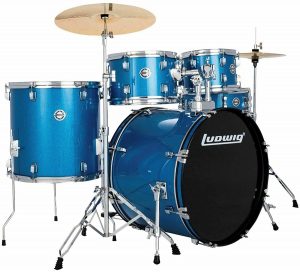 Click Here for Pricing, Pictures and Reviews on Amazon.com
It can easily be upgraded for your next skill level by upgrading the heads so plan on having it around for a long time.
It is warrantied against defects for 2 years. The warranty will cover parts and labor on any manufacturers defects as long as there are no signs of misuse (if you kick the bass drum because your foot slips it's not covered).
More to read:
Best Air Purifier in the U.S. for Better Respiratory Health 2021            
Best Toaster in the U.S. That Are Worth Buying 2021 
Summary
Reviewer
Review Date
Reviewed Item
Ludwig Accent Drive Drum Set
Author Rating





We hope you love our reviews! For your information, we do earn money from commission in the link in the content! For more information click here!