Updated on July 10th, 2021
Presonus are one of the world's leaders when it comes to both home and studio recording. For many years now their products have graced the market, providing solutions for audio enthusiasts everywhere. The PreSonus AudioBox is a low budget audio interface with high end results.
It's suitable for home studios and is even portable enough to use on the move. In this article we will review the pros and cons of the PreSonus AudioBox 2x2 Audio Interface.

Home Recording
The AudioBox is an ideal solution for anyone looking to dip their toes in the home recording waters. It's fully compatible with desktops on the market and won't break the bank either. To run the AudioBox you'll need either a PC with windows 7 or higher with at least 4GB of RAM or a Mac (OS 10.8.5 or later) with 2GB of RAM.
It's fully USB 2 compatible so that means higher speeds and improved latency. It's recommended that you have at least 20GB of free space on the hard drive you are installing the AudioBox to. PreSonus inform us that the higher the speed and size of your hard drive, combined with the amount of RAM will vastly improve the AudioBox's performance.
Fully equipped with 2 balanced XLR female connections, the AudioBox also has MIDI in and out, stereo outs (L & R) and a headphone output for monitoring. Also on the rear of the interface is a USB port for connecting to your computer (USB cable is supplied). Installation was a total breeze with the whole process being completed in well under 5 minutes. Performance was hitch-free with no lag or latency issues on first recording.

Click Here for Pricing, Pictures and Reviews on Amazon.com
It's a nicely sized product which is approximately 6x6 inches and less than 2 inches in depth. It's small enough to easily fit into most laptop cases and not so small that it can be disrupted by connecting cables. The whole feel of the AudioBox is solid and reassuring. It's clearly well built with that typical PreSonus attention to detail and slick finishing.
In fact the AudioBox is robust enough to withstand being run over by a fully sized 4x4 pickup truck and still record as if out of the box!
Specs
PreSonus offer 24-bit/96kHz recording capabilities with the AudioBox which will come as music to the ears of many potential buyers. The 2 XLR inputs on the front of the device are dual functioning and can also be used with ¼ inch jacks. This is super-convenient for recording musicians such as bass and guitar.
Also included is a 48v phantom power should you require it for higher sensitivity microphones such as condensers. Each channel has a corresponding knob for gain control and a clip-LED so you can tell when the signal is too hot. Be careful not to let the signal go into the red when you are recording as this will lead to a sub-par distorted recording sound.
The frequency response from the AudioBox is an impressive 20Hz – 20kHz although the headphone output will emit an even wider range up to 30kHz. It also has recording capabilities at both 44.1Hz and 48Hz
Review
So how does it sound? The 2 class-A pre-amps make for a healthy well rounded response. They are impressively quiet and serious value for money when you consider the competition they currently have in the under $120 price bracket. The dynamic range is pretty outstanding too, coming in around 120db.
Depending on how much RAM you have installed and the speed and speed of your computer hardware, it is possible to get the latency of the AudioBox down to under 10 milliseconds. Even with 2 different audio inputs and full monitoring in action, we noticed no sluggish performance whatsoever.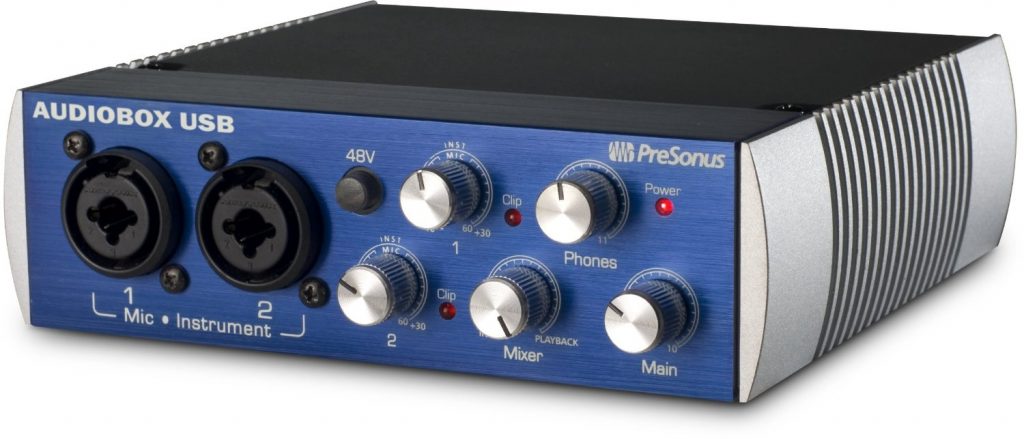 Click Here for Pricing, Pictures and Reviews on Amazon.com
Presonus have included a copy of their Studio One Artist recording software. Unfortunately this is only a 30 day trial, so you will have to purchase the full registration should you like it. It performs well and has all the usual mod cons associated with today's DAWs. It comes with a bunch of easy-to-use plugin effects which can be used to enhance your mixes. It's easy to setup and works flawlessly with the PreSonus AudioBox.
The MIDI ports on the back of the AudioBox can be used to input music and play around with VST instruments. This is a timesaving option to have and saves countless hours clicking around with your mouse trying to build a track. Simply set the track to be a MIDI one (as opposed to audio), enable record and you're good to go. It's always easier in the long run to record your MIDI tracks to the built in metronome.
Don't worry if you haven't got atomic clock timing though, Studio One has a multitude of quantize options which you can use to sync up your playing to the beats and barlines. If you find that Studio One is not for you, or you are so familiar with your current DAW that you don't want to make the switch, you'll find that the AudioBox works perfectly well with all the other recording softwares out there.
Overall the use and feel of the AudioBox is a satisfactory experience. The volume dials feel solid and there is a smooth action that is reassuring. There's nothing worse than trying to tweak a volume setting and not being able to find that sweet spot you're searching for. That's not an issue here. The AudioBox is built to last and PreSonus have made comfort a priority here too.
Pros
Strong as an ox
Super quality pre-amps
Easy as pie – just plug and play!
Cons
Limited inputs will not be for everyone
Studio One Artist is only a 30 day trial

Click Here for Pricing, Pictures and Reviews on Amazon.com
Conclusion
Finding the right audio interface for your needs is a tricky task. With the AudioBox, PreSonus have given us many reasons to believe that it is top of the class. Not only does it offer high end recording, it does so at a seriously competitive price.
Other interfaces on the market, such as the Focusrite iTrack Solo Lightning do not come close to the quality of preamp that PreSonus have equipped the AudioBox with. It's no surprise then that this interface has been flying off shelves around the world, although if it can withstand the effects of being run over by a 4x4 pickup truck, this 2x2 AudioBox won't even be fazed!
It's worth bearing in mind that this interface is aimed at home recording enthusiasts who require no more than 2 channels at any one time. Should you be looking for the ability to multi-track on a larger scale, say for a drum kit, you'd be best looking for something bigger, and inevitably, more expensive.
As you go up the range, PreSonus offer the AudioBox 44VSL which has 4 dual functioning XLR inputs but comes in at over twice the price of the 2x2 model.
Sure you will find better functionality, performance and sound quality if you look at some of the higher end products on offer, but for sheer value for money you'll be hard pressed to find a better deal than the Presonus AudioBox 2x2.
More to read:
Best Professional Audio Interface of 2021 Complete Reviews with Comparisons
Best Toaster in the U.S. That Are Worth Buying 2021 
Best Stand Mixers in the U.S. That Are Selling Like Hot Cakes 2021        
Summary
Reviewer
Review Date
Reviewed Item
PreSonus AudioBox USB 2x2 Audio Interface
Author Rating





We hope you love our reviews! For your information, we do earn money from commission in the link in the content! For more information click here!