Updated on April 2nd, 2022
Being a drummer is all about rhythm and keeping the right rhythm. Apart from being the most important member in a band playing the drums gives you the ability to truly express yourself.
Playing is creating
The most beautiful thing about playing the drums is that it gives you the ability to express yourself through music. The heavy bass and loud crash will help you to create the sound you want to hear.
When you practice playing the drums on a frequent basis you are able to develop amazing skills that will allow you to create amazing beats and sounds. The beautiful thing about music is that you can share it, you can use it to inspire and move people.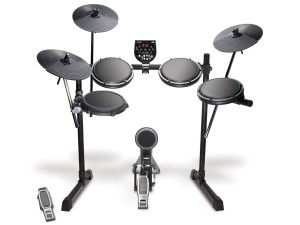 If you see people moving to the sound you have created you know that you're doing a good job. But if you'd rather keep it to yourself you will find some great things about electronic drums below.
The 3 biggest benefits of playing the drums
However, playing the drums is more than expressing yourself! Drumming will improve physical well being, mental well being. It may even help you build bigger arms and lose belly fat.
Moreover it helps you connect, connecting is one of the most beautiful effects of music and playing the drums.
Physical well being
While you play the drums you are continually improving your physical well being. In fact, studies show that playing the drums in a fairly consistent manner allows you to burn 250 calories an hour.
Apart from burning calories you are actually building muscle at the same time. You are using your whole body and almost every muscle group while banging on your drum kit.
Mental well being
While you are playing the drums you do not only develop your physical well being but you are developing your mental well being as well.
Research shows that drumming and playing music will increase development of multiple regions in the brain. It improves listening skills and it increases the ability to focus over an extended period of time.
Doing so will improve your coordination and encourage kinesthetic development.
Connect with people
As mentioned earlier playing the drums allows you to express yourself. While you are expressing yourself other people are able to hear the sound you are creating, they like it or they don't.
There are always people who like your sound, maybe you have never even met them before. This gives you the opportunity to truly connect with these people. By connecting we mean that you can socialise and interact with them.
Playing the drums is good for your physical well being as it will help you burn calories and build muscle, it's good for your mental well being as it will improve coordination and encourage kinesthetic development and it allows you to connect with people.
These are all great benefits of playing the drums. However playing the electronic drums allows you to explore even more benefits.
The top 5 reasons why you should play electronic drums
Playing the drums improves your physical well being and your mental well being, it allows you to express yourself and it's fun at the same time. However, as a drummer you are probably used to noise complaints.
In fact most drummers get noise complaints on a daily basis. It starts with your family members and it usually ends with your neighbours (or the cops). This is exactly the reason why electric drum kits are awesome.
Wide variety of sound selection
Whatever musical style you like the most, with a click of a button you can select the right kit for it. Electronic drum kits give you the opportunity to change the sound of your kit whenever you want.
There are all sorts of different kits built in to one computer like: arena rock kits, funk kits, hip hop kits, jazz kits even techno kits and much more.
Adjustable volume
One of the main reasons people chose an electric drum kit over an acoustic drum kit is the fact that the electric drum kit is so silent. The hit of a pad on an electronic drum kit generates little to no acoustic sound. A hit on an acoustic drum kit can generate extremely loud volume levels.
An electronic drum kit is a great choice if you wish to live in harmony with your neighbours or in any other situation where volume may be a problem.
Useful tools
Most of the electronic drum kits available on the market have a set of very useful build in tools. The most useful of them all is the built in metronome function with adjustable tempo. A mix-in jack is used to play your favorite drum along tracks straight of your mp3 or CD player.
Some even include a coaching tool that helps improve drumming skills with a broad variety of exercises available by the touch of a button. Some of the more expensive electronic drum kits even have built in record and playback features. This makes it super easy to record and playback your created work.
MIDI
MIDI is the standard for connecting your electronic music devices to computers and software. A lot of electronic drum kits have a MIDI feature built in. This makes an electronic drum kit easy to use for producer and other professional musicians.
Durability
Electronic drum kits are very durable, they're made out of material that's hard to break like light-weight aluminium and rubber or mesh. Not only your kit will last way longer but your drum sticks will last longer to.
They won't get damaged and are not likely to break while playing an electronic drum kit. There is of course a possibility that something breaks, however replacing a part on an electronic drum kit is easier than on an acoustic drum kit.
While you are playing the electronic drums you are able to enjoy a lot of benefits compared to playing on an acoustic drum kit.
An electronic drum kit allows you to adjust the volume with the twist of a volume knob, it allows you to change the sound of your kit with a touch of a button, it has a variety of useful tools on board of the drum-computer like a metronome or a coach.
A lot of the electronic drum kits on the market have a MIDI port which is the standard for connecting electronic devices to computers and software. This is great when you want to record your sound in a studio. Last but not least electronic drum kits are very durable and they won't ruin your drum sticks
The price of electronic drums is always right
Electric drum kits are relatively cheap compared to acoustic drum kits, the cheapest electric drum kit on the market is about the price of a new bicycle. A basic electric drum kit is equipped with a hi hat, 3 toms, a snare, crash, cymbal and a bass.
Like every drum kit the electric drum kit comes with a frame, however the frames of electric drum kits are usually made out of light material. This makes the entire set easy to transport.
Roland is one of the leading brands in the market, one of their most beautiful sets is the Roland TD-15K. The set is exactly what you would expect from a high quality drum kit. The Roland TD-15K is one of the more expensive drum kits on the market.
Another beautiful electric drum kit is the Pearl E-Pro Live Drum Kit, this electric drum kit looks just like an acoustic drum kit and gives you the feeling as if you are actually playing on an acoustic drum kit. The Pearl E-Pro Live Drum Kit has a higher price and is a lot of money for a drum kit but it is worth your money.
For those looking for cheaper alternatives an electric drum kit is the right choice. Remember that the more you pay the more you get. The drum-computers in the higher price range are far more sophisticated and will provide you with a lot of extra and useful tools.
Material: Rubber Pads and Mesh Heads
The material used for the electronic drum kits depends on the price of the drum kit and the manufacturer. Rubber Pads are usually provided with the lower-end electronic drum kits this is because they are cheap. They're made of rubber and they are relatively cheap.
Mesh Heads are provided with the higher-end electronic drum kits, however the snare-drum on any electronic drum kit is usually a Mesh Head. Mesh Heads are the closest thing to a traditional drum head. They feel similar and give similar rebound.
The Mesh Heads are adjustable which make them very user friendly. The price of a Mesh Head is a bit higher than the price of Rubber Pads but that's very reasonable.
Headphones
The quality of the sound you produce on your drum kit is very important, the drum-computers on the electric drum kits are usually very capable of producing magnificent sound.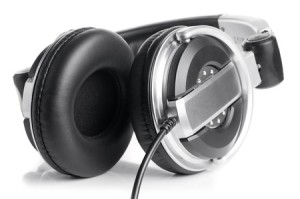 The mistake people often make is to use cheap/low-end headphones, and sometimes even in ear headphones. It is advisable to get a pair of headphones that can produce the quality of the sound produced by the drum-computer.
Roland and Yamaha offer a couple of headphones specially designed for electric drum-kits. However any high-end pair of headphones will most likely do the job.
Amplifiers
Whenever your neighbours are not home, you can plug in the amplifier and make some noise in your basement or attic. Wherever you are if you have an electric drum kit and you want to produce some sound you are in desperate need of a drum-amplifier.
When electric drum kits first entered the market it was very hard to find an amplifier to produce just the right sound. Most of the amplifiers out there were specially tuned to amplifying the sound of an electric guitar and not the sound of a heavy bass or a sharp crash.
Over the years a lot of company's jumped in and created some of the most awesome electric drum-amplifiers you will ever come across.
Roland has released a lot of amplifiers and even amplifiers with additional speakers to create the most beautiful sound you've ever heard.
The price of drum-amplifiers range from affordable to crazy expensive. The better the amplifier the more enjoyable your electric drum kit will be.
Electronic drums will never grow old
The music world has evolved a lot in the past couple of years. A lot of modern electronic equipment was introduced meant to complement the music industry.
Nowadays a lot of music is generated by electronic musical instruments and in fully electronic environments. An electronic drum kit is a must have for every musician who is serious about producing a sound nowadays.
History of the electronic drums
The first electronic drum kit was developed in 1971 by Graeme Edge, the drummer of The Moody Blues. He created the drum kit in collaboration with Brian Groves, who was a professor at Sussex University.
The electronic drum kit was made out of rubber, silver paper and silver coils. After the creation of the very first electronic drum kit a company called Pollard Syndrum took the idea and developed it into the first commercial electronic drum kit.
However the drum kit was a financial failure and ruined the company for the following years. In 1978 the Simmons company launched a successful electronic drum it which was used by pop rock and synth pop bands such as Duran Duran.
Then Roland and Yamaha stepped in and started to continually improve the electronic drum kits they had created over the years.
In fact Roland and Yamaha are still the most successful companies in the market as of today. They released some of the most advanced and high quality electronic drum kits available.
Table-top electronic drum kit
One of the many variations on the original electronic drum kit is the table-top electronic drum kit also known as the portable electronic drum kit.
This drum kit has all its pads expect food pedals built in to one module the size of a laptop. It has small built-in amplifiers and speakers.
This instrument is very popular among electro/house dj's who have no room on their stage for a full electronic drum kit.
Electronic drums are no joke!
A lot of famous artists are or have been using electronic drums for a long time, since the 1970's the electronic drum kit has evolved to a truly amazing instrument. Check out the list below for some famous artists who are fond of electronic drum kits.
Rick Allen of Def Leppard
Travis Barker on his Plus 44 album
Rob Bourdon of Linkin Park
Phil Collins on Genesis
Rocky Gray of Evanscence
Rogerio Jardim of Infected Mushrooms
Nick Mason of Pink Floyd
These are just some examples there are many more artists who love electronic drums. In the next year more artists will turn to electronic instruments. This is because electronic instruments are very friendly to use, and they keep advancing every year.
And with the rapid growth of the digital music scenes like techno and house the table-top electronic drum kit is likely to grow in popularity fast. For an example of what a drummer can do on a electronic drum kit take a look at the drummer of the band Netsky.
Conclusion
The electronic drum kit has evolved in to a very advanced musical instrument, it makes things much easier. It took some time to get here but now that the electronic drum kit has reached these heights it's unbeatable.
The benefits of playing an electronic drum kit are tremendous. It's good for you physical and mental well being. It allows you to connect, socialise and express yourself.
Electronic drum kits are cheaper, and you get more bang for your bucks. They are very durable, user-friendly and come with a wide variety of tools which make practice more enjoyable.
And the electronic drums are just awesome, a lot of famous artists have used them and are still using them, so should you!
It's not only the electronic drum kit that is amazing but you also get the ability to improve your drum experience by adding things like a good pair of headphones, a specially designed amplifier, new pads with either rubber or mesh heads.
Some of the best drum kits and adds are manufactured by the famous company's Roland and Yamaha, you are however not limited to them as there are new companies entering the musical market every year.
Since the electronic drum kit is an electronic device there's always the opportunity to improve the instrument. The drum-computers are more advanced every year and are surely to improve even more in the coming years. We know why electronic drum kits are a must have now and who knows what they will bring us in the future!
More to read:
Best Online Drum Machine to Bring Out the Drummer in You
We hope you love our reviews! For your information, we do earn money from commission in the link in the content! For more information click here!