Updated on April 3rd, 2022
There are certain things that drummers tend to forget, never knew or don't want to hear. They are however, very important to every drummer. In this article you will find 10 things that every drummer should know. The 10 things are very different from each other but very important to know.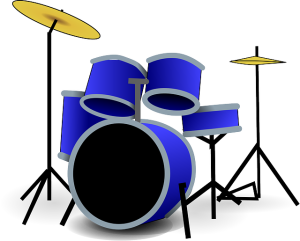 It is very important for every musician to know what rhythm is, especially for a drummer. They get to deal with rhythm all the time.
A new drummer should read up on the terminology and basic concepts of rhythm. Another great exercise is to listen to songs on the radio and trying to identify time signatures of the song you hear.
Invest Time in Tuning
There is a lot of books and videos on tuning, so there's plenty if information out there to learn how to tune. It is important to tune your drum kit, just like with any other musical instrument. If you don't tune your drum kit it will eventually sound bad. So never leave home without a drum key and make sure you tune both sides of each drum.
Take Your Time
When you are a beginner start out simple, you can't play along with van Halen songs if you just started drumming a week ago. Start with playing along with some simple beats and spice them up in very small steps. Another thing you should do is taking your time to warm up at the start of every drumming session. It will probably take you some minutes to get in the right vibe.
Try Out Different Sticks
Why do you think there are so many different types of stick out there? Yes that's right, it's for you to try them all. Every stick has a different sound and a different feeling.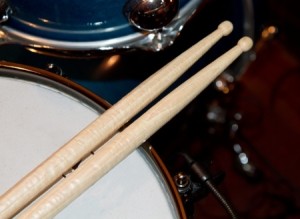 If you have always played with 5a and 5b why not try out 2b with a nylon tip for a change? You will be able to create a different sound with every stick, so don't hesitate and try them all! Maybe you'll find your new favourite.
Try Out Different Heads
Same idea as with the sticks. There are various types of head for different kinds of sounds and gigs. You can't produce a hard rock sound with a jazz head. So get familiar with the different types of heads and try them all. You will be much more prepared to create the perfect sound for any gig.
Hold Your Right Hand Stick Right!
A lot of drummers and especially new drummers get this wrong, they choose comfort over technique, and that's a thing that you should never ever do. Use your right stick as an extension of your right arm. You should hold the stick between your thumb and fingers about one-third from the base.
Hold Your Left Hand Stick Right!
Same idea as with the right hand stick. Don't mimic your right hand technique with your left hand just because it feels more comfortable. Hold your left stick perpendicular to your arm holding the stick with your middle and ring finger with one third of the stick extending beyond your hand.
Mind Your Ears
Plain and simple, wear earplugs. Your ears are being exposed to loud noise all the time, if you have been drumming for a couple of years your hearing has probably been damaged. Wear earplugs, wear earplugs wear earplugs!
Posture and Set-up are Key
After a long session your back might hurt or you have over extended your arm or something in that fashion. This is totally unnecessary, you can avoid injuries by changing your set-up and posture.
Always sit up straight when you are drumming. And make sure that everything you intend to hit is in reach just like your car controls or desk items. Everything should be in comfortable reach.
More to read:
Top Legendary Drummers You Should Know About
We hope you love our reviews! For your information, we do earn money from commission in the link in the content! For more information click here!