Updated on April 2nd, 2022
Now that you have bought yourself a beautiful drum kit you want to make sure that you are taking good care of it. If you don't your kit will lose value and more importantly it will lose the good sound it was producing when it was brand new. Maintaining your drum kit is very easy, but only when you do checkups and clean ups on a regular basis.
Things to avoid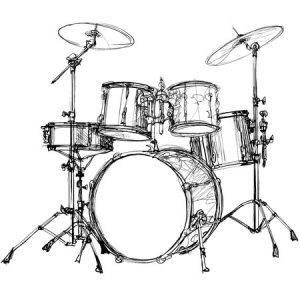 Maintaining your drum kit will be a lot easier when you take precaution. The drum kit should not be exposed to big temperature changes, nor should it be exposed to heat or extreme cold. When the drum kit is exposed to heat the wood will expand and eventually it will crack.
Your drum kit can't handle extreme cold either, the wood will shrink and it will make your drum kit sound awful. If you keep your drum kit in a very dry area it may be smart to cover it in a damp cloth, this is to aid humidity (this only applies to extreme dryness, the one you experience on an extreme hot summer day).
Taking care of your cymbals
The first thing you should do when it comes down to taking care of your cymbals is to cover them in a nylon cymbal sleeves. It will avoid unexpected damage and keep your cymbal clean.
Another thing you should consider doing is cleaning your cymbals every now and than. If you don't your cymbals will wear down and this will allow small cracks near the cymbal hole to appear. The cymbals can be easily cleaned with some windex and cymbal polish.
The windex will be used to remove any surface grime. And the polish to make your cymbals shine and add a protective layer at the same time. The polish should be re-applied to damaged areas, to correctly treat these areas the polish might be re-applied 2 to 3 times.
Watch out with Paiste cymbals however, they are coated with a special finish. Don't wash them with anything else then water with a little bit of soap. Cleaning them with anything else will cause damage to the cymbal.
Change your drum skins (heads)
Changing your drum skins (heads) is probably the most important thing to do. Most of the skins should be changed every 5~6 months except for the snare. The snare should be changed twice as often as the other skins because the snare skins gets beat up more as most of the drummers use the snare more than the rest of the set. You know it's time to change your drum skins when there are a lot of visible dents and scratches.
Don't be overprotective and change your skins when you strike just one dent in them, look for deep scratches and dents. When there's a lot of them you know its time to change. Your drum skins will last longer when you treat them with a softener every now and then. It's best to use a lanolin-based cream. The cream will aid the skin and keep it supple and in good condition.
Treating your Chrome right
You will find chrome all over your drum kit; lugs, mounts, stands and rims are chrome plated (usually). Chrome its worst enemy is moisture, so avoid spilling anything on your kit. And make sure it won't get wet when you are transporting it.
You can avoid this by transporting your drum kit in special designed bags and sleeves. If your chrome gets dirty you can wipe it down with a fluffy terry-cloth towel. It's advisable to wipe off the dust once a week, minimum.
More to read:
We hope you love our reviews! For your information, we do earn money from commission in the link in the content! For more information click here!