Updated on September 23rd, 2021
People love drumming, as a drummer you are the most important member of a band and carry a lot of responsibilities. Drumming can have a big influence on your life and that of the people around you.
The effects are positive and will aid you in moving through life. In this article we'll talk about the benefits of playing the drums and how they influence your life. Some benefits are more noticeable than others but they are benefits nevertheless.
The benefits and how they can affect your life
There is a link between the problem solving part of the brain and timing, a study has shown that Drummers that were more skilled in keeping the right tempo are more intelligent than other drummers.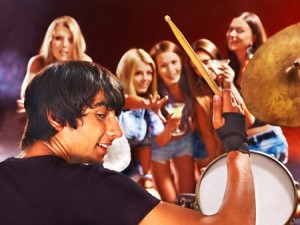 They found these results when they tasked drummers with a 60-problem intelligence test after they had played a variety of beats.
The better you are at timing, the more your problem solving part of your brain will develop, and that'll mean you get smarter when you practice playing the drums on a regular basis.
Not only your intelligence will develop but your social skills will develop as well. Studies have shown that drummers are more likely to interact with people and therefore develop better social skills. Imagine you are playing in a band, in order to create the perfect sound you have to communicate with one another and thus develop social skills.
Furthermore by playing music you will encourage people listening to bond, music has been a bonding tool since ever. Think about native Americans dancing to drums around a bonfire.
Another great benefit of playing the drums is that you will improve your reflexes and coordinative skills by doing so life will become easier. Coordinative skills are used in everything you do from walking to picking up a spoon. And your reflexes might come in handy someday, even if it's only for dodging someone on the street.
If you are an inactive person and sit around all day playing the drums will change your lifestyle. Drumming is physically challenging and you will burn calories when you play the drums. I've seen people go from being a couch potato to being a very active person just by learning how to play the drums.
The final benefit we will talk about is the ability to relieve stress when you are playing the drums, and how this can affect your life. According to studies and personal experience stories all over the internet drumming can help you relieve stress and blow of steam. In fact, some suggest that playing the drums has similar effects to meditation.
Playing difficult rhythmic beats require a tremendous amount of focus, if you can't focus you won't pull it off. Studies have found that drumming requires you to release any attachments to your thoughts, this a technique people use in meditation.
Doing so will allow you to feel calm and very concentrated. You are likely to experience a "drummers high". In fact drumming is used as a recuperative therapy to help people recover from brain injuries, drug addiction and chronic pain. The therapy uses hand drums (djembe) instead of the drum kits we are using but still it's quite impressive.
Drumming can change your life in a lot of aspects. Playing the drums will improve your reflexes, coordinative skills and social skills. This can have a big positive impact on your life, especially when you improve your social skills.
But that's not all playing the drums is a brain trainer and will help you to relieve stress simultaneously. Why isn't everyone playing the drums?! The benefits are huge and it's fun.
We hope you love our reviews! For your information, we do earn money from commission in the link in the content! For more information click here!